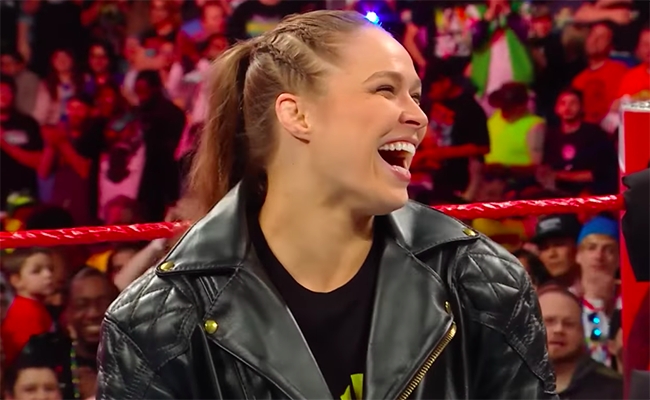 Ronda Rousey's hasn't wrestled since her stunning debut at WrestleMania, and has only appeared on Raw in an "enforcer" role to throw around the women's division and break Stephanie McMahon's arms. So it shouldn't surprise you that (1) her next and second-ever WWE match is going to be for a championship, or that (2) the match was set up as part of the NBC upfronts, where Fall television schedules are announced. Ronda Rousey vs. Nia Jax for the Raw Women's Championship at Money in the Bank.
Wait, what?

E! has those coveted Exclusive Details, speaking to both women on the upfronts red carpet.
"We are very civil and professional ladies, so Nia did just challenge me for Money in the Bank to come after her title," Rousey told E! News on the red carpet. "I happily oblige respectfully, so I can sit next to her."

While they appeared cordial as they gave a joint interview, Jax noted, "We can still get along for now, but once we get in the ring, it's over. All bets are off, right?"
How … polite! Nothing says "hot pro wrestling feud" like celebrities being cordial to each other at a television red carpet. Look for Michael Cole to breathlessly mention this on Raw. Money in the Bank happens on June 17.
Update: Here's video of Rousey's challenge to Nia Jax, which WWE posted to Twitter later on in the afternoon.