The Royal Rumble has come and gone, but its implications will play out … well, until WrestleMania, which is literally the whole point. Here at With Spandex, we've crunched the numbers, discussed the various surprises, and tried to figure out who's sticking around, and who might just be visiting.
But there's one very important thing we haven't discussed: the clothes! Any big PPV is an opportunity for the various WWE Superstars to show off new gear and change up their aesthetic, in ways that often last long beyond the show in question. I'm not talking about the returning legends who have their own choices to make in how to present themselves after a long absence (although props to Rey Mysterio for not wearing jeans), but about the Superstars we see all the time who decided to do something new.
So here, in ascending order of how much they won me over, are 15 new looks from the two Royal Rumble matches. NOTE: I've only got one pair of eyes, so it's possible I missed something or included something somebody's worn somewhere before, but these are the looks that looked new to me.

15. Tamina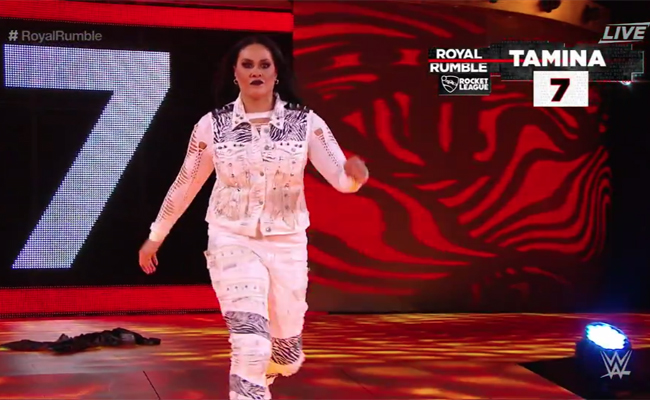 I understand where Tamina is coming from here, and on paper it makes sense. She usually wears this movie-villain black leather ensemble, so for this special occasion she's breaking out the white version, Seth Rollins style. To break up the white, there are panels of zebra print, which call back to the simplified WWE version of her heritage, which is otherwise only memorialized by her entrance music and love of the Superfly Splash.
It all makes sense, but the trouble is that she's not really even that intimidating in black leather, and the white version just makes her look more like a Mom. There's nothing wrong with looking like a Mom — she is one, after all — but I feel like that wasn't her goal for the Royal Rumble.
14. Dolph Ziggler
Oh, Dolph Ziggler, what are you doing now? After turning his back on all the glam and glitz of Sports Entertainment, he won the United States Championship last month at Clash of Champions, then vacated it and seemingly left the company. Now here he is to enter the Royal Rumble at No. 30, wearing a shiny space outfit covered with what appear to be long-haired Devil faces.
Is this another half-assed repackaging? Is he "devilishly wicked" now? One thing's for sure—his fashion sense hasn't improved.

13. Mickie James
If I could nominate one WWE Superstar for a complete gear makeover, it would be Mickie James in a heartbeat. Those flares on her tights were never cool in the first place, and now they're uncool and dated. The problem is exacerbated here because she's wearing the flares without the tights!
Just take those things off, wear some regular kickpads, and this whole outfit is improved. If you'd done that, I'd have looked at it and said, "Oh cool, Mickie James got some better gear!" The top and shorts here aren't groundbreaking, but they lack that sunburst design she's fond of, which is a big step in the right direction. It's just those skirts she wears on her calves that are holding the whole thing back.
12. Dana Brooke
I feel like we may have seen these pants before, but the top at least looks new, so I'm counting it. Dana's major role on Raw right now is playing the bespectacled statistician for Titus Worldwide, which is a fun spot for her. That role remains somewhat divided, however, from her wrestling persona, which I have mixed feelings about.
Part of the joke is that they put glasses and a suit on a high-camp muscle queen, and we all just pretend she's a math nerd now. So in that sense, it follows that she still dresses like a supervillainess to wrestle. And let's be real, Dana looks great in this outfit. She looks great in anything over-the-top that shows off her arms. I just find myself wishing that she'd at least come out wearing glasses and toss them off before getting in the ring. Don't be ashamed of how smart you are, girl!

11. Seth Rollins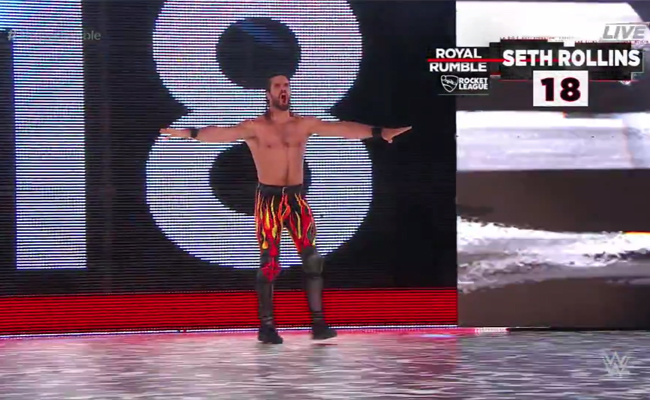 Oh, the fire pants — a hot topic Sunday night. Maybe I'm wrong, but I don't feel like Seth wearing pants with flames on them is necessarily the problem here. The problem is that the flames look very homemade in a way we're not used to from a big WWE star like Seth Rollins.
If he was Fireball Tyler Black appearing low on the card in a VFW hall, your only comment would be "That guy in the fire pants is really good!" When you're Seth Rollins, though, people expect your gear to be flawless and pleather and not to have hand-traced flames all over it. That's just a lesson that Seth had to learn, I guess: You've taken "Burn it down!" as far as you can; time to step back.
10. Liv Morgan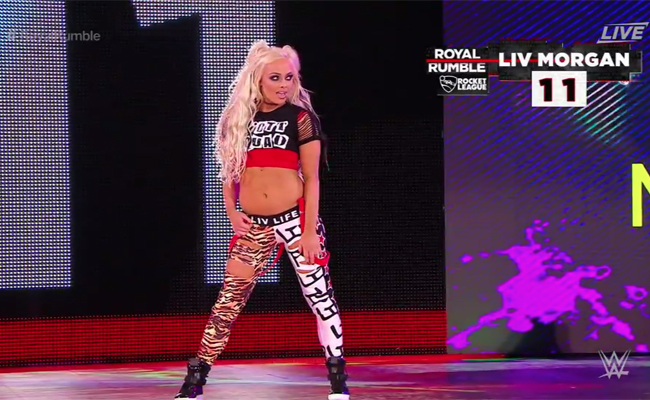 I like Liv Morgan, which I admit that's the kind of statement you find yourself wanting to follow with, "I don't care what anybody else says!" In addition to thinking her current in-ring work is underrated, one of the things I like about Liv is that she and her gimmick are both adaptable.
When she got called up to be a heel with the Riott Squad, she was still dressed in bright colors and simple patterns and generally looked like a gym-loving babyface. Ever since then, she's been evolving into the sort of heel that makes sense as Ruby Riott's sidekick, and this feels like the culmination of that.
It's not that this is a stylish look that I'd be impressed to see someone wearing on the street, but for the No. 3 woman in a chaotic punk faction, this feels like the look.

9. Bayley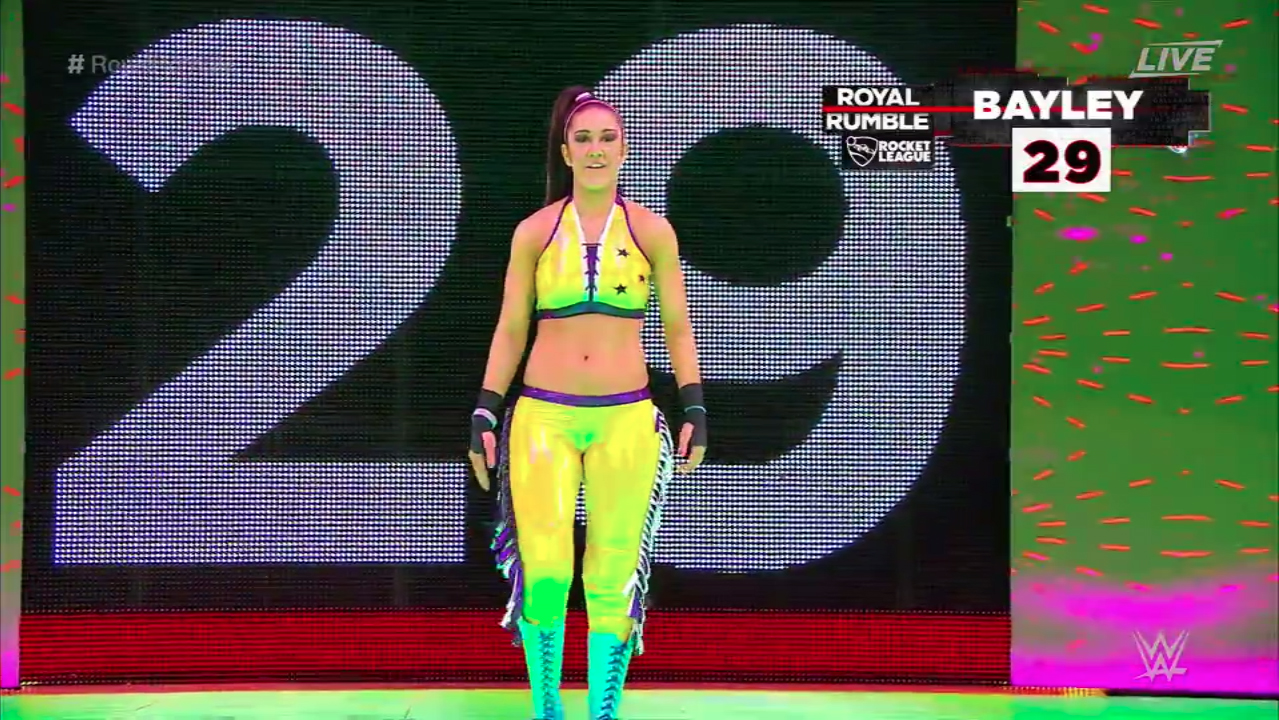 This is pretty similar to what Bayley always wears, but there are a couple of things I want to mention about it. First, the colors are symmetrical. It has those little stars, but it's not like half blue and half orange. I think that's a step in the right direction for Bayley. I also like the fringe on the pants, which is retro without being overwhelming. I'd like to see this design in other colors from Bayley in the future.
8. Sonya Deville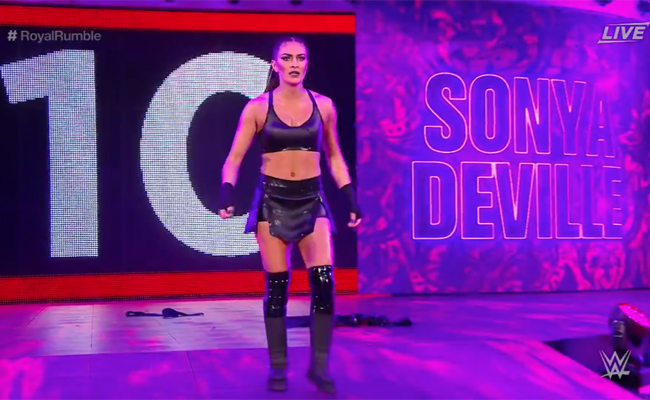 This is exactly what Sonya Deville always wears, except now it's solid black. Sonya should keep evolving in this direction. With Shayna Baszler and Ronda Rousey both in the company, Sonya's got to find a gimmick beyond "I did MMA," and while it won't be the whole solution, taking some aesthetic cues from Paige might be a good path.
Honest question: Has Sonya worn this exact gear before? I'm not certain she hasn't, but it's black, and that seemed worth commenting on.
7. Lana
Lana's wrestling gear is always meticulous in its design and utterly devoid of meaning, which I can't deny suits her pretty well. This outfit had a partially transparent skirt attached which she mercifully removed at the top of the ramp. Here's the thing about this gear: other than the weird silver lilypad/cravat at her neck, it looks good. It's well-designed, the lines are clean, and it fits her very well. But what does it say? Lana likes fancy things? There's no character to it.

6. Carmella
On the other hand, Carmella's gear is all character, and that's why it works. I'll just come out and say it: I think it's great that you can see the waistband of her fishnets. That would be a problem for Charlotte or Alexa, but Carmella's particular sort of glamour has a bit of slippage to it—you can always see her trying. It's part of her working-class East Coast character, and the visible waistband sort of embodies that. The two-piece gear with the graffiti colors and "fabulous" across the chest is also great.
5. Finn Bálor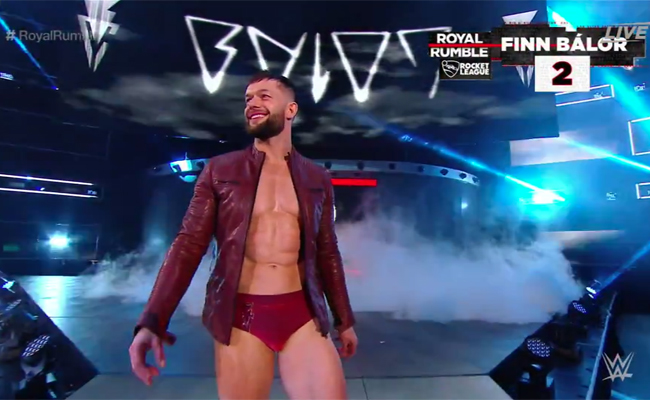 Yes, it's the usual Bálor Club gear, but in red this time! Red works way better than the powder blue he wore at No Mercy, and I like that he's changing up the colors from time to time now that he's rarely going full body-paint. The dark red jacket has the bonus effect of making him look like a Star Wars character, which I'm sure he gets a kick out of.
Of course, no Star Wars character has ever been as naked as Finn is when he takes that jacket off. It's part of his gimmick at this point. He's either a demon or he's the nakedest guy on the roster, but god knows he's in good enough shape for it.

4. The New Day
This is my favorite New Day gear in a long time, and I we see more of it on Smackdown Live. It combines the classic bold New Day color scheme of blue and cyan with more colorful panels featuring what look to my untrained (and very white) eyes like African-inspired patterns. If that's what they are, it's a nice nod to the obvious pride that exists just below the surface of the New Day's silliness.
Combined with the fact that Kofi was very visibly wearing the Kyrie Irving "Equality" Black History Month kicks, it might be a pretty safe bet that these are and will be the New Day's BHM gear for February. And if I'm somehow just wrong, it's still a nice element of color.
3. Mandy Rose
What Mandy's wearing reminds me of Charlotte's gear from a couple of years ago, before she fully embraced the Flair aesthetic. Now that Charlotte doesn't dress like this anymore, I'm perfectly happy to see the look passed on to the latest musclebound blonde on the roster.
I've previously described Mandy's aesthetic as "space barbarian," and that's all the more present in this outfit. Even more so in motion, when the dark parts of her gear revealed a multi-colored futuristic shimmer.

2. Becky Lynch
What is Becky Lynch's gimmick these days? I guess she's still sort of steampunk, in that she enters in weird strappy coats and occasionally goggles. But for what seems like years now, what's under those coats hasn't been very cohesive.
This black and orange gear that she wore on Sunday is pretty basic, but here's the thing: It's gear. Becky had someone make this for her to wrestle in. She didn't just pair her old steampunk shorts with a lace-trimmed T-shirt or something. I'm not sure what aesthetic direction Becky's moving in, but it looks like she's thinking about it for the first time in ages, and I applaud that.
1. Sasha Banks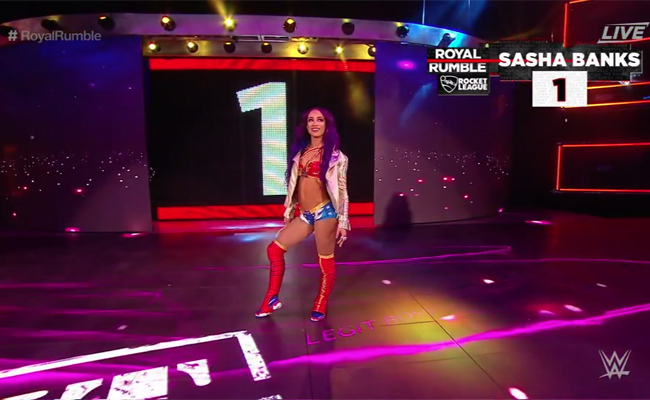 Okay, so I'm biased. Wonder Woman is one my favorite characters in fiction, and I'm always going to pop when a wrestler pays tribute to her, whether it's Nikki Bella or Princesa Sugehit. Sasha Banks really knocked it out of the park, though. Her blue shorts have little white stars on them. Her boots/kick pads have that single vertical stripe down the front.
What really makes it perfect is that she's not wearing a Wonder Woman costume. She's wearing a Sasha Banks as Wonder Woman costume. The way her armwraps intertwine the red and gold with the blue and white is a perfect example of how well her aesthetic is intertwined with that of Wonder Woman. Her costume isn't what Princess Diana wears as Wonder Woman; it's what Sasha would wear if she defeated Diana in an Amazon tournament and became Wonder Woman herself. I'd go write that fanfic, except I'm pretty sure Sasha has already written it.