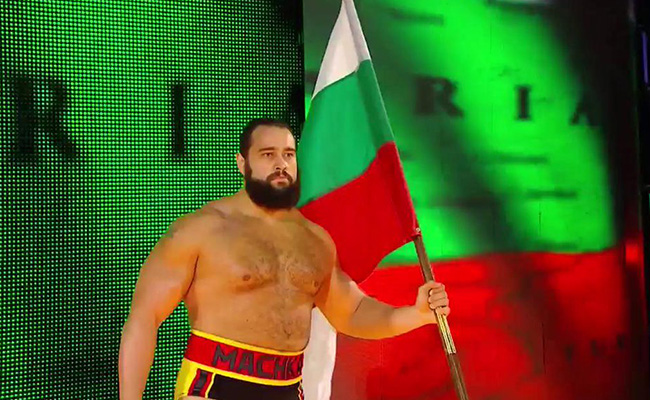 Rusev, the so-called Bulgarian Brute, really is from Bulgaria, but just a few years ago he was representing Russia as a WWE heel. With "Ravishing Russian" Lana as his manager, Rusev was sold as Putin's agent within WWE, and a Russian heel in the grand tradition of Cold War era wrestling. Then that all changed, and he went back to embracing his Bulgarian heritage. Even Lana eventually admitted that her Russian accent was fake. A lot of people guessed that the move away from Rusev being a Russian villain had something to do with changing politics in the United States, but Rusev has now confirmed it.

Speaking to Bulgarian outlet Video DIRGB (in Bulgarian, but transcribed and translated by Wrestling Inc) attributes the various changes to his character to Vince McMahon's keen awareness of global affairs.
It's true, we keep up and Vince [McMahon] keeps up with what's going on globally. He noticed that tension between Russia and America at the time and that's when it was decided that I'll go represent Russia and Putin and whatnot. But things changed, [Donald] Trump was elected as US President and he is a WWE Hall Of Famer etc.
Rusev's point here is a bit vague, but in context it's clear that the issue was that Trump has close ties to Russia and Putin (which had an impact on the election), so his good buddy Vince didn't want to push Russian villains anymore.
Also people saw more [of me] from Total Divas and we started trying different stuff and we struck gold with 'Rusev Day' two years ago. It started kind of as a joke. After Randy Orton beat me in 10 seconds and I beat him back the following week it was decided that we'll throw a celebration and we got the Mayor of Plovdiv to give the key me to the city. Aiden English who is a great singer and actor learned the Bulgarian anthem in a day and sung it and we just started adding 'Rusev Day' to everything. That's when things took off, the [Rusev Day] shirt was the top seller.
In this largely positive interview, Rusev doesn't go on to point out how WWE abandoned the whole Rusev Day thing right when it was hugely popular with audiences, but we can all fill that part in for ourselves. Hopefully when he returns from his current leave of absence, Rusev finds a new way to get over with crowds, and this time WWE actually lets him.