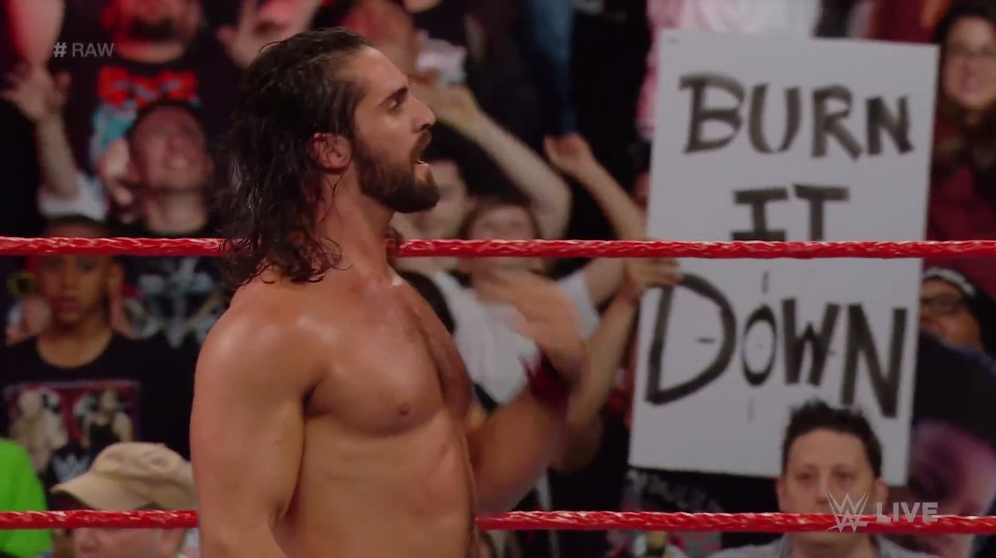 Seth Rollins and Dolph Ziggler battled it out for Ziggler's Intercontinental Championship at Extreme Rules in an Ironman match in which Dolph managed to retain. However, the biggest talking point after the match wasn't what they did in the ring, but the crowd in Pittsburgh's constant countdowns every time the giant clock would get down to 10 seconds before a new minute.
It was distracting to say the least, and both Rollins and Ziggler were less than pleased at the crowd's reaction — especially when WWE decided to take down the clock which only worsened the crowd's reaction. More than a week later, they still aren't quite over the way the match went and the crowd handled things.
Rollins was a guest on Lilian Garcia's "Chasing Glory" podcast this week and went deeper on how he felt about the Extreme Rules crowd, and how it had a significant effect on Ziggler's performance in the match (transcription via Wrestling Inc.)
"I know it really messed with Dolph," Rollins said. "He was super out of synch from how he normally is. I was okay. I just let them do their thing. I knew we had 30 minutes and by the end of it, I knew they'd be invested in what we were doing and I think they were. It was okay, it was a weird one though. Sometimes I don't understand the, 'I'm gonna be here bored, you've been sitting there for 5 hours, just trying to find anything to keep yourself entertained', but I never understood the concept of coming to the show and doing anything other than watching the show. I don't know, I can't imagine it, but whatever. It is what it is. They pay the money, they can do what they want."

There's merit to Rollins point, but at the same time, as WWE continues to lengthen PPV events, this type of thing is likely only going to get worse. There's only so much wrestling one can watch before it gets monotonous — no matter the skill level — and with an Ironman match there's often times going to be some pacing issues in the middle of the match that only serve to exacerbate those issues. And thus, you end up with a situation like at Extreme Rules where a crowd chose to entertain itself by treating the giant clock like they were at the Royal Rumble and count it down.
Four and five hours shows are becoming the norm and not every PPV features a packed card, so crowds will tend to get a bit restless. It's unfortunate that it gets in the way of the product in the ring by becoming a distraction for the wrestlers, and hopefully crowds will learn to find other ways to occupy themselves if they get to feeling a bit bored during a long card — or, you know, just realize what they're getting into and accept lulls at times.