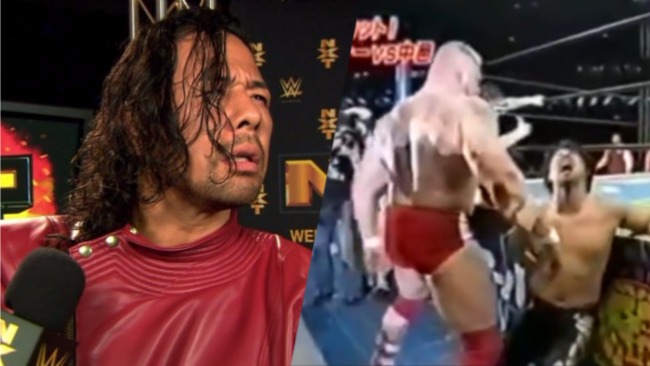 As Brock Lesnar's time in WWE meanders to an end — hopefully — the conversation about his role in and importance to pro wrestling begins. One man with a unique perspective on that is current United States Champion Shinsuke Nakamura, who actually faced Lesnar in New Japan Pro Wrestling back in 2006 at the January 4 dome show. Don't go running off to NJPW World to watch it, though, because it's not there. Brock sued New Japan back in the day over the rights to use his likeness from matches, so they removed them from the archives to avoid future legal problems.
In an excerpt from his new book, King of Strong Style: 1980-2014, Nakamura (via translator, by way of a Redditor who was nice enough to transcribe the blurbs) spoke openly about how the match came to be, why the rematch never happened (there or in WWE, as Nakamura's requested in the past), and, perhaps most surprisingly, why he cried afterward.
"Part of that was luck. But that match was seriously rough. First, Lesnar was saying all this stuff about how he respected New Japan, but it felt to me like that was just for show, that he didn't really respect the promotion. Like, somewhere, he was looking down on Japanese people. I lost the match, and that was the first time I cried at pro wrestling after a match.

"It was the main event at Tokyo Dome. This was a pretty hallowed stage, and I knew I hadn't fought the way I imagined I would. And there was, like, this temperature difference between me and Lesnar. I didn't get the sense he had any love for pro wrestling. It felt like he was just doing his job."
As mentioned, the rematch never happened due to a contract dispute, leading to Brock being stripped of the IWGP Heavyweight Championship, but taking the actual belt with him on the way out.
"I felt like this was too much; he was seriously scoffing at us. Lesnar won the championship and took the belt home, I told Simon [Inoki] if the company didn't get it's shit in order, that belt was definitely going to get nicked. I didn't honestly believe that when we fought. But it ended up just like I feared. He has the physical stuff, plus a straightforward strength and a certain amount of flexibility, so there was a bit of the monster to him. But I didn't like his personality, you know? He might have made a real mark in UFC, but he didn't even seem to notice the audience booing. I was like, 'Oh, this guy's a heel to the core.'"
Maybe Nak should try to get that belt back from him before he leaves for UFC again?