NXT is WWE's cutting edge brand devoted to what's cool, what's now, what the kids are into, so, naturally, that means one of NXT's wrestlers is now feuding with the lead singer of Slipknot. Wait, what? The masked guys you liked for a minute in high school before you discovered what music is supposed to sound like? Yup, they're still around, and their frontman Corey Taylor has BEEF with Baron Corbin. Of course it's Baron Corbin. Of course.
Corbin and Corey Graves had been "feuding" with Corey Taylor on Twitter. This culminated at the Aftershock metal festival this weekend, which included a live NXT show. Corbin got things going by antagonizing Taylor before his match with Samoa Joe.
Corbin would continue to needle Taylor throughout the match, leading to a physical confrontation.
Now, Baron Corbin backing down from a musician he has a solid two-foot height advantage over may seem a tad silly, but, well, Taylor is a little more intimating when he has his mask on.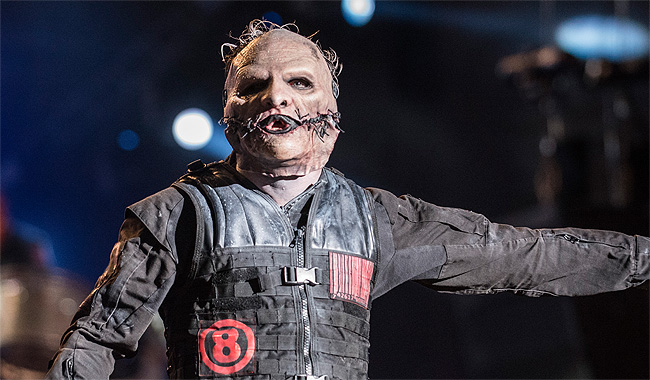 I'm just hoping Corey Taylor doesn't end up as COO of NXT.
In other Aftershock news, Scott Dawson of The Mechanics fame (?) got into a verbal confrontation with Southern rapper Yelawolf.
I'm not sure what I think about NXT/music crossovers, but if this leads to Finn Balor Coup de Gracing the members of Limp Bizkit, consider me on board.
via SB Nation