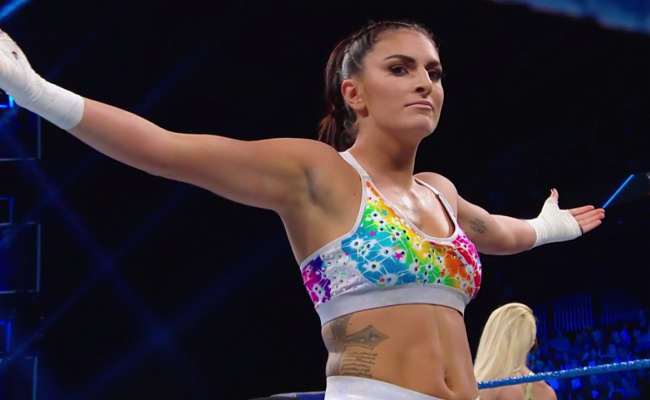 Sonya Deville shows a lot of promise as an up-and-coming WWE Superstar, even if she hasn't been given nearly enough to do in her year on the Main Roster. Recent events at WWE Evolution and Survivor Series hint at a falling out between her and best friend Mandy Rose, which might lead to a face turn for Deville. That's particularly exciting for those of us who are already inclined to cheer for her not only because she's talented, but because she's the only openly gay performer in WWE.
Sonya came out on television during the 2015 season of Tough Enough, which turns out to have been the first time she publicly came out at all. She tells that story, including Triple H's reaction in the moment, in a recent interview with Sky Sports. She goes on to explain that even though it was a spur of the moment decision to be truthful about her sexuality, it turned out very positively for her.
It was one of those spontaneous moments. It truly wasn't planned, but I'm so grateful that it happened because after that, it not only gave me a new realization of what it means to be open and true to myself, but I feel like it helped me inspire other people.

If you're scared to do it, my advice would be "do it," because it was the best thing that ever happened. I'm not saying there's not going to be trials and tribulations along the way, but in the end, the best life you can live is the life where you're true to yourself.
Since making it to WWE (despite being eliminated pretty early from Tough Enough), she's continued to be open about her identity. Although it's never been mentioned on any of the wrestling shows, she sometimes wears pride-themed rainbow ring gear, and spoke about that choice with Paige during a brief appearance on this season of Total Divas. She's also been very public on social media, which she obviously considers important for fans to see.
My goal in talking about my sexuality publicly is just so that a scared little girl or little boy can see me do it and think, "Wow, if she did it, then maybe it's OK that I do it."

It's to encourage people to be themselves. Equality for all is what we should all want, between race, religion, gender, sexuality… it doesn't matter.

We're all equal and we should treat each other as such.
Every time Sonya's sexuality comes up in interviews and whatnot, I see people expressing gratitude that it hasn't been a part of any wrestling story line. I certainly understand the concerns about how WWE would handle it, but I'm not satisfied with a queer wrestler's sexuality going unmentioned as an ongoing solution. Straight wrestlers have stories built around there real and kayfabe relationships all the time. We can all be grateful we've moved past the era of "hot lesbian action," and still hope for a day when an actual lesbian wrestler can be acknowledged as a lesbian on TV in an honest and respectful manner. After all, some of those scared kids Sonya spoke about probably watch Smackdown Live.