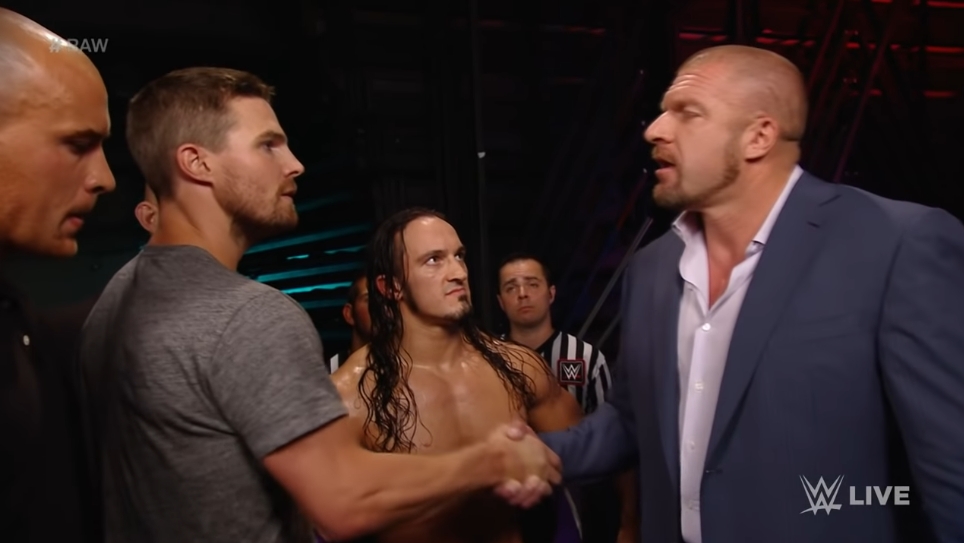 Stephen Amell, the star of CW's Arrow, has always had an interest in pro wrestling. In fact, he appeared in WWE back in 2015, getting involved in a storyline on Monday Night Raw that led to a match at SummerSlam. He returned to wrestling just last year, appearing at All In, the PPV event that presaged the creation of All Elite Wrestling. Still, despite his friendship with AEW founder Cody Rhodes, Stephen Amell is an actor by trade, and with Arrow ending after Season 8, he was in need of a new project.

That project comes in the form of Heels, a drama series about pro wrestling, which has been greenlit by Starz. Here's more about the show, courtesy of Deadline:
Written by Michael Waldron (Loki), with Mike O'Malley set as showrunner, Heels is about the men and women who chase their dreams in the world of small town pro wrestling. Set in a close-knit Georgia community, it follows a family-owned wrestling promotion as two brothers and rivals — one of them played by Amell — war over their late father's legacy. In the ring, somebody must play the good guy and somebody must play their nemesis, the heel (Amell). But in the real world, those characters can be hard to live up to — or hard to leave behind.

In the ring, Amell's Jack Spade is the charismatic villain, or heel, of the Duffy Wrestling Association (DWA). In the real world, he's its hard-working owner, a husband and father trying to make ends meet while fighting to realize his impossible dreams. He has the mind of an artist in the body of a warrior, and a Steve Jobs-ian need for perfection — and for control. He says he'll do whatever it takes to build the DWA into an empire. Will he go so far as to risk his marriage, or his relationship with his brother?
That's pretty much all anybody knows so far about the series. There's no mention of it being a period piece, but it certainly sounds like it could be set in the Territory Era of wrestling that preceded WWF's rise to national prominence in the early-to-mid '80s. On the other hand, small-town indie promotions are still around, so it could well be set in the present. Obviously Amell's experience with wrestling gave him a leg up on this project, and it won't be too surprising if some wrestlers who also act show up for supporting roles. In fact, Stephen Amell already seems to have a friend in mind: