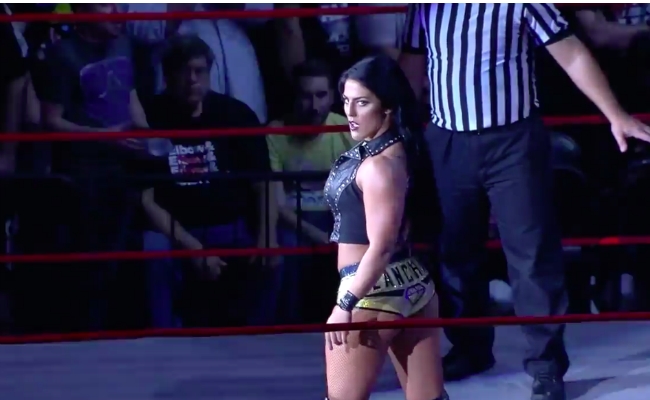 2018 has been a big year for Tessa Blanchard so far, and it keeps getting bigger. She won the one women's match at All In, recently became the Impact Knockouts Champion for the first time, and has now signed with the revamped version of WOW – Women of Wrestling that will tape this October to air on AXS TV in early 2019.
In a press release issued by AXS, Blanchard said that, "I am grateful to both Impact Wrestling and the WOW executives for working out the details to allow me to pursue my dream of competing at the highest levels within our industry. The success I've experienced in the past month in winning the Impact Championship, winning in Chicago at the All In event in front of over 10,000 people, and now signing with WOW is what dreams are made of. My next dream to come true that will top off my year's success will be when I beat Santana Garrett to win the WOW World Championship."
The odds on that last part seem to be in Blanchard's favor, as she defeated Garrett (and Lacey Lane) to win the The Crash Women's Championship in July 2018.
WOW and Lakers owner Jeanie Buss also gave a statement on the signing, saying, "Knowing the expectations of our WOW fans to see the best in women's professional wrestling, we are elated to sign Tessa Blanchard. Tessa enhances and elevates our athletic roster of talent beyond measure, and we can hardly wait to showcase her skills in the series set to broadcast on Mark Cuban's AXS TV."
Adding Blanchard to the roster looks like the next step in an overall revamping of WOW since its relaunch in 2012, and further since it contracted with AXS. It'll be interesting to see what the show looks like by the time it airs on its new platform. In an earlier press release, AXS said "women's wrestling has been a growing pop culture phenomenon for the past few years, fueled in part by the success of the Netflix series GLOW, leading to a new appreciation for the entertainment value and athleticism of women who choose to battle in the ring…" but WOW, at this point, appears to have missed all the progress in the medium made over that time period. The cast of "superheroes," which you can check out here, includes Garrett, Rachel Bostic as Chantilly Chella, former WCW wrestler Selina Majors, Khloe Hurtz (Katie Forbes), and former Shimmer, TNA, and NWA wrestler, and NJPW valet Amber O'Neal… and that's pretty much everyone wrestling fans outside of the show's audience might know. WOW's campy aesthetic also seems allow for very "Divas-era" looks and characters, and/or the use of ethnic stereotypes.
WOW will tape for AXS on October 10-11 a the Belasco Theater in Los Angeles, in collaboration with Los Angeles Comic Con. Buss described the event as "a landmark for women's wrestling. We have been listening to the fans of wrestling for several years, and we know they will love the live experience and be even more thrilled with the television presentation on AXS TV…"
WOW founder, booker, and creator of the original GLOW promotion David McLane has yet to comment on the addition of Blanchard, but has so far promoted the October tapings thusly: "The marquee matchups at the Belasco Theater will include former WOW champion and fan favorite Jungle Grrrl, the Governor's Daughter, Abilene Maverick, The All Natural, Khloe Hurtz who promises to have her Ring Rats fashionably attired for her ring entrance, The Temptress and making her return to WOW from the graveyard, Holidead. It doesn't stop there; fans will be captivated with The Beast, an athletic specimen not seen in wrestling before, plus in the WOW ring for the first time, the Mexican Warrior, Azteca and 19-year-old California sensation, Faithy J., who not only battles but also raps with the best of them."