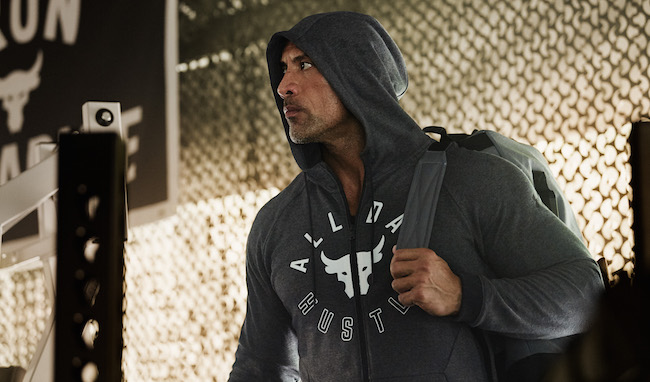 Dwayne "The Rock" Johnson is among the busiest men in the world of entertainment, and he's regularly churning out new movies as Hollywood's highest paid actor. The Rock's mere presence in a movie is usually enough to make it a profitable venture, whether from the domestic market or overseas where he's maybe an even bigger star.
The Rock's workout regimen is legendary, as he wakes up well before dawn to get in some "clangin' and bangin'" before he goes about whatever else he has that day. Under Armour and The Rock have partnered together to make workout apparel and sneakers, and their latest collection is the "All Day Hustle" collection, which includes a new Project Rock 1 sneaker that Johnson debuted on his Instagram.

The collection includes plenty of new shirts, hoodies, tanktops, and other gear with his trademarked Brahma Bull logo and the moniker "All Day Hustle." It also includes the Project Rock 1, which is his latest training shoe, featuring a knit upper, Micro G cushioning in the midsole, and a wider toe box and heel cup for increased stability while lifting.
The new collection, including sneakers, will be available on Sept. 20 to the public from Under Armour and various other outlets.