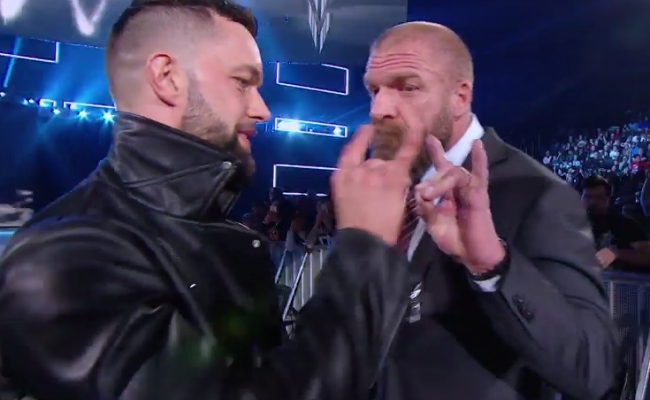 Triple H: BOSS. HERO. MENTOR. Bullet Club member?
In what can only be described as a classic Triple H move, it looks like the 49-year-old Executive Vice President of Talent, Live Events and Creative for WWE will essentially join Bullet Club at a WWE house show at Ryogoku Sumo Hall in Tokyo on June 28.
Per WWE Japan, the King of Kings will tag with The Club (AJ Styles, Karl Anderson, and Luke Gallows) in his first match in Japan since 2008. There is a one hundred percent chance that this is in service of a moment reminiscent of Triple H joining the Shield on a house show, and, even more so, Triple H and his friends Too Sweeting Finn Bálor and his friends at Raw 25 in which Triple H Too Sweets AJ Styles and his friends.
Triple H has been a target of in-jokes similar to the kind he gets to do on Raw sometimes because he's the boss ("guardians of the independent scene") by the former members of the Bullet Club who then became The Elite and have now mostly become Executive Vice Presidents of All Elite Wrestling on their web series Being The Elite. These jokes went too far for WWE, though, when the BTE crew "invaded" Raw in September 2017. This led to WWE firing Jimmy Jacobs and allegedly hitting the Young Bucks with a cease and desist order for using the trademarked Too Sweet hand gesture and phrase – something the Bullet Club wrestlers who weren't typically on BTE continued to do while their stablemates attempted a pivot to "One Sweet" and made t-shirts and a parody boy band related to the incident.
The latest of these shots — after Triple H responded to "AEW" chants at the WWE Hall of Fame by angrily calling it a "pissant company" and the AEW guys named an episode of Being The Elite after it — was the most dramatic yet. Cody Rhodes smashed an Iron Cross throne similar to the one the Game used in his WrestleMania 22 entrance at AEW's first PPV, Double or Nothing. About two weeks later, the video above of Triple H sitting on the throne was used to promote his appearance in Japan. The competition between AEW and WWE that some have called a "war" has only just begun, so get ready for a lot more of this type of thing in the future.