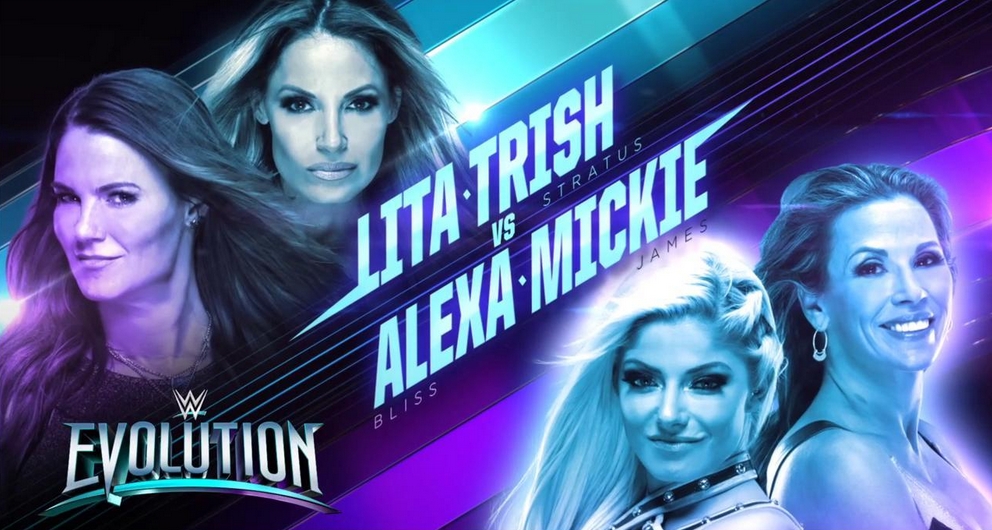 On Monday's edition of Raw, two of the first matches announced for the upcoming all-women's pay-per-view WWE Evolution — a returning Trish Stratus versus Alexa Bliss, and a returning Lita vs. Mickie James — was suddenly changed into a tag team match. While it makes sense considering Trish and Lita call themselves "Team Bestie" in their spare time, early reports were that they'd always had a tag team match planned, and that they just announced two singles matches to fill up the card until they could announce Ronda Rousey's program with Nikki Bella.
Mike Johnson over at PWI Elite shared new information that changes the story slightly; according to him, the plan to make Trish and Lita's matches a single tag team match was an audible, because they've developed plans to keep them around as a tag team after Evolution. His quote:
"I was told the decision was made about 2 weeks ago to turn that into a tag and part of it is they want Trish and Lita to be a tag team going forward. They have for them coming out of this for them to be appearing on major shows as a tag team."
That makes sense considering the rumors that Stephanie McMahon will debut a set of Women's Tag Team Championships at Evolution, and Trish Stratus and Lita seem like an obvious prestigious first choice to hold them. They should go to the IIconics, but that's neither here nor there.
We still don't know the full story on this, especially considering the concurrent rumor that Bliss' match was made into a tag match to help protect her as she's been dealing with nagging injuries since mid-September, so take this all in and piece it together as you'd like. No matter what, in this age of Shawn Michaels coming out of retirement and D-Generation X reforming to face Kane and the Undertaker, it seems reasonable that WWE would want to refocus their women's division around their biggest female stars from 2004.
As of publication, Sasha Banks and Bayley's role at Evolution is to stand in the background and clap for everybody else.