The WWE Universe expected a few things out of the announced 2-on-1 handicap match between Roman Reigns and the Authority goon squad of Shane McMahon and Drew McIntyre, but nobody expected an appearance from the Dead Man.
The last time we saw the legendary Undertaker was at Super Showdown in Saudi Arabia, in a deeply disappointing match with Goldberg that involved accidental blood, door-related concussions, and multiple collapses. Taker's disappointed face even became a meme …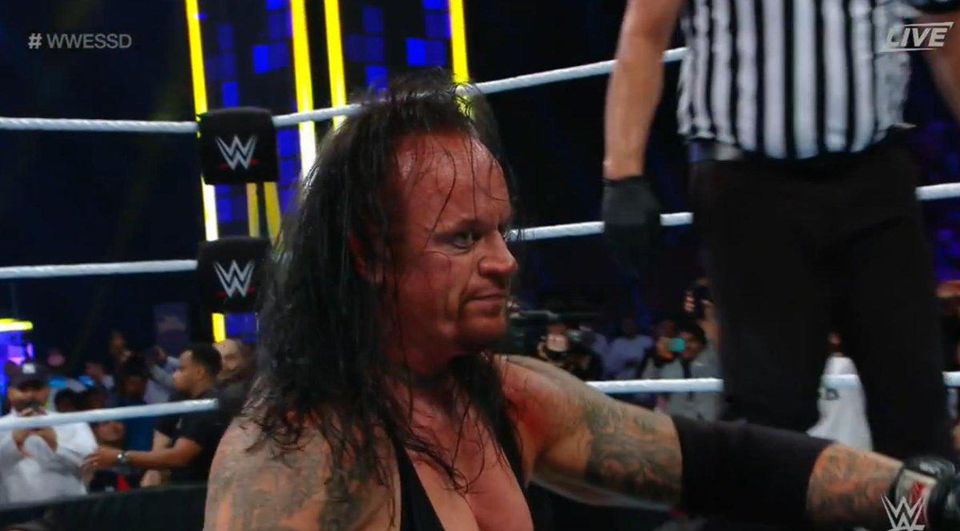 … but you wouldn't know any of that happened listening to the Washington Raw crowd lose their minds.

As you can see in the clip below, Undertaker shows up in an unexpected moment late in the match to bail out his former WrestleMania opponent Reigns, dropping Shane McMahon — also a former WrestleMania opponent, albeit one he defeated — with a chokeslam. Taker took out McIntyre with a big boot and beat him down in the corner as well, ultimately sending the heels packing and hitting his signature pose in his moody blues.
Watch:
[protected-iframe id="3fd71f81adc210a735d8d8daca3d81ab-60970621-76566046″ info="//www.clippituser.tv/c/embed_iframe/kqlpxd" frameborder="0″ scrolling="no" allowfullscreen=""]
For all intents and purposes it looks like this will be setting up a match for The Undertaker at Extreme Rules in Philadelphia next month, and having him as 1/4 of a tag match instead of being asked to carry an entire bout himself might be just what the Phenom needs to return to form.