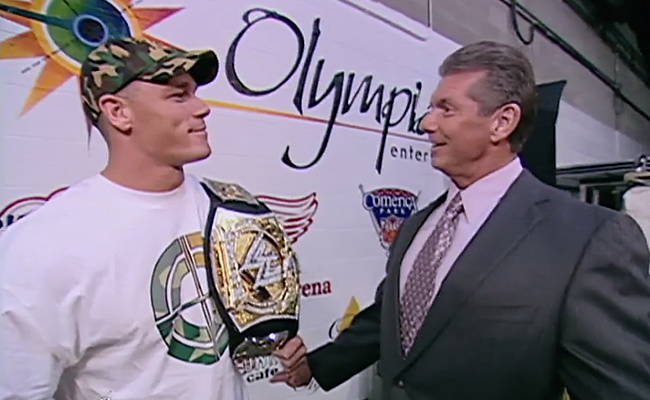 Since his return to TV on last week's Raw, it feels like Vince McMahon has been everywhere. For two weeks now he's been on both Raw and Smackdown, and now he's even appearing at house shows. Of course, it wasn't just any house show where he showed up. It was a Madison Square Garden Live Event, which tends to be a little special due to the venue's history with WWE. It also wasn't just any WWE Superstar who he showed up to promote. Vince was there to introduce the returning John Cena.

At the start of the show, Baron Corbin came out to the ring and began a 10-count so that he could win by forfeit against a still-injured Braun Strowman. Before the count ended, however, McMahon's music hit and he strutted down to the ring to declare that Corbin would have a match, "against a an with more Madison Square Garden moments than Hulk Hogan, Bruno Sammartino, and Stone Cold combined."
That man was John Cena, of course, who came out with his "Be Kind To One Another" towel that was a gift from Ellen Degeneres, and easily defeated Corbin. This was the new Cena, of course, with his slightly longer hair and slimmer physique. As reported by Cageside Seats, Cena's expected to be around for house shows and TV until his next movie starts filming on January 20th. Once that happens, he'll have to take another break from the ring.