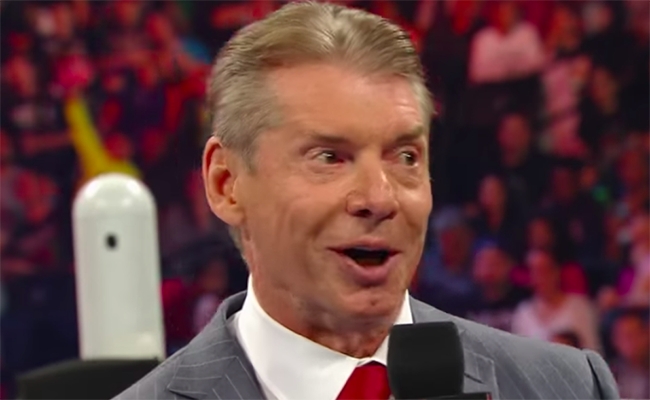 It's gotta be nice to be WWE CEO Vince McMahon right now. (Or most days in the past few decades, I guess.) Not only is there an upcoming bidding war for WWE programming, but it's also WrestleMania season … and the XFL is coming back in a little under two years. Possibly.
On Tuesday, McMahon got another accolade to add to his growing list — making the Forbes billionaire list for the second year in a row.
Listed at a net worth of $1.8 billion, McMahon has been steering the ship for WWE for nearly 40 years, and through the WWE Network and other TV deals managed to keep the largest professional wrestling company afloat when so many other companies have fallen by the wayside or languished in mediocrity. So the only surprise may be that it took this long for McMahon to officially break into the vaunted billionaire list.

The magazine does note a few of his accomplishments, and ranks McMahon 436th among American billionaires. He ranks nearly 1.400th in terms of overall billionaires, leaving McMahon plenty of work to do before he retires. (If he ever does.) Forbes does encapsulate many of McMahon's accomplishments into decent little blurbs, among them noting that McMahon took a regional wrestling promotion and made it national one (keeping the WWE company line rolling on that front), and other interesting anecdotes listed below.
– Vincent 'Vince' McMahon is chairman and CEO of entertainment company World Wrestling Entertainment (WWE), which had $800 million in 2017 revenues.

– A third generation wrestling promoter, McMahon grew up in a trailer park in North Carolina and joined his father's small wrestling company in 1972.

– McMahon purchased the business 10 years later, transforming the World Wrestling Federation from a regional operation into an international phenomenon.

– WWF (now called WWE) went public in 1999; today its programs are broadcast in roughly 180 countries and more than 20 languages.

– His wife, Linda, was picked by Donald Trump to lead the U.S. Small Business Administration; she was confirmed in February 2017.
Sometimes it seems like McMahon is in for a third renaissance as he takes the company forward into the world of digital media and more. As mentioned before, the company will have their choice of whether to stick with NBCUniversal or sign with Fox by the end of the year — potentially making even more money. The company doing some of its best business ever, despite decreased attendance, practically guarantees that Forbes readers should expect to see McMahon on their lists regularly.
(And you just know that being listed down at No. 436 among American billionaires keeps Vince awake at night. Also, he doesn't sleep.)