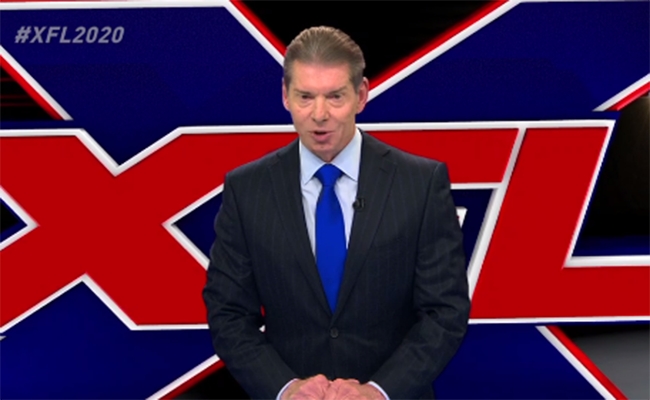 On Thursday, following months of speculation, the world finally got confirmation that the long-dead XFL is coming back. The new league will still be run by Vince McMahon, but it will allegedly look much different than its 2001 incarnation.
The news was delivered by McMahon himself in a multi-platform virtual press conference, and the sports and entertainment worlds reacted with goofs aplenty on pretty much any social media network you can imagine. Even though some football players are already getting hype for the new XFL (which will launch in the year 2020), the jury is very much still out on the viability of an alternative to the NFL.
But there is at least one very important sphere that reacted extremely favorably to the big news: Wall Street.

The stock market was bullish on the value of WWE — which, it should be noted, is a separate entity entirely from XFL, which is wholly owned by McMahon's new company, Alpha Entertainment. Although WWE stock only jumped just a share under two percent from the previous day's close, Thursday marked the highest the company's stock has ever closed the day on the NYSE. Thursday's closing price for WWE stock was $34.13.
This is nearly the highest the stock has ever been, nearly matching the all-time high of $34.18, which was hit on the very first day of WWE's initial public offering, way back in 1999. But despite that all-time high, the closing price on the day of the IPO was $34.00.
Interestingly, although published before any XFL announcement on Thursday (even published before the announcement there would be an announcement), the latest issue of the Wrestling Observer Newsletter delved into why WWE stock and valuation is so strong at the moment. Basically, with television rights contracts expiring in the next couple of years, combined with the reports that McMahon would be open to selling WWE and that New Fox might be looking for a massive property to replace the likely-departing UFC, there is an expectation that the value of the company will be at a premium between now and 2019.
We'll see what actually happens with the stock, and with the XFL, and with the television rights, and with Fox, and with the ownership of WWE between now and 2019. But at the moment, the majority shareholders in WWE are sitting very pretty.