It made for really terrible television at the time, but it's even worse in WWE Network form as they've cut out all the relevant highlights and footage from the Tonight Show side of the build, meaning we don't actually see Jay Leno do or say anything, but still have to watch entire episodes of 'nWo Nightcap' and 15-minute retaliatory Hulk Hogan promos. In fact, the only Network evidence that Leno was involved in the build at all is clips with filters over them in the opening of the actual Road Wild pay-per-view. See above. Nothing cracked up a 1998 audience like bringing out a midget dressed as someone you hate and browbeating them.
Also, is it weird to anyone else that in 2019 you can watch every episode of WCW Thunder ever made, but there's no way to watch old episodes of The Tonight Show?
So, the nWo Nightcap segment has evolved from Bischoff stealing Leno monologue jokes and delivering them to canned laughter into an entire Tonight Show mock-up, featuring an original monologue, a "Headlines" segment, and more. Bischoff's monologue is about 75% "Jay Leno has a big chin, you guys," jokes, which makes me think they had to clear everything with Leno beforehand. Other timely topics include Japanese Viagra, Monica Lewinsky, growing sheep bladders in a lab, and Steve Urkel from Family Matters being nWo black and white. We know that last part's not true, as around this time Urkel was becoming one half of the Federation of Worldwide Wrestling Tag Team Champions and fighting the Bushwhackers.
One thing I need to note about this episode is that it might be the worst "wrestling" episode of Nitro ever, as there are barely any matches, a three-week old (bad) pay-per-view main event shown in full, tons of lengthy promos, and a 17-minute long Tonight Show parody. There are only seven matches in three hours — what's up, modern day Raw — with four of the seven matches being squashes. It's unforgivable, especially when the other show's coming off a pay-per-view, featuring Stone Cold Steve Austin and The Undertaker teaming up in the main event, and tons of dick-chopping drama, both figurative and literal.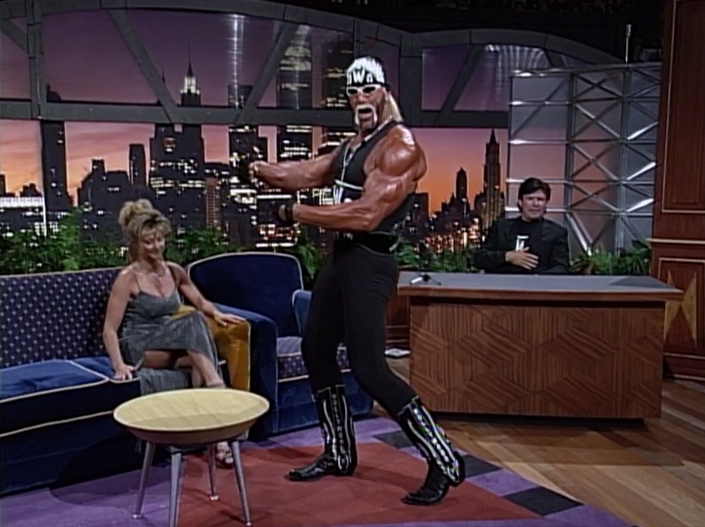 Hollywood Hogan is Bischoff's guest, because Hogan and Scott Steiner are his only contacts. The original version of the segment has Bischoff and Hogan reacting to Tonight Show footage of Leno and his band leader, Kevin Eubanks, making fun of Hogan. The Network version is just Hogan vaguely threatening Leno or giving him one more chance to stop running his mouth, or he'll, "come to your show, and kick your butt right in front of your own Burbank-stack crowd, because Hollywood doesn't take it lightly when you affect me financially, and personally, on any level." CC Gawker Media.
Afterward, Mean Gene interviews a limping Diamond Dallas Page. Page says that Hogan will eventually Feel The Bang®, so Hogan — who I should remind you has already had an entire quarter hour dedicated to his feud with Jay Leno — has to come back out and cut another long promo to make sure he gets the last word on everything. He earns points for calling Page a "gutter trailer-trash puke," then loses those points and every other point in history for adding that he's, I quote, "saddled up, because I'm ready to ride your butt through the straddle of the night."
If that's not clear, he also claims he'll, "ride you real hard, Diamond, and hang you up wet." Hogan's going to fuck Diamond Dallas Page in the ass, got it. You pick up a lot of strange habits when you spend a couple of weeks feuding with the ancient Egyptian equivalent to Pepe Le Pew.
This all sets up Page vs. Hogan for the main event of Nitro. Can you guess how it ends?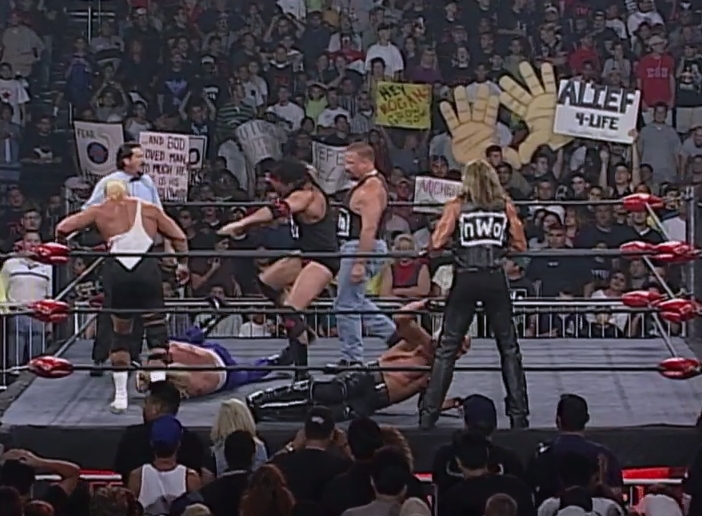 I'm running out of ways to joke about Nitro ending with the nWo beating everyone down and making all the top babyfaces look like helpless idiots all the time, so here's another one of those. To make it even better, Bill Goldberg shows up to make the save for Page, and even HE gets beaten up. Giant just chokeslams him and lays him out. Now that Goldberg's World Heavyweight Champion he's way easier to beat up, because that's how modern wrestling works, somehow. GOOD TIMES FOR EVERYONE! PLEASE DON'T CHANGE THE CHANNEL!
And That Wasn't The Worst Goldberg Moment Of The Night
At the top of the show, nWo Kona Crush lays out a challenge on behalf of nWo Hollywood to one William Scott Goldberg, WCW Heavyweight Champion, because Curt Hennig's already jobbed out to him a couple of times lately and they need to swap out interchangeable heel threats. To add insult to … previous insult, we find out that Goldberg's personal locker room has been VANDALIZED AND SPRAY-PAINTED, despite there being like 30 police officers and security guards waiting just outside the door to walk him to the ring. Vincent and Brian Adams did a lot of training with the Faceless Men, apparently. Technically I guess the New World Order doesn't have any faces either.