"You know something, the one thing I hate more than a couple cowards, is a couple cripples. So the best thing for you to do, hound dog, is to stay back if you … unless you want another leg broken."
Hogan, who cannot differentiate arms from legs, calls Bagwell both "little Buffy" and "Cream Puff Bagwell," tells him he's tired of "all the babyface crap," and does this:
Don't worry, Hogan gets his comeuppance in the match with Hall.
Hahahaha, yeah, right, this is Monday Nitro, you marks. Nobody's allowed to be happy here, even for a second.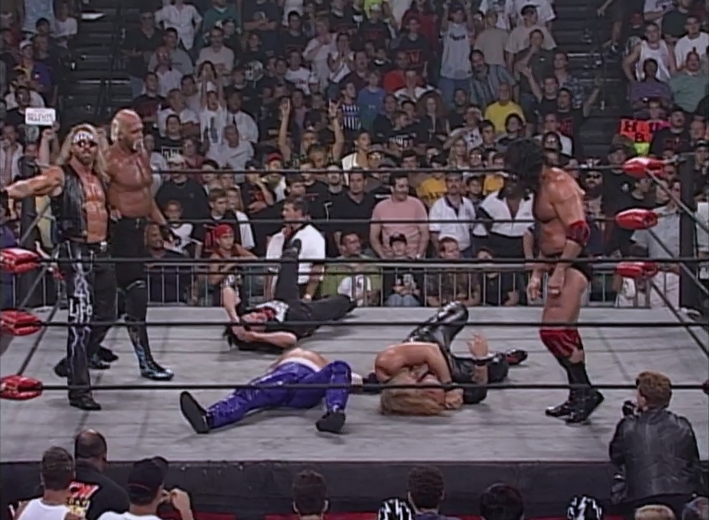 The Hall vs. Hogan match goes about like you'd expect, with Hogan giving Hall the bare minimum of cartoonish heel selling before more or less kicking his ass while special guest referee Eric Bischoff cheats for him. When this becomes too much, Diamond Dallas Page storms the ring to attack Hogan and Bischoff, and Kevin Nash makes the save for his best friend. The two even share a Too Sweet that pops the crowd, and then whoops, Hall attacks Nash from behind and all the Crappy Babyfaces® get beaten down. Despite Hollywood Hogan being a complete a-hole to Scott Hall for no reason, Hogan kicking Hall's ass for a majority of their match, and Bischoff as special referee openly cheating for Hogan and treating Hall like his enemy, Hall is 100% loyal to Hogan, apparently because he "needs money," and the other nWo full of people who want to be nice to him and be his friend work for free.
Bash at the Beach and this Nitro are what you get when Hulk Hogan loses one match and has to spend the next three months "getting his heat back." An actual nightmare.
By The Way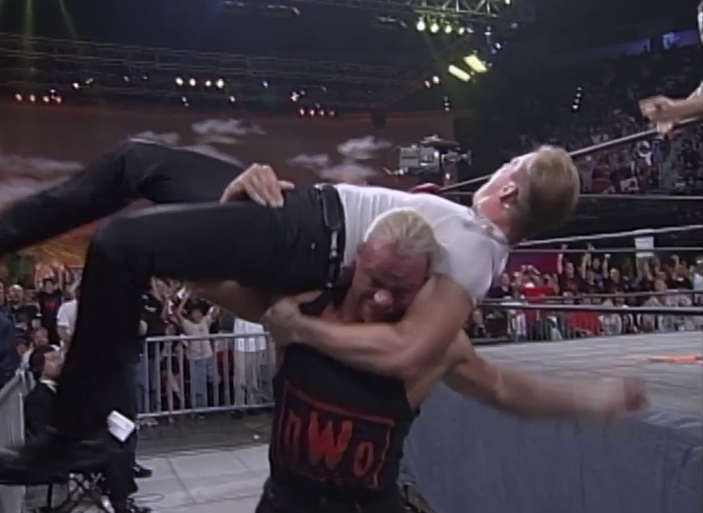 Wondering what the Wolfpac was doing for the rest of the episode? Why, they're locked in a sudden, one-sided feud with Disco Inferno and Alex Wright, which is definitely a thing that needed to happen. Pictured above is Lex Luger preventing Das Wunderkind from interfering in Bash at the Beach's impromptu Disco Inferno vs. Konnan match and getting a full handful of dick to support the Torture Rack. Look at that grip, Luger could've waved him around like a flag by that thing.
On Nitro, we have two Wolfpac matches: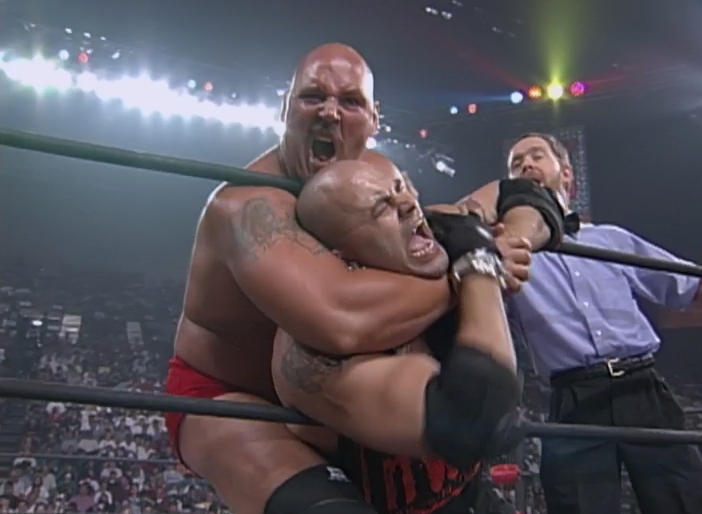 Konnan vs. Barry Darsow, which is the kind of match you wanna run to make sure viewers don't flip over to Raw to see what Stone Cold Steve Austin and The Undertaker are doing, and which would've been 1000% better as Konnan vs. the Repo Man
Kevin Nash and Lex Luger vs. Disco Inferno and Alex Wright, which is the 1998 equivalent of John Cena and Roman Reigns vs. Zack Ryder and Curt Hawkins. Or like, Curt Hawkins and a second, worse Curt Hawkins. It ends with everyone in the Wolfpac taking turns beating up the jobbers for fun, and the referee allowing it, because reasons
Honestly the only highlight is Disco Inferno getting scared and tagging out because of titty intimidation.
Other Things To Make Sure You're Completely Depressed From This Episode
Remember how Chris Jericho had run Dean Malenko out of the company and hounded him for months about how embarrassing he was to his dead father's memory, and how Malenko returned at Slamboree in one of the coolest WCW "hero" moments ever? And how that ended with Jericho more or less immediately getting the belt back and negating the entire thing?