Worst: Who's Waiting For Me When I Step In The Place? My Friend Steve Borden, Red In The Face
The only really historically notable bit from this week's show is the debut of Wolfpac Sting, who has replaced the white paint with red for my least favorite Sting look ever. You may have read me refer to him as "dog dick Sting," and it looks like Crow Sting fell asleep on the beach and got sunburned.
He informs The Giant that he is now a mean, wily veteran who looks like New Sting but cuts cornball promos like Old Sting, and that he'll leave the Great American Bash as Tag Team Champions. Seems like they could've skipped a step if they'd just had Luger team with Sting on Thunder, but what do I know? The Giant's response is to say that he's going to eat Sting "like the chicken he is," but honestly he looks more like salmon.
MORE HOLLYWOOD HOGAN PLEASE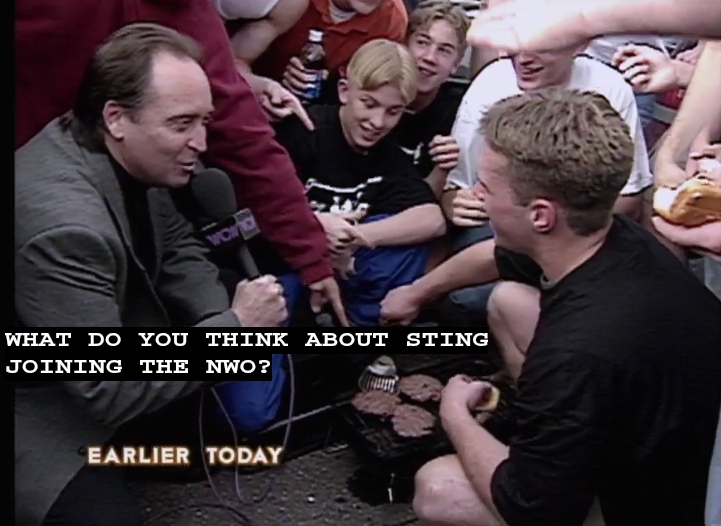 At the top of the show, the Wolfpac was trying to recruit Diamond Dallas Page as their newest member following what went down on Thunder, and it's such a topic of conversation that WCW sends Mike Tenay to a local college campus to ask some barely literate 19-year olds if they think it'll happen. Interviews with fans are my favorite thing in the world, because all they can say is wrestling catchphrases. Tenay could've asked that kid "who invented the cotton gin," and the kid would've looked down and to the left and yelled "Kevin Nash is big sexy he's too sweet."
By the end of the night, the dire wolves have organized enough to formally regroup and ask Page to join their team. Page seems honored by the request, which is weird considering that the reason he didn't join the nWo back in the day was because Hall and Nash waited until they already had seven members before they asked him. If you're keeping score at home, Page would've been the Wolfpac's eighth guy. The point is moot, though, because before Page can answer he's attacked by WCW Monday Nitro protagonists HOLLYWOOD HOGAN AND DENNIS RODMAN.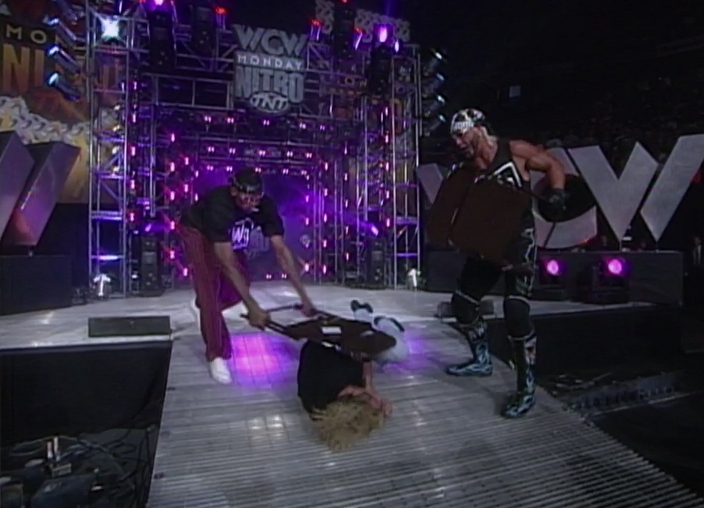 Somehow they're able to beat Page down with chairs for like half a minute before anyone can get from the ring to the ramp, and the show goes off the air with three solid hours of nWo Hollywood vocally, professionally, physically, and socially making the Wolfpac look like a pile of off-brand dog-shit.
Were There Any Matches On This Show?
The good news: yes. The bad news? None of them mattered.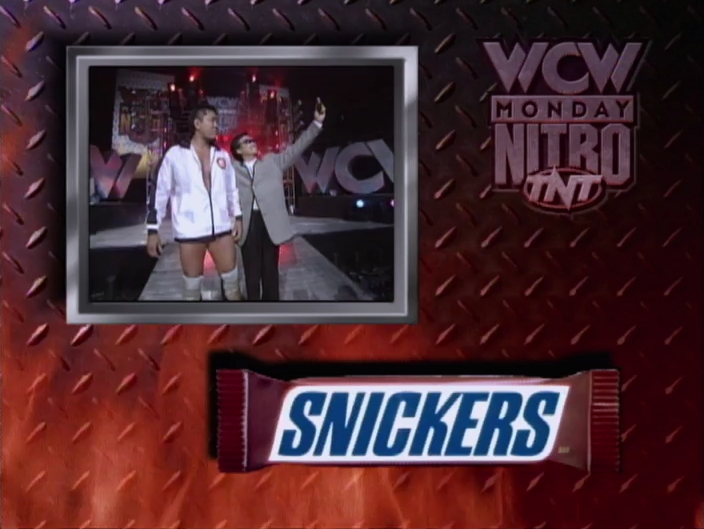 Yuji Nagata defeats Jerry Flynn by submission in the opener, and it's the Snickers® You'd Have To Be Nuts To Book This of the week. Nagata's New Japan lion mark track jacket rules, at least.
We also get another chapter of the Reese vs. Juventud Guerrera rivalry, which increasingly looks like a scene from The Secret World of Arrietty. The Flock comes out on top here thanks to the crackerjack combination of The Hogan Family Leg Drop and Juvy's bromance with Heavy Metal Van Hammer, who was dumb enough on Thunder to back up into a stop sign to the dome despite clearly seeing a 6-foot-3 man standing on the apron holding a fucking stop sign over his head.
Eddie Guerrero faces Scott Putski, which is a lot like a chess match between Garry Kasparov and SCOTT PUTSKI. Guerrero even loses to the Putz when Eddie's emotionally insane nephew sneaks down to the ring like a burglar in a cartoon and causes a disqualification.