WOW: Women of Wrestling is an all-female wrestling show that airs on Saturdays at 8pm on AXS TV. WOW is the brainchild of David McClane, who previously founded GLOW: Gorgeous Ladies of Wrestling, the original 1980s wrestling show that the Netflix comedy is based on. Despite the passage of 30+ years and the inclusion of more established wrestling talents, WOW still contains much of the spirit of GLOW, for both good and bad.
Previously on the Best and Worst of WOW, Tessa Blanchard defended her title against Reyna Reyes, Jungle Grrrl turned heel, and Fire and Adrenaline entered the Tag Team Series.
And now, the Best and Worst of WOW: Women of Wrestling for October 19, 2019:
Worst: You're All Terrible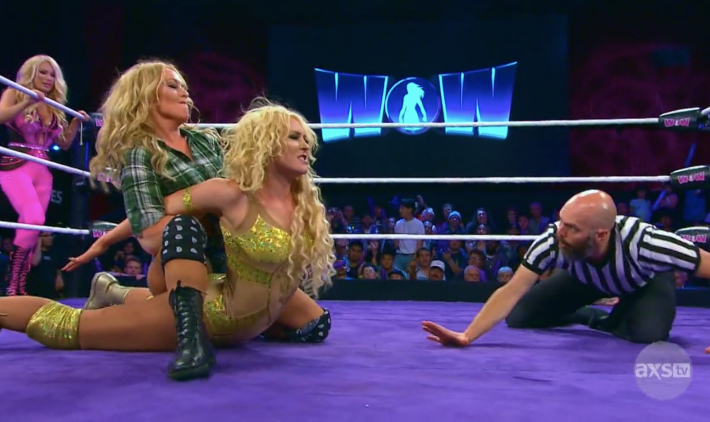 A weird thing about Lana Star is that she's had a lot of work done on her face, which is her choice and that's fine, but part of her gimmick, which her opponents make fun of, is that she's had a lot of work done on her face.
A weird thing about Jessie Jones is that a few weeks ago she was getting boos for veiled bigotry and Trump allusions, and now she and Amber O'Neal seem to be the babyfaces in this storyline. I'm not really here for that.
A weird thing about the Lioness is that she has no discernible personality whatsoever.
Two weeks ago Amber O'Neal and her redneck friend Jessie fought Lana Star and the Lioness, who Lana chose to replace Amber as her protégé. O'Neal and Jones won that match, and they win this rematch too.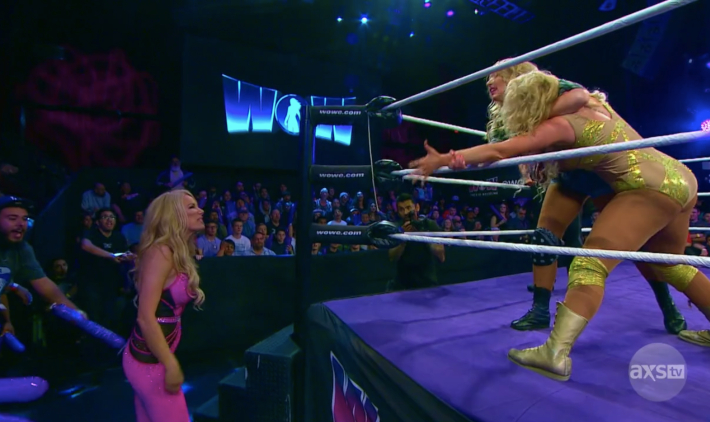 The only interesting thing that happens is that Lana absolutely refuses to tag in, not just jumping off the apron like she did last time, but staring derisively from just out of reach as the Lioness tries to tag her, and gesturing for her to go away.
Hopefully these two teams are done fighting now, but I suppose I'd be up for the Lioness turning on Lana Star, thus isolating Star completely. And if the Lioness can develop a character beyond "she sings, in theory" along the way? Even better.
Ballad: Something Is Happening Here But You Don't Know What It Is. Do You, Princess Aussie?
Princess Aussie's having a rough time. Her special bundle of sticks (don't ask, I can't explain it) was stolen and ritualistically burned by Siren the Voodoo Doll and Holidead. Exactly what that's supposed to do hasn't fully been explained, but since it's Siren doing it, it seems likely to be some kind of magic meant to give her power over Aussie.
So this week Aussie has to fight Fury of the Psycho Sisters, which of course means that she also has to fight the other two Psycho Sisters behind the ref's back. She holds her own, but between her voodoo-based distraction and the damn numbers game, she doesn't really stand a chance, and ultimately the Flight of Fury puts her down for three.
The Psycho Sisters beat her down after the match, and that's not even the worst thing that happens to Princess Aussie today.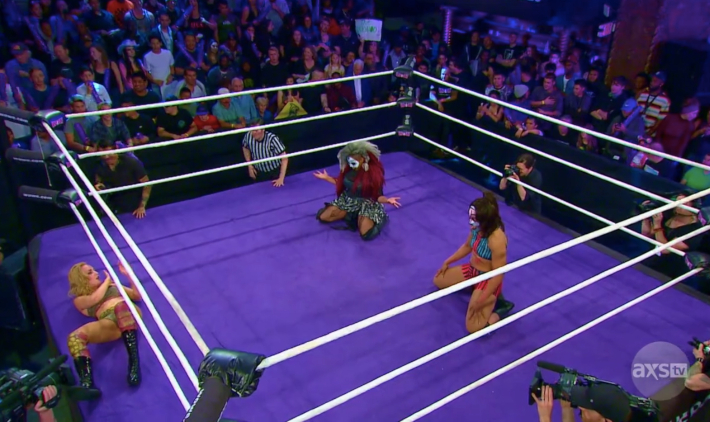 Siren and Holidead appear and run off the Psycho Sisters. Then they both kneel in the ring and Aussie cowers before them, clearly terrified. Then, and this is the part that makes it interesting, they let her go. Whatever's going on, it doesn't involve them hurting her physically.
Personally, I'm rooting for full mind control. Make Prince Aussie a zombie and give her makeup like Holidead's. No amount of voodoo or sugar skill trappings could be any more culturally appropriative than the "raised by aboriginal people" gimmick she already has, so why not?
Best: Searching For A Real Love
Adrenaline and Fire get a whole video package about how they met in the locker room and all the training they're doing together, and it's adorable mostly because we know they're a shoot couple. Also, they're both kind of just adorable, in an ass-kicking kind of way.
Their first match in the ill-defined Tag Team series is against the Temptress and Dagger, a tag team that's so cartoonishly sexy that they're not sexy at all. They're like members of the Female Furies from DC Comics, but not members created by Kirby. They're like latter-day female furies who were introduced in the '90s.
The match itself is a lot of fun. Adrenaline and Fire are both as high-energy as their names imply, and these heels are great at almost but not quite stomping out that energy in a way you want to see the heroes overcome. Adrenaline plays the Face In Peril for a big chunk of the match, proving that queer tag teams don't always align with butch/femme stereotypes.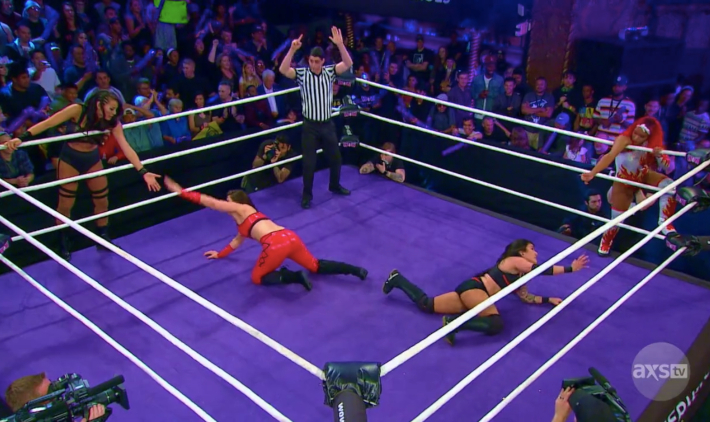 There's also something shamelessly symbolic about Adrenaline and Fire reaching out for each other, and literally being held apart by the restrictive forces of both wrestling and society. And then of course Fire gets the hot tag and comes in like a proverbial House On herself, with superkicks in all directions.
These two genuinely make a great tag team, and of course it's tempting to attribute that to them being in love, but then you remember Becky Lynch and Seth Rollins, and you have to admit that Fire and Adrenaline are just a great tag team because they're both great at tag team wrestling, although completely trusting each other has to help.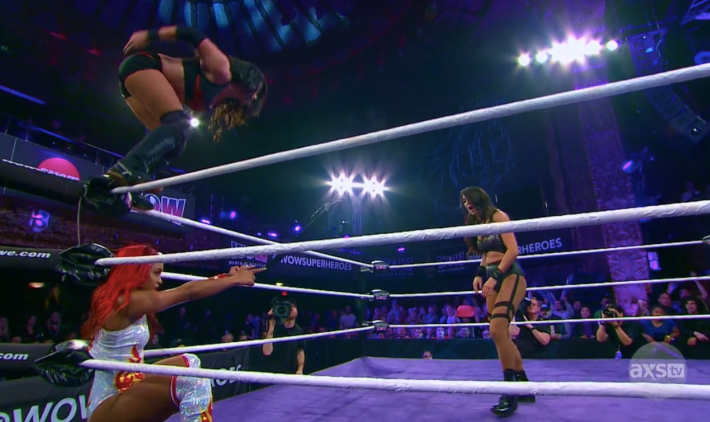 Eventually Adrenaline gets the pin on Dagger, and she and Fire cut a promo about how they're going to go all the way in this nebulously defined tournament for the WOW Tag Team Championship. I really hope they do. Representation aside, they're just the most fun team in the Series, especially among the good guys.
Also, I don't know if Adrenaline and Fire are ever going to be a couple on WOW TV like Diamante and Kiera Hogan are in real life, but I wouldn't be surprised because it did seem like they made a point of coming out publicly before this season started. Every time they win a match, I'm going to be rooting for them to kiss during their celebration. To be fair, I root for the same thing when Chuck Taylor and Trent win, but I think I'm more likely to get it here.
Best: Real Beast Versus Christmas Monster
The Beast was supposed to finally have a match against Tessa Blanchard, but due to Tessa and Sophia Lopez doing their contract shenanigans, the Beast has to face Nikki Krampus instead. Nikki's gimmick is that she's literally a Krampus. That's the horned, long-tongued demon who accompanies Santa Claus in parts of Europe.
So the Beast is a monster, but Krampus is a cartoon of a monster. It's not surprising, then, that the cartoon loses handily. She may be big and scary, and have weird tufts of hair even when she sheds her monstrous entrance gear, but the Krampus is no match for the Beast.
I've complained before about how much the messy shmoz-filled title picture has been damaging the Beast lately, but this match made her look mighty again. I hope that means she can go on to face Tessa pretty soon, but the fact that Jungle Grrrl attacked her with a chair after the match isn't exactly encouraging.
That's all for this installment, just me next week for more wild characters, tag team action, and probably a DQ finish or two.