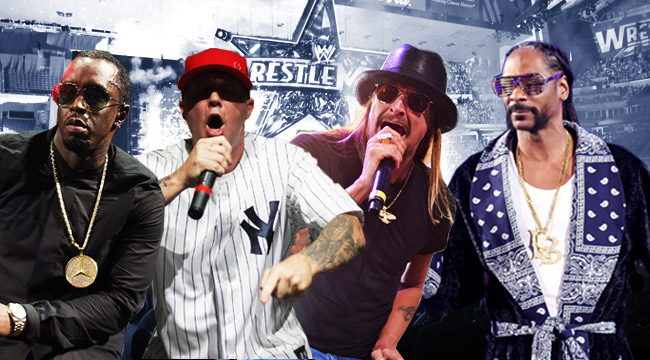 To celebrate the announcement that WrestleMania 33, THE ULTIMATE THRILL RIDE, would feature a live performance from Pittbull and Flo Rida — an acceptable thrill ride and the boat ride that goes upside down, respectively — UPROXX has decided to go back through the previous 32 WrestleManias (including WrestleMania Play and WrestleMania Star) to find and rank the best and worst musical performances in the event's history.
A few things we disqualified included:
Wrestlers performing their own entrance themes (sorry, R-Truth)
Any performance of 'America the Beautiful,' with one exception
Any performance of the 'Star-Spangled Banner,' and
Robert Goulet's performance of 'O, Canada,' which obviously would've been number one
That said, here's our definitive list of WrestleMania music performances. Take a swing at our ego!

19. Flo Rida – WrestleMania 28
James Evans' husband Flo Rida is a scourge to the WWE Universe, whether he's shoving down and humiliating a man with kids who needs this job, losing a rap battle to Bo Dallas and trying to have it covered up, or providing the ubiquitous themes for WrestleManias.
To me, his musical performance at WrestleMania 28 is his biggest crime. WWE says the performance is "featuring Sia," which is true if you count the person singing the song and not the one lip-syncing on stage. Known as the "Linda and Abobo from Double Dragon" performance, Aunt Flo played The Rock to the ring at WrestleMania 28, which if you remember the first of two Once In A Lifetimes should be enough to earn him a last place spot on our list. Anything lower than 18 is reserved for future, inevitable Flo Rida reprises.

18. Kid Rock – WrestleMania 25
There's nothing really wrong with Kid Rock, I guess, especially if you grew up with parents who loved Bob Seger and Lynyrd Skynyrd and didn't develop musical tastes of your own until nu metal showed up. I think the major problem with Kid Adult Contemporary And Sometimes Country Because Those People Will Listen To Anything If It's Conservative is that his performance at WrestleMania 25 is a medley of every song he's ever recorded and goes over ten minutes. John Morrison and The Miz defended the World Tag Team Championship on the pre-show because Kid Rock had to perform 'Bawitdaba' and 'Rock n' Roll Jesus.'
He goes so long that ladies just start walking out to start their match. Kid Rock should've done a full three-hour concert in the background of WrestleMania with nobody paying attention. Highlights include that incredible moment at 1:50 when he asks for crowd participation and gets dead silence from 70,000 people, and when Maryse tries to kiss him on the cheek and he doesn't notice until it's too late but still tries to act like a baller.

17. MGK – WrestleMania 28
Narrowly missing being lumped in with Flo Rida, Machine Gun Kelly — Cleveland Macklemore and the only person ballsy enough to sample Fastball — handles the John Cena entrance portion of the first Once in a Lifetime. It's better than Flo because his female accompaniment (who may or may not be LeeLoo from The Fifth Element) actually sings, and slightly worse because he refers to John Cena as "the ultimate underdog." John Cena. Cena gets booed out of the building, and yeah, they were in Rock's hometown, but I'm crediting MGK for wiping out the remaining 20% of crowd support.

16. Ice-T – WrestleMania 2000
Pimpin' ain't, pimpin' aint, easy, man. Pimpin' ain't, pimpin' aint, easy, man. Pimpin' ain't, pimpin' aint, easy, man. Pimpin' ain't, pimpin' aint, easy, man. Pimpin' ain't, pimpin' aint, easy, man. Pimpin' ain't, pimpin' aint, easy, man. Pimpin' ain't, pimpin' aint, easy, man. Pimpin' ain't, pimpin' aint, easy, man. Pimpin' ain't, pimpin' aint, easy, man. Pimpin' ain't, pimpin' aint, easy, man. Pimpin' ain't, pimpin' aint, easy, man. Pimpin' ain't, pimpin' aint, easy, man. Pimpin' ain't, pimpin' aint, easy, man. Pimpin' ain't, pimpin' aint, easy, man. Pimpin' ain't, pimpin' aint, easy, man. Pimpin' ain't, pimpin' aint, easy, man. Pimpin' ain't easy.
GRAB YOUR BITCHEEEESSSSSSSSSSS.

15. P.O.D. – WrestleMania 19
The most difficult part of compiling this list was trying to find an objective way to judge and classify the quality of WWE-sanctioned nu metal performances. From 1998 until … 2014 or 2015, honestly, WWE decided nu metal was the only music, and used it almost constantly. NXT showed up and was like, "maybe we can get Green Day?"
I'm probably wrong, but I've put Christian metal effort P.O.D. at the bottom, mostly because they're singing a song called "Booyaka" for a guy dressed like a bird. They also had to play at WrestleMania 19, which featured two (2) performances from Limp Bizkit, and the announcers declaring Limp Bizkit WWE's "favorite band." P.O.D. is right there, guys. I guess that's why they stuck them up on top of the set like that instead of letting them play on the stage.

14. Drowning Pool – WrestleMania 18
by wrestling4
I'm not sure how much of it is on Drowning Pool, but 'Tear Away' might be the worst-ever choice for a WrestleMania theme, which is hilarious because I'm about to make jokes about the time Limp Bizkit themed the show with a song about crack. They did a much better job with 'The Game,' their version of Triple H's theme from the unfortunately named 'WWF: Forceable Entry.'
Here's a weird note: nobody who has performed (or sang, at least) Triple H's entrance theme live at a WWE event is still alive. Lemmy's dead, the lead singer of the D-X Band died, and the guy from Drowning Pool passed away only five months after this performance. Scary.

13. The Chris Warren Band – WrestleMania 14
Speaking of the D-X Band, they were very good at playing the D-Generation X theme. They played it for Shawn Michaels (and Triple H!) during Michaels' WWF Championship defense against Stone Cold Steve Austin at WrestleMania 14.
I know I'm supposed to not be counting people who sang a national anthem or 'America The Beautiful,' but the Chris Warren Band's performance of 'America The Beautiful' might legitimately be the worst version of that song ever attempted. If you've never seen the clip, watch it, and try to get to the end for Jim Ross' incredible call, "ONLY IN THE USA AND THE WWF CAN THERE BE THIS TYPE OF FREEDOM, OF EXPRESSION!"

12. Limp Bizkit – WrestleMania 19
Remember the glory days of WWE, where they could have something called 'Crack Addict' by the theme for a WrestleMania? Here's WWE's favorite band, Limp Bizkit, performing the track featuring "Head (of Korn)." I think they're called "cobbs." Look, I love the Rock vs. Stone Cold Steve Austin WrestleMania X-7 'My Way' video package as much as the next guy, but did it earn Fred Durst two live WrestleMania performances and a spot in the video games?
The second performance is a little better, but was still both limp and biscuit enough for us to name it the worst Undertaker entrance in Mania history. From that report:
It's so bad it's good. It's Limp Bizkit, complete with a phalanx of 2003's best Fred Durst Lady Dancers, performing 'Rollin" while The Undertaker rides to the ring on a motorcycle CARRYING A UNITED STATES FLAG. All it needs is flashing lights on the TitanTron reading "POST 9-11" and an eagle swooping down to award a championship.

11. P. Diddy – WrestleMania 29
"NEW YORK! Technically New Jersey!"
You'll rarely see a performer whose terrible songs sound better. He had a lot of talented people working with him 20 years ago, so most of it still sounds good in 2013. But Diddy does his best to make them impossible to enjoy, whether he's explaining that "you can be the toughest person in the world" and still wave your hands for him or scream-talking over the chorus to 'Coming Home.' Which is a shame, because I think they played 'Coming Home' enough times during the build-up to make it the most WrestleMania song of all time. Although 'Rise' by David Guetta might've overtaken it.
Diddy manages an entire medley in half the time it took Kid Rock, but it still managed to help there be no time for Cody Rhodes and Damien Sandow to have their scheduled match. The sun don't shine forever, but as long as it's here then we might as well shine together.

10. Skylar Gray and Kid Ink with Travis Barker – WrestleMania 31
Speaking of David Guetta, everyone involved in 'Rise' except David Guetta showed up at WrestleMania 31 to help kill time so it'd be dark enough for an Undertaker entrance. Spoiler: it wasn't really dark enough.
This one didn't really add much to the show, but it's one of the only instances of a female pop singer not being thrown off by the logistics of singing in a stadium full of wrestling fans, and for everyone doing a good job at what they were brought there to do. And hey, they made as much sense as Sting having a team of Asian drummers or Triple H murdering Terminators.

9. Rev Theory – WrestleMania 30
Here's a fun game: do you remember Rev Theory playing Randy Orton's theme as he walked down to the ring at WrestleMania 30? I didn't, and I was in the crowd. But hey, here's Rev Theory doing 'Voices,' and it sounds like like 'Voices,' and they aren't doing anything dumb or wasting time or rapping about snakes, so enjoy the middle of the list!

8. Saliva – WrestleMania 18
Limp Bizkit might've been WWE's favorite band, but Saliva should've been. It felt like Saliva got 5 extra years of success and relevance just by recording vaguely aggressive fight songs for WWE live events. 'Ladies and Gentlemen' and 'Click Click Boom' are the most pro wrestling songs ever recorded, including all existing wrestling themes. 'Sexy Boy' isn't as pro wrestling as 'Ladies and Gentlemen.'
Our highest ranking 2000s Butt Rock group, Saliva performed 'Superstar' (see?) at WrestleMania X-8, then showed up again to perform THEIR track off WWF BREAKS INTO YOUR HOME AND TAKES ADVANTAGE OF YOU, 'Turn the Tables.' Here's a clip of that. If they'd stayed out there to perform the APA's theme, the Hardy Boyz music and Billy and Chuck's 'You Look So Good To Me,' I would've made them number one.

7. Motörhead – WrestleMania 17
Only Lemmy could shit the bed this hard on a performance and still have it come out sounding great. This is the first time Triple H got Motörhead to perform his entrance theme live, and while it's clearly a dream come true, it kinda feels like nobody actually told Motörhead about it until about 20 minutes before they were supposed to go on. "We recorded a wrestling theme? What?" And then Triple H like, lent Lemmy his iPod and Lemmy was like, "huh." And then they just went out and played what he could remember.
Don't worry, they get another shot at the performance a few years later. Triple H probably asked Lemmy to play him to the ring at every show. He probably asked him to play him to bed every night before he went to sleep.

6. Mark Crozer and the Rels – WrestleMania 30
The WrestleMania 30 live performance I actually remember (sorry, Rev Theory!) goes to Mark Crozer and the Rels, who are DEFINITELY bigger stars than Motörhead. Kidding. But Crozer and His Rels perform 'Broken Out In Love,' which became Bray Wyatt's 'Live In Fear,' and the Mania performance features plague doctor masks, guitar solos and a full band timing their music to end when a pro wrestler blows out an electric lantern. Great stuff.
This probably would've ranked even higher if it hadn't been followed by John Cena taking Bray to the world's spookiest woodshed.

5. Salt-N-Pepa – WrestleMania 10
I know in 2017 it might be hard for me to convince you to get hype for a female rap group doing wrestling-themed parody lyrics about a retired football player main-eventing a WrestleMania — I mean, TLC never played Mongo McMichael to the ring and had Left Eye rap about metal briefcases — but listen to how Howard Finkel says "Salt-N-Pepa." Listen to it twice. I don't think anyone on earth loves Salt-N-Pepa more.
But yeah, they seriously had Salt-N-Pepa rewrite the entirety of 'Whatta Man' to be about Lawrence Taylor's feud with Bam Bam Bigelow. Put everyone involved in this into the Hall of Fame.

4. Motörhead – WrestleMania 21
Okay, this performance isn't much better than the one at 17, but (1) it features Triple H rising up from the floor for some reason, and (2) I'm not putting Motörhead any lower than this.
(Although I still love the idea that Triple H called up Lemmy before Mania 21 and was like, "hey man, wanted to see if you'd play my entrance theme at WrestleMania this year, you could make up for the last time," and Lemmy was like, "we recorded a wrestling theme? What?" And then Triple H like, lent Lemmy his iPod Nano and Lemmy was like, "huh." And then they just went out and played what he could remember.)

3. Living Colour – WrestleMania 29
Theory: this isn't CM Punk's final WrestleMania appearance because he was frustrated with the company, fed up with his spot on the card and burned out with pro wrestling. It's his final WrestleMania appearance because he not only got WWE to license 'Cult of Personality' for him to use, he got Living Colour to show up and play it live. You can't really go up from there, you know?
WrestleManias 28-30 were basically concerts with some wrestling between the songs, huh?

2. Snoop Dogg – WrestleMania 32
Snoop Dogg celebrated his induction into the WWE Hall of Fame (for that one time he saved Maria from Santino Marella and then frenched her) by rapping his cousin, Sasha Banks, to the ring for her Women's Championship attempt at WrestleMania 32. It's this high on the list because (1) it's great, (2) Sasha Banks special entrances are always fun, (3) it's short, (4) it's about wrestling, and (5) it fulfills the destiny of a wrestler who is cousins with a famous rapper having said famous rapper rap them to the ring at a WrestleMania.
"She's a legit boss, but y'all know that / The big boss dog, yeah I had to do that / That's my family and we so G / Bow down to the new champ of WWE!"
It's brought down slightly — okay, considerably — by Raven Felix not being able to sing without autotune and tanking the chorus.

1. Run-D.M.C. – WrestleMania V
This had to be number one. Rap's most legendary group performed something called THE WRESTLEMANIA RAP at a WrestleMania and, you know, actually made it sound good. A lesser group would've brought it down to a Wrestlerock Rumble quality. If you aren't sold on the ranking and think, I don't know, Saliva deserved to be number one instead, please consult this promo where Mean Gene gets hip-hop, D.M.C. shoots on Rick Rude and the Ultimate Warrior and calls Trump Plaza "True Plaza." You couldn't be more wrong, Darryl.
And that's our official ranking of WrestleMania musical performances. Be sure to drop down into our comments section to let us know what you think, to say mean things about what we said about MGK, or to share your own list. And join us this year at Camping World Stadium for MR. WORLDWIDE CAMPING and our last-place finisher teaming up to add … something (?) to the show.