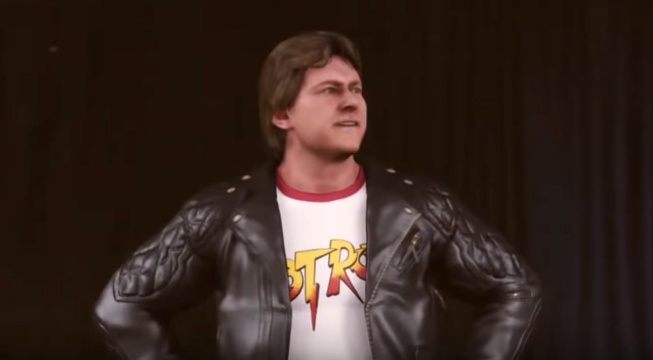 2K Sports has taken its time unveiling all of the wrestlers that will be available for gamers to use in WWE 2K19. A series of videos on the WWE 2K YouTube account — featuring Lana, Rusev, and a rotating cast of other wrestlers — have brought gamers through everyone who will be playable, from current superstars to a selection of names from the past.
The latest video features Cesaro and Shamus joining Lana and Rusev, with the group going through the final series of wrestlers in the game. This time, it's a much larger collection of legends, with names like Steve Austin, Dusty Rhodes (who Rusev says is the reason he and Lana were paired up and, eventually, got married), and many more appearing.

If you don't have half an hour to kill watching that video, here are the names that popped up in that video, per a release by WWE.
Alundra Blayze
Andre The Giant
Bam Bam Bigelow
Batista
Beth Phoenix
Big Boss Man
Booker T
Bret "Hit Man" Hart
British Bulldog
Brutus "The Barber" Beefcake
Christian
Diamond Dallas Page
Diesel
Dusty Rhodes
Eddie Guerrero
Edge
Goldberg
Greg "The Hammer" Valentine
Ivory
Jacqueline
Jake "The Snake" Roberts
Jim "The Anvil" Neidhart
Kevin Nash
Kurt Angle
Lex Luger
Lita
"Macho Man" Randy Savage
Mr. McMahon
Mr. Perfect
Papa Shango
"Ravishing" Rick Rude
Razor Ramon
Rey Mysterio
Ric Flair
"The Model" Rick Martel
Ricky "The Dragon" Steamboat
Ricky Morton
Rikishi
Robert Gibson
Rowdy Roddy Piper
Scott Hall
Shawn Michaels
Stephanie McMahon
Sting
"Stone Cold" Steve Austin
Sycho Sid
Tatanka
"The Million Dollar Man" Ted DiBiase
The Godfather
The Rock
Trish Stratus
Ultimate Warrior
The Undertaker
Vader
With the addition of these 54 names, there will be 191 superstars that appear in this year's version of the game, which is slated to drop on Oct. 9.