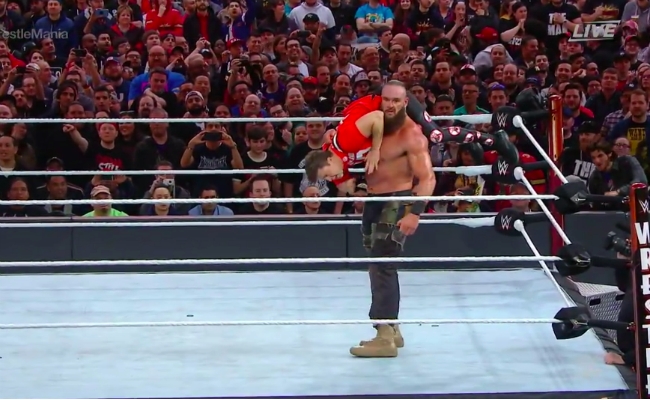 One of the highest profile feuds going into WrestleMania 35 was between WWE's Monster Among Men Braun Strowman and SNL's Colin Jost and Michael Che. Both Weekend Update hosts, but mainly Jost, incurred Strowman's wrath backstage at Monday Night Raw by calling wrestling fake. WWE then revealed the comedians would be present at WrestleMania with a much different tone than when they later invited John Oliver to come to WrestleMania.
Since they would definitely meet again, Jost tried to appease Strowman with the gift of a car, which the giant destroyed with his bare hands. The following week, Strowman challenged Jost and Che to enter the Andre the Giant Memorial Battle Royal and they accepted.
At WrestleMania 35, Jost and Che chose a clever but cowardly strategy for non-wrestlers and hid under the ring during the battle royal. Meanwhile, a particularly jacked-looking Strowman cleaned house in the ring. As Strowman struggled against the teamwork of the Hardy Boyz, Che and Jost emerged from under the ring. They tried to help eliminate Strowman, but he kicked them off and eliminated the Hardys instead.
With only the comedians and the Monster Among Men left in the ring, Jost asked for a microphone and started trying to reason with Strowman. He was booed by the WrestleMania crowd for suggesting that "Not everything has to end in violence," but still brought out his therapist to help Strowman deal with his anger issues.
Strowman beat up the therapist and threw him at Jost. When Jost tried to get Che to attack Strowman, the former Daily Show correspondent immediately tried to eliminate himself – but was stopped, then helped out by Strowman. It looked like Jost might actually eliminate Strowman and win the Andre, but Strowman managed to eliminate Jost by throwing him over the top rope onto a group of wrestlers outside the ring.