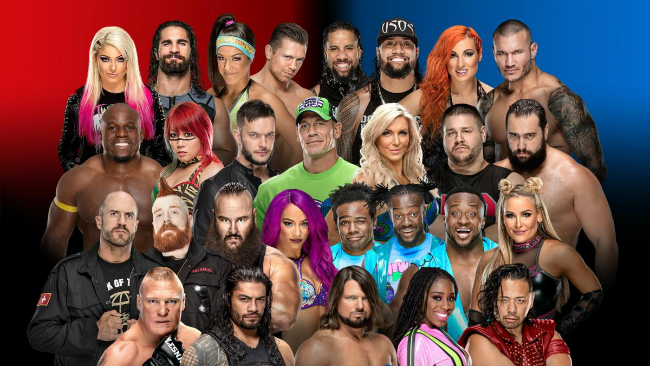 Last week we shared with you the rumor that WWE would be going back to Raw and Smackdown co-branded events for every pay-per-view after WrestleMania, and today those rumors were made official. In an e-mail to WWE Network subscribers, WWE announced that we'd be getting "more of what we want, and shared an updated schedule that nixed a pair of brand-specific shows and streamlined it down to one big event a month. Via WWE.com:
After WrestleMania, you'll get the best of both brands – Raw and SmackDown LIVE – every month, on every pay-per-view. Catch every event streaming live on the award-winning WWE Network.

WrestleMania 34 – April 8, 2018

WWE Backlash – May 6, 2018

WWE Money in the Bank – June 17, 2018

WWE Extreme Rules – July 15, 2018

SummerSlam – Aug. 19, 2018

WWE Hell in a Cell – Sept. 16, 2018

WWE TLC: Tables, Ladders & Chairs – Oct. 21, 2018

Survivor Series – Nov. 18, 2018

WWE Clash of Champions – Dec. 16, 2018
The WON shared a few additional details on this earlier in the week, so if you missed that, prepare to spend a lot of time watching the Network.
In the latest Wrestling Observer Newsletter, Dave Meltzer confirmed the initial report of dual-branded PPVs beginning in May, and that due to the need to begin getting both brands' top stars on every show, that means an increased run time all around.

According to Meltzer, the belief at this point is that all "B" PPVs will be increased by an hour, with Kickoff Shows having two matches and the "main" card going four hours. Which essentially means that you'll need to set aside five hours one Sunday a month to go along with your between five and seven hours of weekly WWE television that you're probably already watching.
Raw's Elimination Chamber (February 25) and Smackdown's Fastlane (March 11) will be the final brand-specific pay-per-views, at least for this year.
We'll keep you updated on any additional schedule changes, and notes on what to do if you find yourself watching Backlash for more than four hours (ask a doctor).