In my opinion, there are only three good reasons to watch awards shows: to get mad about who wins, musical performances, and the red carpet. Since the demise of the Slammy Awards, the Hall of Fame is the only awards show WWE has, and we know the winners well in advance.
Any musical performances this year will be by Kid Rock or Jeff Jarrett, and I am one million percent not interested in that. That leaves me only fashion. Therefore, I shall proceed to rate every notable look (and #lewk) on the WWE Hall of Fame red carpet out of 10.
Before we begin, let's pour one out for the absent Dean Ambrose, the highlight of the HOF red carpet for the past few years. I don't know when someone will top 2017's definitely sober, "I feel loose. I feel lubed up. I feel like I look stunning. Just a real lady killer walking the red carpet right now," interview with now-wife Renee Young. Possibly never.
What a legend. Now let's get judgmental!

Renee Young, Maria Menounos, and Charly Caruso all look lovely as usual. Renee serves up some mermaid-y goodness (8/10), Maria looks appropriately subdued for a person who only shows up at specific WWE special events (9/10), and Charly really decided the HOF was worth being that uncomfortable (7/10.) Meanwhile, Byron Saxton decided to match his suit to his announcing skills (4/10.) I have to believe Corey Graves mocked him for this later, at least for the sparkly silver bow tie. At least it's in character?
Samoa Joe is here! The suit is classic and I'm so happy to see him that I have to give Joe a 10/10. I would love to see him Coquina Clutch someone in a suit one day.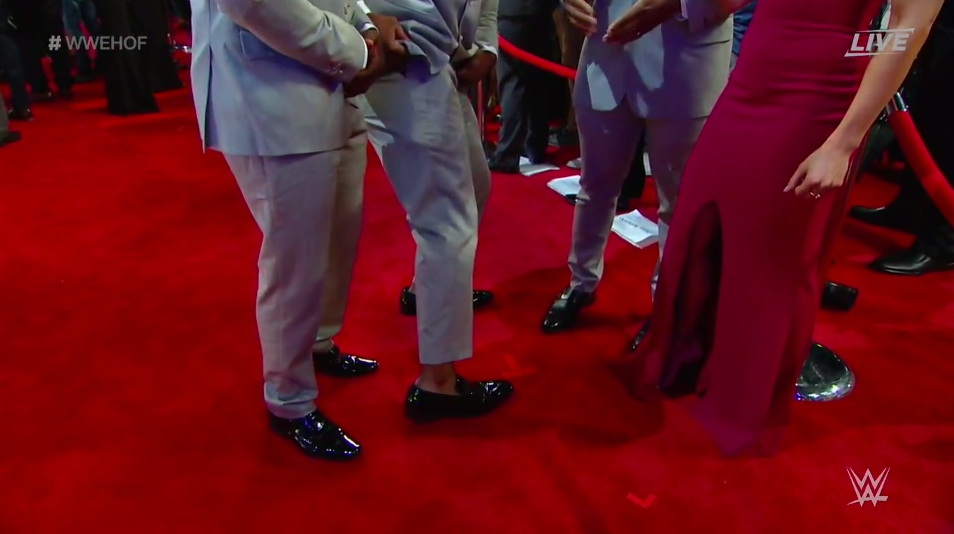 The New Day went Jidenna-meets-Dr. Evil, and good on them. The loafers without socks really complete the ensemble. This looks like what a lot of people wore to the Grammys, etc, this year, which fits them being the tag team most in touch with pop culture. 7/10.
Alexa Bliss, running on "caffeine and concealer" and looking a million times better than I've ever looked when fueled by those things, kept in simple and classy. The outfit is relatively low maintenance without totally departing from her Mean-Girl-Cheerleader-Who-Shops-At-Hot-Topic gear aesthetic. 9/10.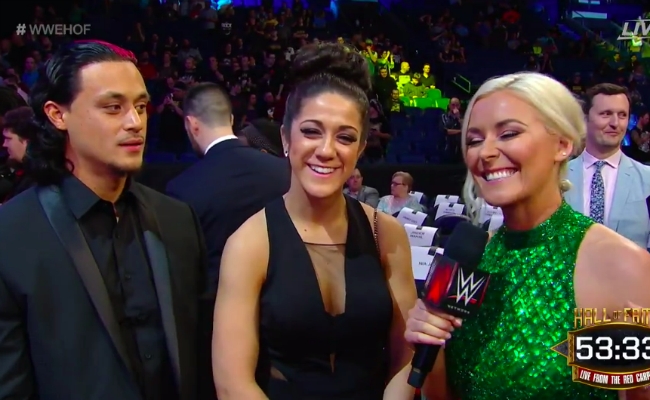 Bayley, accompanied by her betrothed, Aaron [Solow, who recently wrestled for Aro Lucha] chose a simple, elegant dress very different from her ring gear. It's kind of boring, but she looks very sweet and comfortable. 7/10.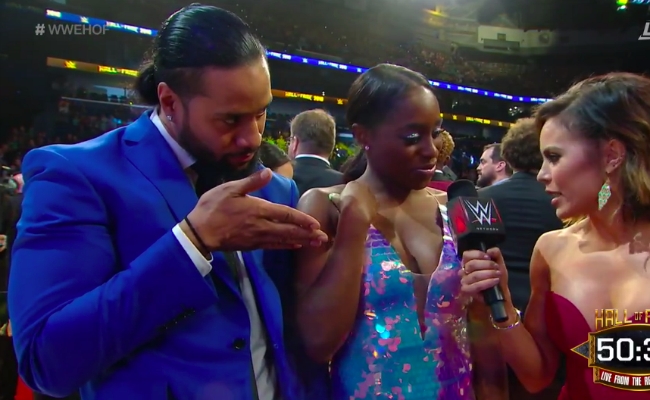 Naomi (7/10) and Jimmy Uso (8/10) didn't match as much as some of the other couples on the red carpet, but they compliment each other nicely. Uce gets a lot of husband/human with eyes points for correcting Charly when she says Naomi looks "like a very pretty fish." She looks like a freakin' mermaid, Charles! Obviously! I'm pretty bummed out Jimmy didn't bust out his grill for the HOF, but hopefully we'll see it on Sunday.

Rusev (10/10) and Lana (5/10), look great together, but one of them (check the those ratings) looks way better individually. Rusev looks like exactly the man our country deserves to represent it via shiny wrestling belt. Lana, meanwhile, looks like she's trying to be the next WWE women's wrestler on Dancing With The Stars. Or she's about to dance Swan Lake. Does she look hot? Yes, of course, Lana would look hot (ravishing, even) covered in garbage and wearing Crocs. But these ratings aren't about attractiveness! They're about fashion! And fashion-wise she is not matchka-ing it.
Bonus: I didn't actually see Liv Morgan on the red carpet, but she wore full-on Versace. Versace and a low ponytail! While her ring gear looks like she tried to squeeze into clothes that came with a Bratz doll! I gotta give this a 9/10 out of shock and respect.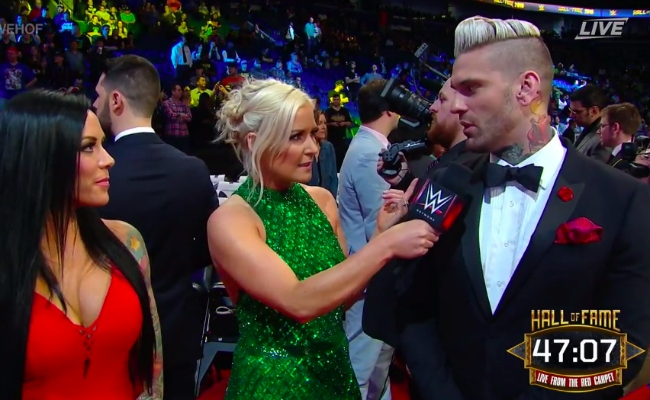 Corey Graves, "the unofficial voice of WWE," looks appropriately semi-vampiric. He gets points deducted for the mismatched red flower pin and hot pink pocket square. Unless the flower is for a really good cause. But he still could have worn a matching pocket square. 6/10!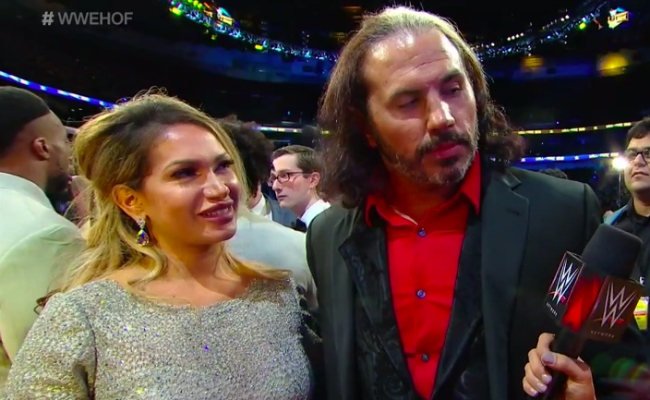 Matt Hardy, accompanied by his Queen Rebecca, looks appropriately fully vampiric. When I saw this outfit, I thought he might be in Woken character, but he was pretty subdued, probably out of respect for the Dudley Boyz. Good for him! 7/10.
And now we reach the picture in the header. AJ Styles, our beloved WWE Champion, the Phenomenal One, left his hotel and came to the Hall of Fame today wearing this GOLD SUIT. Is this in honor of Jeff Jarrett somehow? Is this the result of one of Shinsuke's mind games? If so, he is definitely losing on Sunday. 1/10!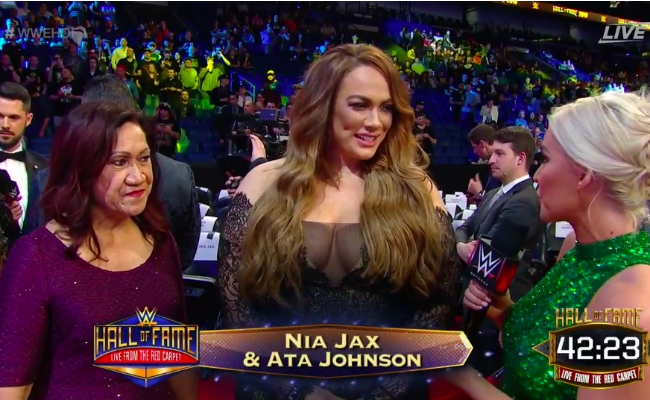 Nia Jax, accompanied by her aunt/the Rock's mom Ata Maivia, always looks really well put together in street clothes, which is unsurprising for a former model. She keeps the aesthetic pretty close to her ring gear here, but with a way less confusing boob window. Her extensions look a little awkward though, because this is still WWE programming. 7/10.
Just when I thought the worst decision Mojo Rawley could make was saying he didn't care about being a good wrestler at Fastlane, he went and wore THIS SUIT. The most offensive part of this is how the lapels and trim on the jacket pocket ALMOST match his tie, but NOT QUITE. I hate that I had to look at this with my own two eyes. 0/10.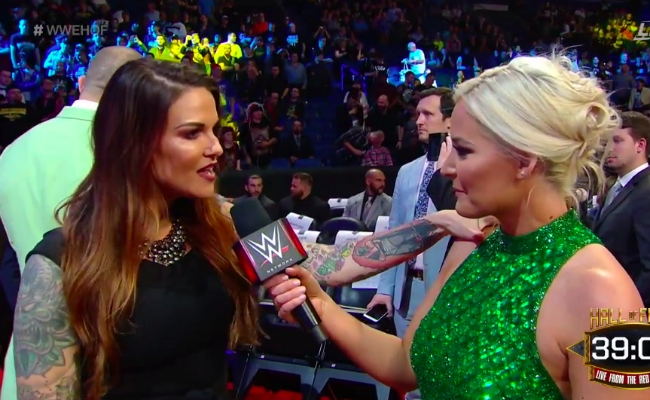 Lita is everybody's coolest possible aunt. She should show up and mentor members of the women's division in segments where we see them going to dive bars or something like that. I dig the matching lipstick and eye makeup! 8/10.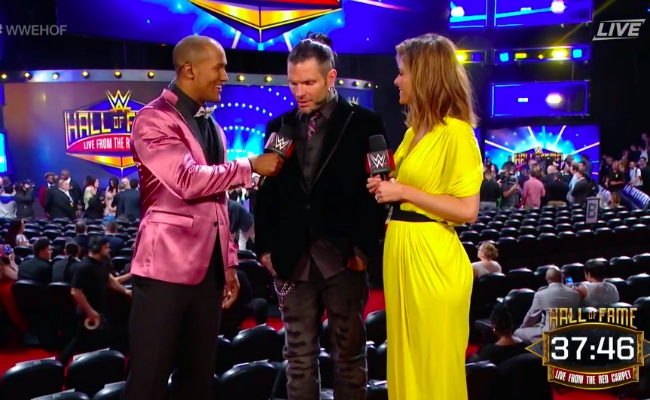 Holy carp, Jeff Hardy is here! He says he's cleared to wrestle and he does not appear intoxicated at all. He also lives in a different fashion universe than everybody else, so I'm just going to rank this outfit Jeff Hardy/10.
Bonus: Elias! With this ensemble and that open mic performance last night, this man is truly living his gimmick. 10/10 for not being afraid of both florals and kayfabe.
Carmella looks so pretty and understated! The look has a totally different color scheme from her ring gear, which I feel like is the way to go for the HOF. This isn't what I expected from Ms. Money In The Bank and I am into it. 8/10.
Sonya Deville blessed us with some goth, bisexual goodness tonight! I like the fancy twist on her usual ponytail as well. 8/10 with points deducted for not going full black lipstick.
Dolph Ziggler shows up to interrupt Sonya's interview looking exactly how I would expect him to look, complete with shades worn inside at night. I'm rating him Dolph Ziggler/10, but it means the opposite of Jeff Hardy/10, if that makes sense.
Now everybody needs to shut up and sit down, because this next part of the article is the most important thing I've ever reported!

Bobby Roode and Randy Orton dressed ALMOST EXACTLY THE SAME. These guys wrestle the same, tan the same, have the same middle-aged dad vibes, are faces when they should be heels, and now they're unintentionally (I assume! But I would love to be wrong!) matching on the red carpet! This is incredible. I need to lie down. They are the next iconic tag team waiting to happen. Or Co-United States Champions waiting to happen, LayCool style. 78/10.
Kurt Angle's suit is flattering, and he pronounces all his words correctly while we see him wearing it. 7/10.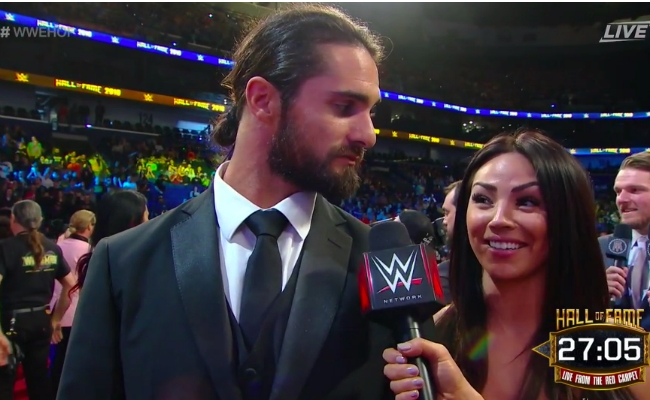 Come on now, Seth Rollins! This from the man who gave us those flame pants? This is so boring! But my real issue here is with the hair. How does a man who's had long hair for so many years leave the house with so many flyways? 5/10. We better get some quality Power Ranger gear from him at Mania. (Post-Mania update: SETH ROLLINS, YOU ARE FORGIVEN.)
Bonus: Rossy Ogawa is here! He's the co-founder of World Wonder Ring Stardom, one of the world's top joshi puroresu promotions! Kairi Sane, Ruby Riott, and Shayna Baszler have all wrestled there! 10/10 for Rossy Ogawa!
The Miz, accompanied by his parents George ("Papa Georgio") and Barb ("Gammy Barbie") looks appropriately faux-A-list. He also looks appropriately tired for a new dad! Plum really works for him. 7/10.
Dana Warrior looks like a swan that was turned into a human. 3/10.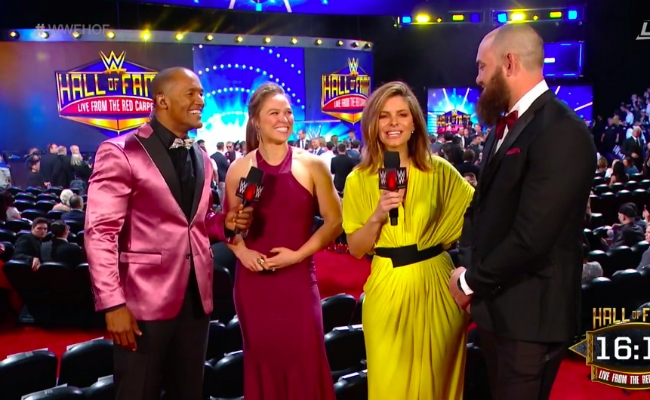 Ronda Rousey is here! Did you guys here she signed with WWE? Crazy, right? Did you hear she and Kurt Angle are fighting Stephanie McMahon and Triple H at WrestleMania? The combination of star power and nostalgia in this match have inspired me to turn into seven hours of live television this Sunday! ANYWAY, she and her Braun Strowman-fan hubbie Travis look very nice and very prom-matchy (more subliminal advertising for Blockers!). Uhhhh … 7.5/10.

Oh, Baron Corbin. What are we going to do with you? Have you win the Andre a second time? One question: why the cow skull broach? Did your grandma who's a witch in Texas give it to you? 4/10.
Check out this uncle squad! JBL, Ron Simmons, and the Godfather, the Venn Diagram of APA and NOD, are charming and put over Mark Henry and the Dudley Boyz. I'll give them a 7/10 (6/10 for the normal adult man suits with an extra point for Godfather's hat.)
Beth Phoenix, who was inducted last year, showed up in a simple black dress. The neckline here is confusing, but shows off her impressive arms. 6/10 because the cut of this dealio really bugs me for some reason.
Daniel Bryan and Brie Bella, everyone's couple goals right now and maybe forever, look sweet in their understated outfits. DBry talks about getting back in his "spandex battle jammies" on Sunday. This is their first time leaving Birdie at home with a sitter, they say. They get a 10/10 because I'm not a monster.
Final bonus: Braun Strowman. How many yards of fabric do you think it took to make this very nice, well cut suit? Do you think we'll see the Monster Among Men in many other giant suits over the years as he ascends to the face of the company? 10/10 out of amazement/love/fear of Those Hands.
That's all the notable outfits from the WWE Hall of Fame Red Carpet this year, ranked out of ten! I know other people were there, but they weren't on the red carpet part of the show, so I didn't rank them! I hope you enjoyed this article! It's how I decided to spend my Friday night!