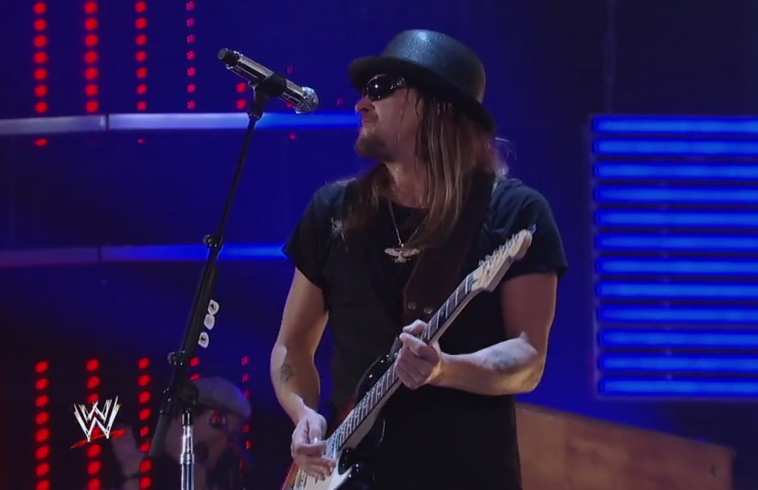 As first reported by Billboard, adult rocker Kid Rock will be inducted into the celebrity wing of the WWE Hall of Fame because life is precious, and God, and the Bible.
Via WWE.com:
While his song "New Orleans" is setting the tone for the party atmosphere that WrestleMania is bringing to The Big Easy this year, Kid Rock will be taking his place in WWE history.

His in-your-face style in the studio and on stage has made Kid Rock a big contributor to the soundtrack of the WWE Universe. Several of his songs have been the official themes for WWE pay-per-view events, including "Cocky" and the worldwide hit, "All Summer Long." Kid Rock's music has also been entrance music for a select few Superstars. The Undertaker used the 2000 single "American Bad Ass" as he thundered to the ring on his motorcycle, while Kid Rock's cover of ZZ Top's hit "Legs" blared through arenas around the world as Stacy Keibler made her way to the squared circle. He's even brought his incomparable live show to WWE on several occasions, including a May 2000 edition of Monday Night Raw, a stellar performance at the 25th Anniversary of WrestleMania, and a show for America's armed forces during the 2012 edition of WWE's most patriotic night of the year, Tribute to the Troops.
Kid Rock's greatest contribution to WWE television will always be his 10-ish minute set at WrestleMania 25 featuring the unforgettable exchange: "I said it's all good, and it's all in fun … [points microphone at crowd to dead silence] … WUHKEYAHHH!!!" This'll all be worth it if he's inducted by Uncle Kracker, and we get an X-Factor reunion.
He joins this year's induction class of Bill Goldberg, the Dudley Boyz, Ivory, Jeff Jarrett and Hillbilly Jim. Rock will reportedly celebrate the induction by painting the town red, and painting a sheriff's wife white.