WWE Hell in a Cell 2018 airs this Sunday, September 16, live on WWE Network. The cross-branded network special — or whatever we're calling "pay-per-views" these days — features two Hell in a Cell matches, as well as bouts for Raw and Smackdown's Women's and Tag Team Championships. Here's the card as we know it, as of Friday morning.
WWE Hell in a Cell 2018 Card:
1. Hell in a Cell Match for the Universal Championship: Roman Reigns (c) vs. Braun Strowman

2. Hell in a Cell Match: Randy Orton vs. Jeff Hardy

3. Daniel Bryan and Brie Bella vs. The Miz and Maryse

4. WWE Championship Match: AJ Styles (c) vs. Samoa Joe

5. Raw Women's Championship Match: Ronda Rousey (c) vs. Alexa Bliss

6. Smackdown Women's Championship Match: Charlotte Flair (c) vs. Becky Lynch

7. Raw Tag Team Championship Match: Dolph Ziggler and Drew McIntyre (c) vs. Seth Rollins and Dean Ambrose

8. Smackdown Tag Team Championship Match: New Day (c) vs. Rusev Day
As always, we've got your complete rundown of the card and analysis below, featuring predictions for all eight matches. Eight matches feels like a vacation! Make sure to drop a comment and let us know who you think's winning, and be here on Sunday for our open discussion thread and live results.
Here's what we think will happen at …
Smackdown Tag Team Championship Match: New Day (c) vs. Rusev Day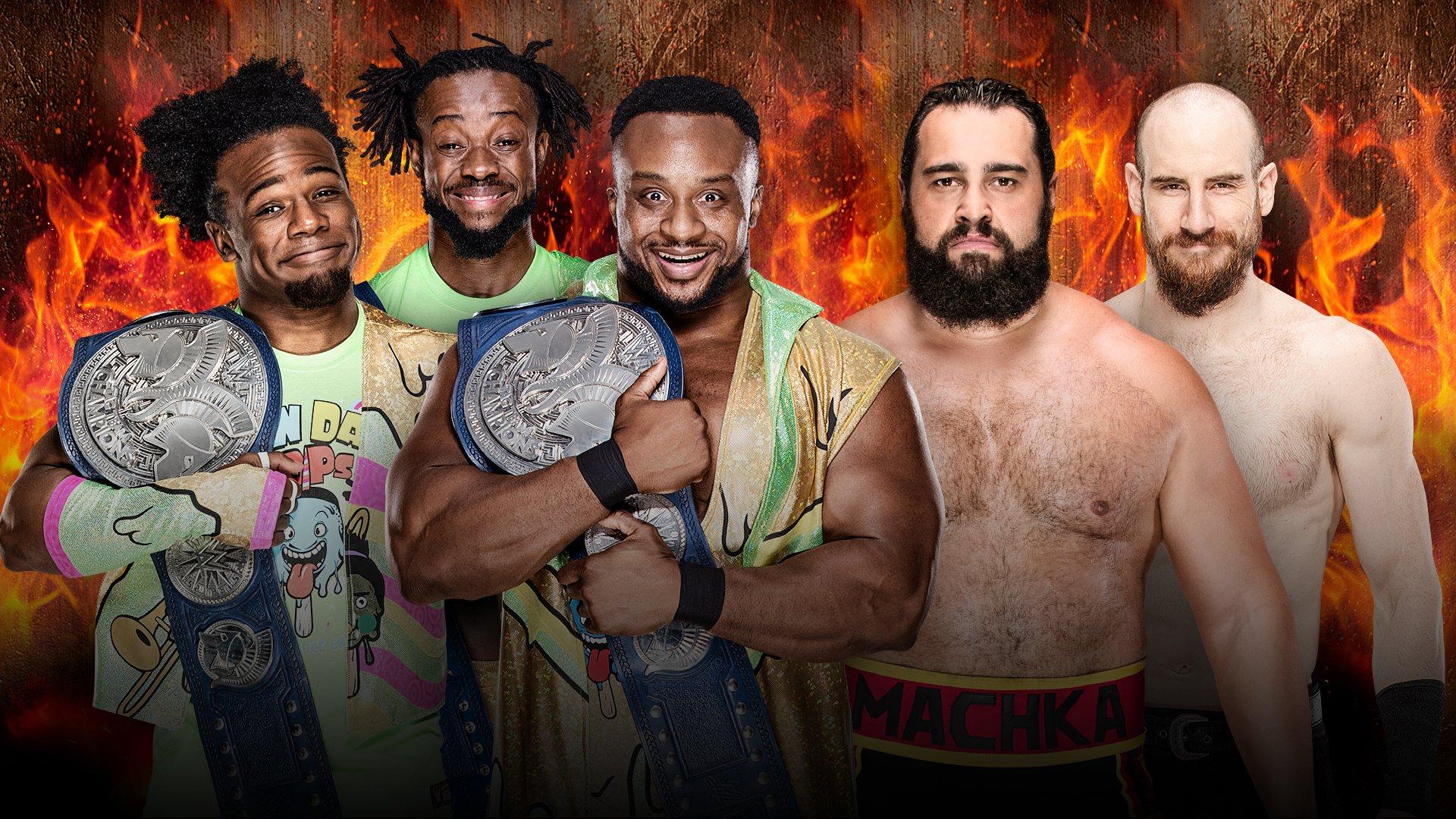 What Should Happen: Run-ins from Simon Gotch, Alberto Del Rio, and Evan Bourne to turn this into a fatal four-way for the Smackdown Tag Team Championship. I'm kidding, nobody wants Alberto Del Rio on television anymore. I just wanted to type something more interesting than, "Rusev should win," because I've been typing that for like four years. New Day are only even the champions because one of the Bludgies got hurt! They're the damn New Day, they need another title run less than anyone ever!
What Will Happen: Seems like the only two options here are (1) Rusev Day winning, celebrating, and letting fans on the Internet be happy for like five minutes, or (2) Rusev Day losing, and Rusev going full heel for some reason by beating the crap out of Aiden English. Honestly, given Rusev's track record with WWE, I'm predicting the latter instead of the former. But I'd sure like that former a lot. For five minutes.
Staff Picks
Bill DiFilippo – Rusev Day win and I do a "YOU DE-SERVE IT" chant by myself in my living room.
Raj Prashad – They've teased Rusev Day splitting up on and off for the last month or two, and no time would be better than after they lose a chance at tag team gold. Looking for New Day to retain, then Rusev to finally lose it on Aiden English.
Robby Kalland – RUSEV DAAAAYYYYYY. Give them the belts. We've all been waiting for the English turn but I really hope they give them the belts cause they've been really fun lately, and New Day, while great as champs, don't need them at the moment.
Elle Collins – I'm going to be bold and predict Rusev Day. The New Day are amazing of course, but they've won so many times that they can lose without it being a big deal, and Rusev Day is super great and deserves a title run.
Emily Pratt – Wow, it just registered for me that this match is happening and it's for a championship on a PPV! I'd like to see Rusev Day win the belts to really switch things up in the SD Live tag team division, but I feel like New Day retains. I've been burned by wanting good, shiny belt things for Rusev before! I'm psyched to see this match whatever the result though, and wish it was in the Cell.
Raw Tag Team Championship Match: Dolph Ziggler and Drew McIntyre (c) vs. Seth Rollins and Dean Ambrose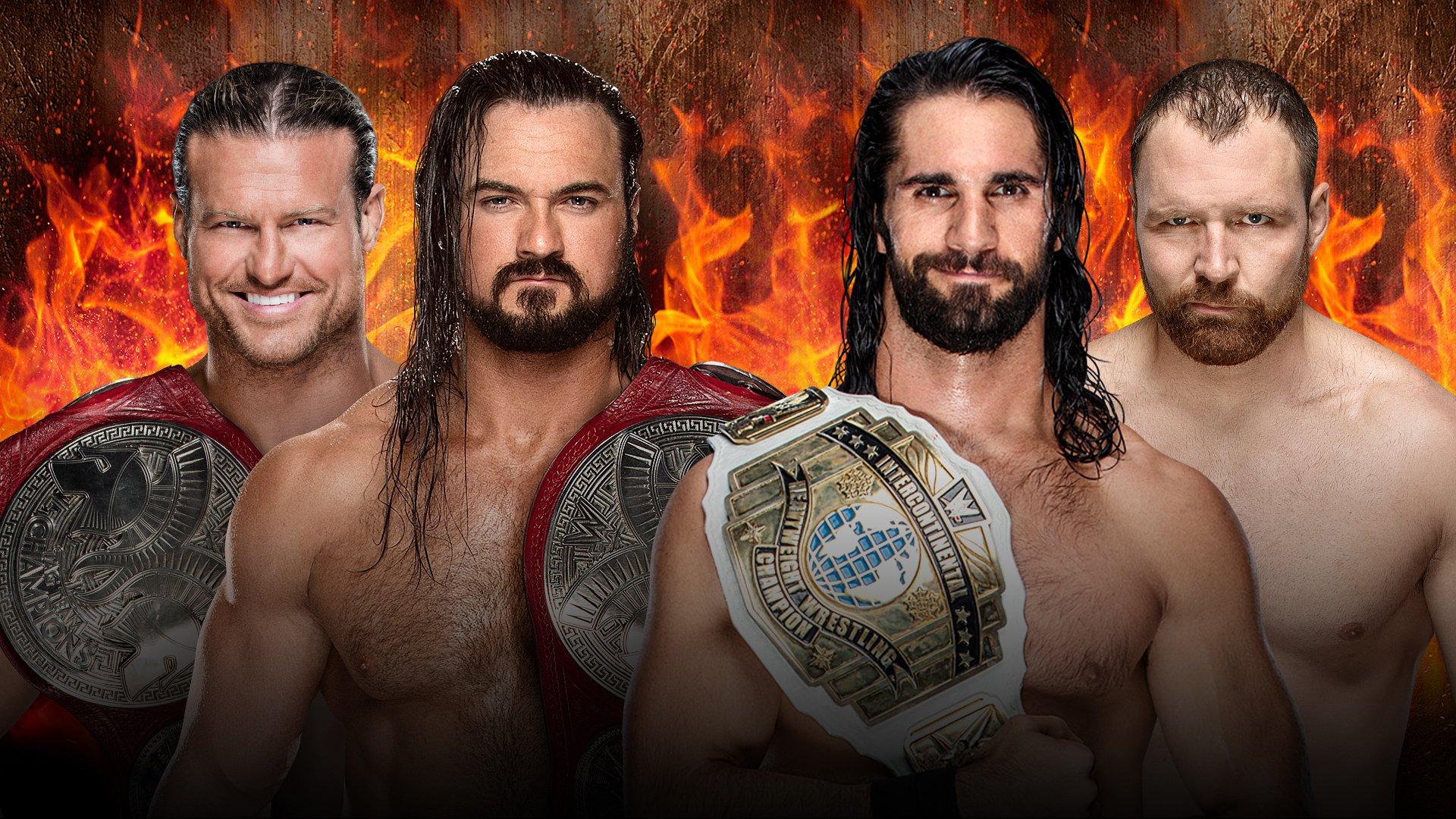 What Should Happen: Run-ins from Jimmy Jacobs, Sami Callihan, Heath Slater, and Spirit Squad Kenny to turn this into a … shit, I already did that joke. Anyway, with Seth Rollins and Newer, Cooler Dean Ambrose involved, this should be the sleeper match of the night. "Sleeper" seems a little much, but this card is shockingly good. I'd like to see the Shield Bros take it home here, because McIntyre's gonna go HAM on Ziggler one of these days and everyone knows it, and because all my tag team fantasy booking comes back around to "let's put the titles on a face team who can have good matches so The Revival can finally be The Revival instead of sad Raw jobbers in matching tights and win the goddamn Tag Team Championship."
What Will Happen: Like some of the predictions say, it feels like WWE won't be able to resist putting the titles on Ambrose and Rollins so all three members of The Shield can have title belts at the same time. There's always that lingering "Ambrose turns heel" rumor, though, so that's Plan B. Apparently there's always a Plan B. Plus, wouldn't Ambrose make more sense hanging out with Dolph Ziggler and Drew McIntyre than Braun Strowman?
Staff Picks
Bill DiFilippo – I feel like the easiest path to a Wyatts reunion is for everything to go horribly for Ziggler/McIntyre and for The Shield to have every title. Because that is what I want, Rollins and Ambrose win.
Raj Prashad – WWE is probably salivating at a chance to put every men's title on the Shield on Raw, and I wouldn't expect any less here. Rollins and Ambrose walk out as champs.
Robby Kalland – It's possible the Shield end the night with every Raw men's title. I don't think they'll do that but at the same time if Rollins is defending the tag titles and IC title at the same time that means more Seth matches and I'm very much here for that. I'll say McZigg retain, either by a win or DQ, preventing Rollins from having both belts and also to cast doubts on the Shield finding a way to involve themselves in the main.
Elle Collins – I think it's the Shield. What's the point in doing what they're doing with this Shield reunion if you're not going to just decorate those guys with as many belts as possible? Just drape those boys in gold! And silver in the case of the Tag Team Belts, I guess.
Emily Pratt – Drew pins Seth to retain the tag titles, giving him leverage to get an Intercontinental Championship match, because we're doing title shots by New Japan rules now. JK, I think the champs retain, and something happens to trigger a Rollins vs. Ambrose IC title feud.
Smackdown Women's Championship Match: Charlotte Flair (c) vs. Becky Lynch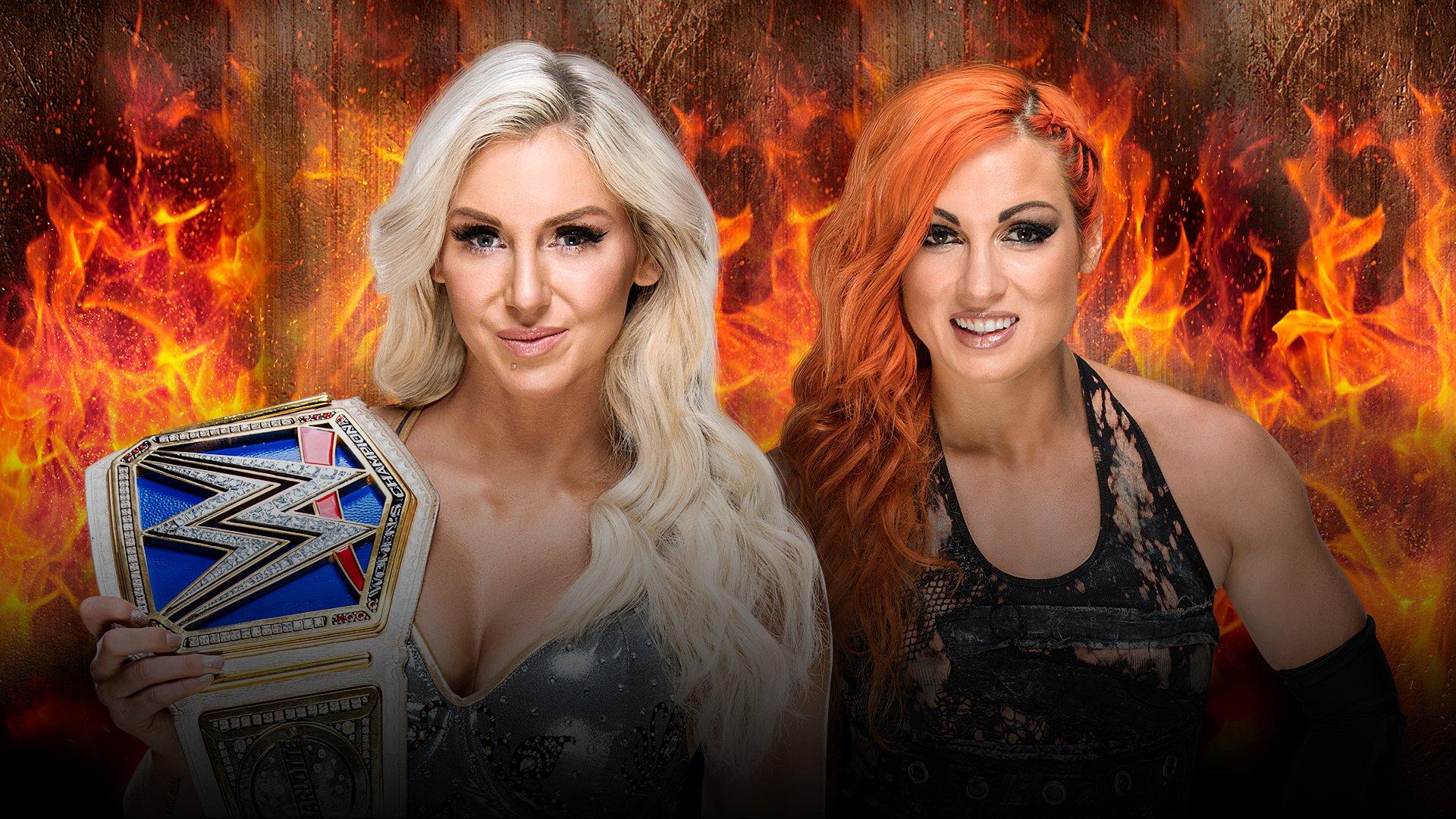 What Should Happen: Charlotte misses a moonsault by like four feet and Becky takes her to the woodshed for it.
What Will Happen: This is the most heated contest on the card and a one-on-one match we've been waiting to happen (and to happen with actual consequences), which is saying something, considering AJ Styles vs. Samoa Joe is AJ Styles vs. Samoa Joe and has both the WWE Championship and a family's murder on the line. The WWE fan in me believes that maybe Becky was going to win this initially, but since they "turned her heel" and she's been getting nothing but cheers, they're going to think something's wrong and keep the belt on Charlotte. Alternately, maybe my pessimism about a Becky Lynch title win will translate to her actually winning clean, the roles being reversed, and the angle moving forward with a hot babyface champion and a heel we're all extremely ready to boo.
Staff Picks
Bill DiFilippo – Charlotte is going to win, but the entire time, the crowd is going to cheer for Becky because everyone likes her more, including me.
Raj Prashad – Becky Lynch is the hottest act on the main roster right now, and not putting the title on her is almost lunacy. So naturally, Charlotte wins here, keeping the chase alive.
Robby Kalland – I'll pick with my heart here and say Becky wins. It's what literally everyone that's not related to Charlotte wants and maybe they'll give us this.
Elle Collins – This is actually tough. Everyone in the world wants to see Becky win, heel turn or no heel turn. And I hate to say it, but this is WWE, and everyone wanting Becky to win makes me think Charlotte beats her. I don't mean that in a general "WWE is terrible and hates its fans" kind of way. I just think they know this feud is straight fire (pardon the expression), and they want to keep Becky on the hunt for a while longer.
Emily Pratt – PUT THE BELT ON BECKY. And insert clapping hands emojis into that sentence wherever you feel appropriate! I think this match is going to be a banger, and I wish it was in the cage. I think my ideal outcome is Becky winning the belt here, losing it on Tuesday to a fully heel Charlotte, and then winning at Evolution to retain for a while. This definitely could happen, but I'm probably just fantasy booking all over these predictions.
Raw Women's Championship Match: Ronda Rousey (c) vs. Alexa Bliss
What Should Happen: Shayna Baszler replaces Ronda, Kairi Sane replaces Alexa, and we don't see the same squash match we already saw last month.
What Will Happen: The same squash match we already saw last month. I'm gonna go out on a limb and say this ends in DQ (or involves a post-match bit after Ronda wins) where Nia Jax returns from injury, attacks Ronda to set up a title match at Evolution, and aligns herself with Alexa Bliss and Mickie James again with no real explanation given. Because you're thinking too much, just eat your gruel!
Staff Picks
Bill DiFilippo – Come on, Ronda is winning.
Raj Prashad – Why should we expect anything different from their first match. Calling Rousey here, easily.
Robby Kalland – They won't even let Rousey lose a tag match, there's no way she loses here. I'd expect more Bliss offense than their SummerSlam match, but another arm bar will end this.
Elle Collins – Oh hey, Ronda's ribs are hurt, maybe Alexa Bliss will win! Yeah, no. Ronda's probably holding that belt till she's about ready to leave WWE, and the short list of women who might take it from her even then doesn't include Alexa.
Emily Pratt – With Bliss already occupied with Trish at Evolution, Ronda has to retain. How are you not going to have one of your women's champions defend on the all-women's PPV? As for match quality, it seems like it should be a borderline squash again, but maybe Bliss tries some shenanigans this time to switch it up.
WWE Championship Match: AJ Styles (c) vs. Samoa Joe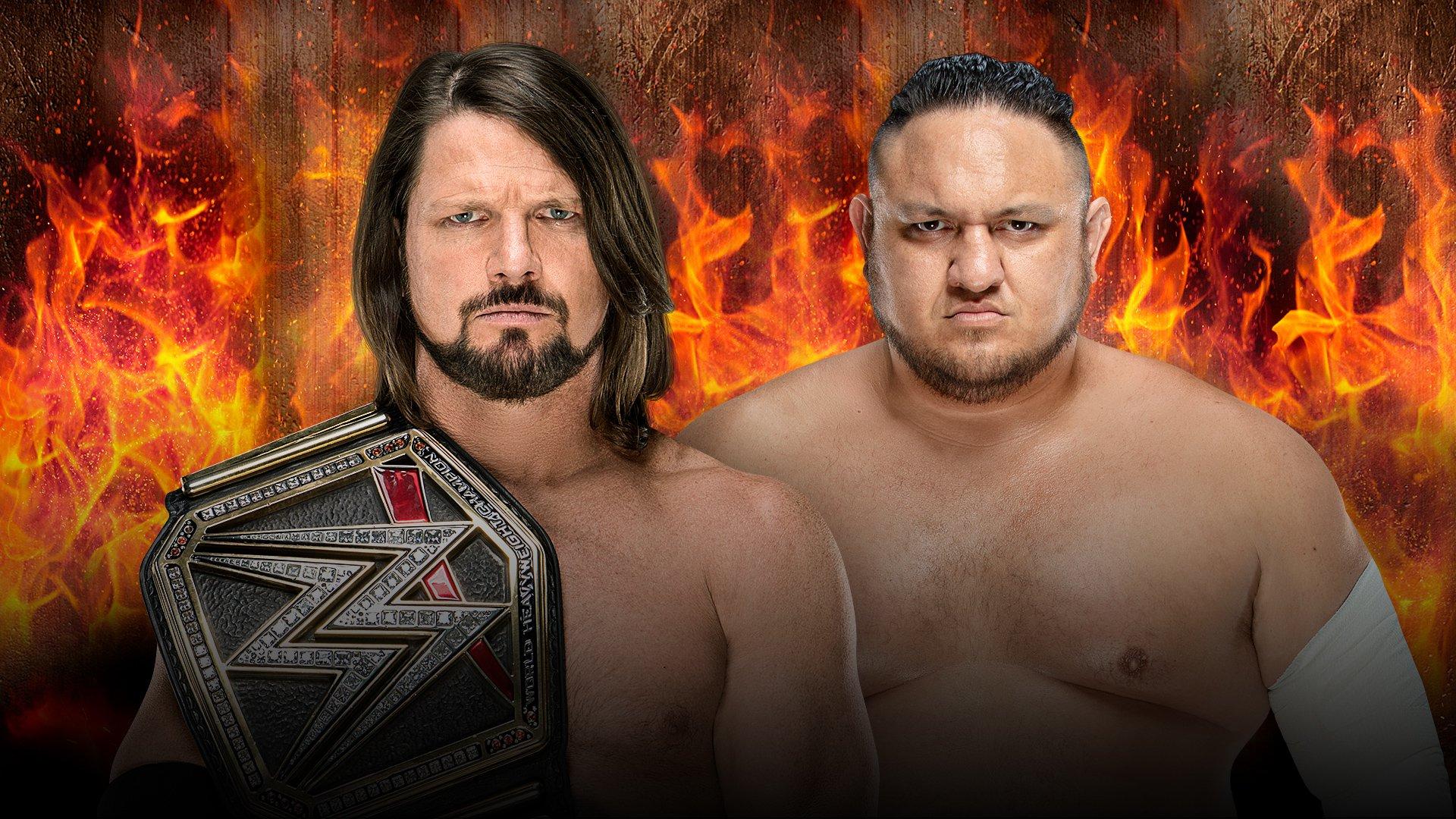 What Should Happen: Joe shows up with the severed head of Wendy and we get a heated 45-minute bloodbath.
What Will Happen: Nah, I don't know. I want Joe to win as much as everyone, but Styles seems to be holding on to that WWE Championship come hell or 35 underwhelming championship matches. Plus, he's on the cover of the video game holding the championship. You figure they want him to still be champion when the game comes out, right? Maybe he'll lose it here just to pick it back up in Australia, or maybe they finally realize they've had like 15 opportunities to pull the trigger on Samoa Joe as champ, but I think this gets another wacky ending and moves us forward with the same basic story we've been doing for two months.
Staff Picks
Bill DiFilippo – It feels like "Samoa Joe owns AJ Styles by saying stuff about his marriage" is starting to run out of steam, so hopefully this is their last match, one in which Joe puts Styles to sleep and wins the title.
Raj Prashad – Samoa Joe finally wins the big one, leading to a much anticipated ladder match for the rights to Dominick AJ Styles' family. But seriously, calling Joe to finally win his first WWE title.
Robby Kalland – Joe. Joe. Joe. Joe. Joe. Joe. Their SummerSlam match ruled and I wish this was a HIAC match at the end of the night, but as long as they get 20ish minutes to do stuff and they actually give it a finish this time, I'll be happy. I think Joe wins here, but no matter what happens I can't see this being the end of these two fighting.
Elle Collins – So if Joe wins, does he immediately get custody of AJ's kids? In general there's nothing I'd like more than to see Samoa Joe with the WWE Championship, but now that this feud is all about Wendy Styles I feel weird about the idea of him winning here. So I'm giving it to AJ.
Emily Pratt – This even more than Lynch vs. Flair seems like it should be in the Cell. But if Samoa Joe becomes WWE champion this time, I will forgive this oversight, WWE! Just make him the champ and give us vignettes of him driving AJ's kids to school!
Daniel Bryan and Brie Bella vs. The Miz and Maryse
What Should Happen: Brie and Maryse accidentally injure each other doing a tie-up, both tag out, and Miz and Bryan wrestle the rest of the match by themselves.
What Will Happen: My head's telling me this ends with Brie tapping out Maryse to a Yes Lock, the one move we know she can do pretty well, and winning for her team. That'll allow Miz to still claim Bryan can't beat him, which moves the feud forward without making Bryan look like a total loser. Miz taunting Bryan about how he needed to get his wife into the match to win, possibly leveraging the fact that Maryse gave birth five months ago suddenly as a negative instead of a positive because he's an awful human being, will be solid Smackdown television.
Staff Picks
Bill DiFilippo – I feel like WWE is going to keep riding the "Miz beats Bryan via silliness" wave for a while, but I think they can give Bryan and Brie a win while keeping that up. Brie pins Maryse, and on the following SmackDown, Miz sets up a rematch because Bryan has still never beat him.
Raj Prashad – Maryse and Miz are totally going to win here, aren't they? Calling Maryse to get the pinfall, and Miz to continue rubbing it in Bryan's face.
Robby Kalland – Bryan and Brie will get the win here to even up this feud going to the Super Show-Down. Just please no suicide dives from Brie.
Elle Collins – This is all about extending the big feud, so Bryan and Brie have to win here. That way Miz can say Mixed Tags don't count, and they can set up the next one-on-one match.
Emily Pratt – Judging from the ol' WWE TV programming book of tropes as applied to this week's Smackdown, The Miz and Maryse should win. That also makes the most sense to me as a way to continue this super fun feud. These couples have great chemistry together and I'm looking forward to this match, especially since the Olympians vs. Authority match at WrestleMania raised the bar for WWE-style mixed tag matches.
Hell in a Cell Match: Randy Orton vs. Jeff Hardy
What Should Happen: As most of the staff picks agree, "Jeff Hardy should be able to leave the match under his own power and not have accidentally (or purposely) killed himself live on WWE Network." I would also accept a "Great Khali shows up and brain chops Randy Orton" finish.
What Will Happen: For the life of me this feels like a spectacular and grandiose way to write Jeff Hardy off television for a while. Orton's the one who's going to be here forever, whether we like it or not, and Jeff's going to go through Literal Hell inside the Figurative Cell to show it. I hope they keep it away from straight-up homicide territory and go with something simple, like maybe a Whisper in the Wind into an RKO in the ring. Or like, six straight stomps to the dick, I don't know how they book Randy Orton matches anymore.
Staff Picks
Bill DiFilippo – I dunno but Shinsuke Nakamura's gonna run in and kick them both in the head and we'll keep doing this for a little while longer.
Raj Prashad – Why is this in a Hell in a Cell if Jeff Hardy doesn't jump off it? We'll have outside the cell shenanigans almost certainly, but calling Orton to win after Hardy does something dumb.
Robby Kalland – Just don't die, Jeff. Orton will hit an RKO outta nowhere ™️ after Hardy tries something crazy to win.
Elle Collins – Look, if both of these guys come out of the cell alive, let's just call that a win. But having said that, I know y'all need an actual prediction from me, so… Jeff?
Emily Pratt – RIP Jeff!
Hell in a Cell Match for the Universal Championship: Roman Reigns (c) vs. Braun Strowman
What Should Happen: BRAUN SHOULD WIN, HE TYPED ON THE INTERNET, KNOWING IT WOULD NOT HAPPEN, AND KNOWING IF IT DID HAPPEN THERE'D BE SOMETHING ABOUT IT HE'D HAVE TO COMPLAIN ABOUT ON THAT SAME INTERNET.
What Will Happen: This is already a schmozz before it happens. Internet reports have said they turned Braun Strowman heel and reunited The Shield and put the match inside Hell in a Cell AND threw poor Mick Foley out there to keep people from farting and shitting all over Braun losing his Money in the Bank cash-in to Roman clean, and it sure looks like all signs are pointing there. Like Styles/Joe, I'm guessing this doesn't even get a finish, but involves Braun doing one of his big set-piece spots to "end" the match with devastation, allowing him to "lose" the match and his Money in the Bank briefcase without actually really "losing." That way you can set up a rematch in Saudi Arabia, with Braun cashing in his Greatest Royal Rumble Belt, or whatever they want to say you can do with it.
Staff Picks
Bill DiFilippo – First, Mick Foley is wrapped in bubble wrap. This is important, because even though he's not allowed to take bumps, it's Mick Foley in a cell, so I am worried. Anyway, Roman wins because he's not dropping the belt this early. I'm also going to predict a Wyatt Family reunion, because I really want that, even though it isn't happening.
Raj Prashad – It's hard to see WWE already taking the belt off Reigns. Strowman's endless chase for the title will continue despite McIntyre and Ziggler's best efforts to take the belt away from the Shield.
Robby Kalland – Braun will do Braun things, but I'll be shocked if Reigns doesn't retain here. It'd be a pretty incredible swerve to have him finally beat Lesnar, only to lose to Strowman (who they've tried to turn heel) a month later, but I just can't see WWE pulling the trigger on that.
Elle Collins – No way Roman finally wins the title from Brock only to lose it on his first PPV defense. It's a shame about Braun, former friend of children everywhere, and his doomed Money in the Bank contract, but this is Roman's time. All times are Roman's times, at least until the Shield breaks up again.
Emily Pratt – I think whatever happens here happens to keep the Strowman vs. Roman feud going, if not now, then to be picked up in the near-ish future. I really don't know what they're going to do with this, but I am very ready to see these guys clobber each other.