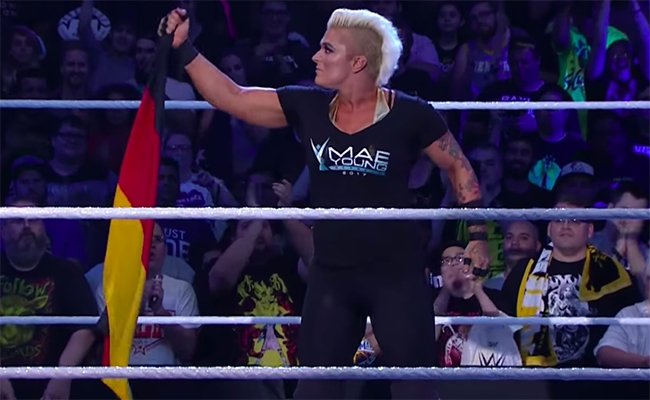 Last summer's Mae Young Classic tournament had a lot of breakout stars and fan favorites in it, but it's possible no one was a greater cult hero in the competition than Germany's Jazzy Gabert, who has been wrestling for years internationally as "The Alpha Female."
Just like Cedric Alexander made himself a beloved character in a thrilling loss back in the Cruiserweight Classic, Gabert made crowds instantly fall in love with her, even though she was defeated in the first round of the tournament by the now-released Abbey Laith. Unfortunately, Gabert was not one of the many Mae Young Classic participants who was offered a WWE contract, and it turned out that has a lot to do with an existing injury.
In December, Gabert revealed on Edge and Christian's podcast that she required neck surgery. A fundraiser was set up to help pay for her medical costs, and she underwent successful surgery earlier this year.

On AfterBuzz TV's Women's Pro Wrestling Weekly, Gabert talked about her recovery, and said she fully intends on giving WWE another shot, and that she has a whole host of supporters still in the company eager for her to return.
"I'm going to send my MRI to WWE doctors, and if they say you are good to go, I will give it another try. To be honest, I'm not sure if I want to do independent wrestling anymore because I've been doing that for 17 years. With independent wrestling, it's very difficult.

"I'm going to wait another 3 months to heal [my neck] completely. My doctor said wait a little longer. Everything is fine now, I don't have any pain. And I had a little tingling in my fingers, but it's completely gone now and my full strength is back. So I think everything is alright.

"I have some friends [in WWE] and we're in contact, and they're telling me, 'Come on, we miss you here. Get your ass over here.' I'm in training and I'm in contact with them. It's really encouraging. Even like wrestlers TJ Wilson [Tyson Kidd], he wrote me, and I'm like, 'Wow, so much support!' Even Christian and Edge are still behind me … we texted yesterday, and it was so freaking awesome, and all these people behind me. So I really have to get fit [and get back there]."
We certainly wish Gabert the best of luck, and WWE and NXT could use a performer like her.