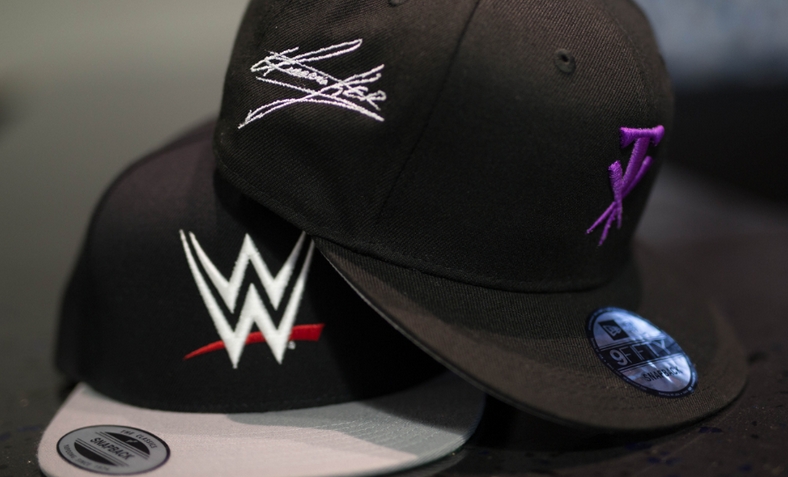 If you've never been lucky enough to catch a John Cena cap at a WWE live event (and aren't happy with WWE Shop's selection of clearance snapbacks and Natalya cat ears), here's good news: LIDS and WWE announced a new partnership today that will let you make custom hats in its stores and online featuring WWE logos, names, and even embroidered autographs.
Lids.com already has up a handful of designs, but the customization will regularly updated, so if, say, Curtis Axel suddenly becomes everyone's favorite wrestler, WWE can send Axe Man logos to LIDS and you can get it on a hat in minutes.
From the press release:
"The passion that runs through the veins of WWE fans is indisputable, so we are thrilled to be able to further connect with this fanbase by offering them a new way to demonstrate support for their favorite A close up of a helmet Description generated with high confidenceSuperstars and Legends," said David Baxter, president and CEO of LIDS Sports Group. "Customization is an important aspect to our brand, and we hope to continue the expansion of our WWE customization offerings in ways that take customers' fandom to the next level."

The new agreement also allows for the on-demand creation of custom WWE headwear. Customers can select from a wide selection of blank headwear options offered by LIDS – which covers all styles from fitted to flex to snapbacks in a wide variety of colors – and then choose from the new library of WWE custom embroidery options to create personalized, one-of-a-kind looks. Thanks to LIDS' unique customization capabilities, creating a custom WWE hat in-store will take only minutes.

LIDS's WWE on-demand customization program launched a select assortment of logos and autographs ahead of last night's WWE Royal Rumble event, and LIDS will continuously add new WWE Superstars and Legends on a monthly-basis.
They don't specifically say you have to match the appropriate logo to the corresponding autograph, so if you want an Alexa Bliss hat with an Undertaker autograph on the side, you do you. I guess my only complaint is that there are already Brie Mode hats, which doesn't make any sense. Nikki wears a hat!
Again, check out LIDS to see what's already available. Fingers crossed for a TOP GUYS logo soon.