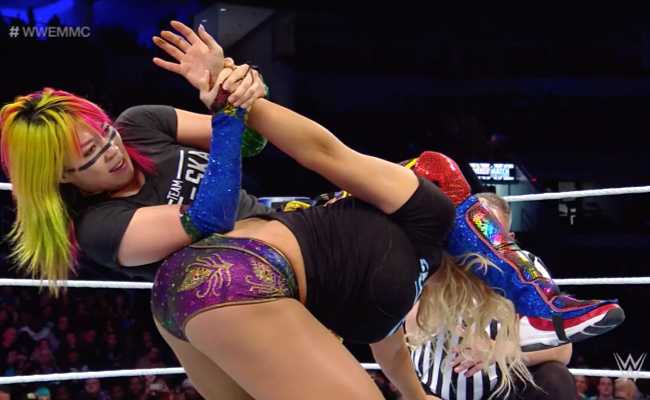 Welcome back to the WWE Mixed Match Challenge Season 2, a half-hour show featuring a 10-team round robin mixed tag tournament between Raw and Smackdown. The episodes air live on Facebook Watch at 10 p.m. every Tuesday night, but you can watch the new episode any time you want. Each week, I'll be taking you through the ins and outs of this compact two-match card.
Last week, Country Dominance defeated Team B'N'B and Day One Glow triumphed over Fabulous truth, in an episode with lots of singing and dancing and laughing.
I Warned You I Was Bad At Tournament Math
This is on me, everybody. Last week, in complaining about the weirdly symmetrical booking of this show, I said that this episode, in which the undefeated teams of each brand face each other for the first time, would be the last episode of the first round. I also pointed out that each brand still has two teams that have never won a match. It somehow didn't occur to me then that those teams can't have faced each other yet, because somebody would have had to win when they did. So yes, there's still one first-round episode after this one, in which the teams that have thus far lost every match face off to see who goes home and who goes to the playoffs. My bad.
I still don't really understand how the playoffs work, but hopefully we'll get a sense of that next week, when they presumably at least announce who's in the first round of the playoffs the week after. Until then, I'll try to think through things a little more clearly. For the record though, having all the teams with losing streaks on next week's show only further strengthens my point about how this tournament could have been booked a lot more subtly.
Now that we've got that out of the way, let's dive into this week's matches:
Match One (Raw): Country Dominance Versus Monster Eclipse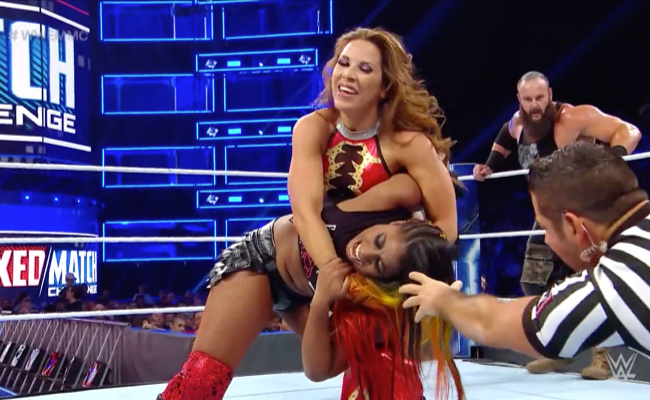 Here's the interesting thing about putting all the most dominant teams in one episode: Suddenly the show becomes about wrestling again. For better or worse, there are no dance contests, no rap battles, no hugs or push-ups. These are the wrestlers who are here to win, and there's no silly teams around to tempt them into humorous shenanigans. I have a feeling this is going to make for a strong contrast with next week's episode, in which there are only silly teams.
As for this match, it was pretty short and simple. Bobby Lashley and Braun Strowman are like two mack trucks running into each other, but not at that high a rate of speed. Ember Moon and Mickie James make much more interesting competitors, and therefore they got the most to do here. Ember's not been in the best position lately, between getting beaten up by Nia Jax and Tamina and not getting to be on the Raw Women's Survivor Series team, so it was nice to see her look strong and powerful against Mickie James. As for Mickie, it was honestly just cool to even see her treated as a formidable enough opponent that it takes substantial power to beat her. Also, Mickie James is great at selling the Eclipse, so that made for a fun ending to a nice if nondescript little match.
Match Two (Smackdown): Awe-Ska Versus Team Cheerwine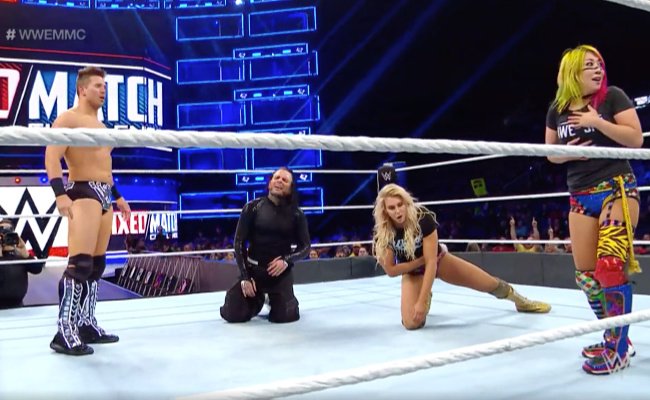 Once again the booking of bigger events in WWE got in the MMC's way. This show came immediately after new WWE Champion Daniel Bryan beat up AJ Styles in the main event of SmackDown, and in fact AJ was still being helped out of the ring as the Mixed Match Challenge went live on Facebook. That means he couldn't be Charlotte's partner this week, so Paige replaced him at the last minute with Jeff Hardy. The team obviously can't be called Fenomenal Flair without AJ involved, but they never gave this presumably temporary new team an official name, so I've been trying to come up with something North Carolina-themed, since that's where Jeff and Charlotte both hail from.
Anyway, not only do Team Awe-Ska and Team Crockett Territory both come into this episode undefeated, the Miz and Asuka were never defeated in Season One either, giving them the best record in the brief history of the Mixed Match Challenge. Of course, if anybody was well-positioned to put an end to that streak, it was Team Vinegar-Based Barbecue.
While AJ's night was so rough he couldn't compete on this show, Charlotte had such a good night that she arrived with a renewed sense of power and purpose. As I'm sure you know, she had just found out on Smackdown that she's replacing Becky Lynch and fighting Ronda Rousey at Survivor Series. Almost immediately after that huge moment, which also included reconciling with her estranged best friend, it was time for Team Bo-Berry Biscuits to face Team Awe-ska with both teams' perfect records on the line.
I've been saying for a long time that I've been ready for Awe-ska to take a loss, just because I think it makes them and the tournament more interesting if they're less cartoonishly dominant. I knew it might happen this week, and had been expecting AJ Styles to probably pin the Miz. When Styles got switched out for Hardy, I still thought the Miz taking the pin was the most likely possibility. What I didn't take into account is that Jeff's not the one who needs to go into Survivor Series looking and feeling as strong as possible. He's just taking part in a big multi-man match, whereas Charlotte is facing the so-called Baddest Woman on the Planet.
Nevertheless, Asuka gave a fine showing, at one point latching herself onto Charlotte's back in a vicious-looking hold, and also teaming with Miz to hit both opponents with Yes Kicks (the Miz should be more careful whose moves he steals, by the way, because you never know when somebody may suddenly become more vicious than they used to be). Ultimately though, it wasn't too surprising when Charlotte speared Asuka, locked in the Figure Eight, and forced the Empress to tap, just like she did at WrestleMania.
So that's that. Awe-Ska have finally lost a match, and Team Cook Out Tray are in the lead going into the mysterious playoffs.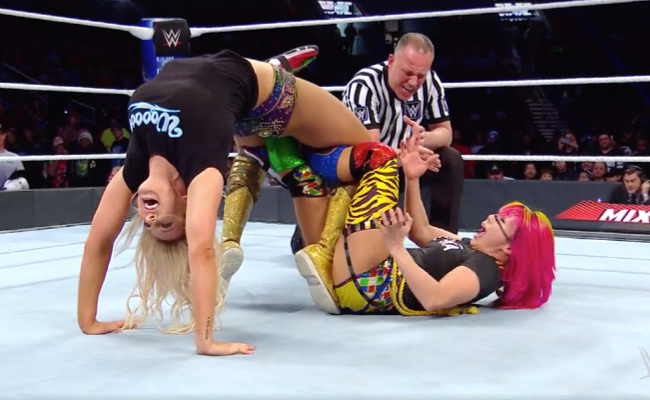 That's all for this week. Join us next time for the actual last match of the first round, when Mahalicia (Alicia Fox and Jinder Mahal) go up against Tam Pawz (Natalya and Bobby Roode), and Fabulous Truth (Carmella and R-Truth) face Ravishing Rusev Day (Lana and Rusev), with everybody still trying to get their first win of the tournament.