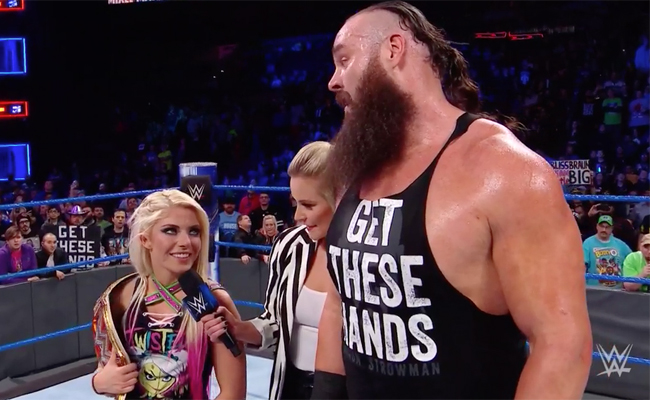 This is the third week of the WWE Mixed Match Challenge, a half-hour show featuring a 12-team mixed tag tournament between Raw and Smackdown, in which each team is battling to win $100,000 for their chosen charity.
The episodes air live on Facebook Watch at 10 p.m. every Tuesday night, but you can watch the new episode any time you want. Last week, Asuka and the Miz defeated Big E and Carmella, in a match that was a bit of a step down from Week One, but still pretty great. This week's episode features Becky Lynch and Sami Zayn, fighting on behalf of UNICEF, in a match against Alexa Bliss and Braun Strowman, fighting on behalf of Connor's Cure.
Now let's take a quick look at this week's teams, before we dive into the match itself:

Team Ginger Snaps: Do It Like I Do It
I love the self-aware storytelling that Becky and Sami have been doing, where they acknowledge that they're old friends and still on good terms, while also understanding that Sami's a bad guy now, even though Becky's still a good guy. It's fun and funny and playing with wrestling tropes in a way you rarely see in WWE. The narrative continued into their entrance, with Becky doing her best to get Sami to high five the fans on their way to the ring, much to his chagrin. These little touches, where the Superstars get to develop their characters with what seems like minimal backstage interference, are easily my favorite thing about the Mixed Match Challenge.
Given their opponents, there was never a realistic chance of Team Ginger Snaps winning the match, but it was a lot of fun watching them try. It was especially fun seeing the very different ideas they have about what "trying" looks like. For Becky, it's all about strategizing and doing her best to outwrestle Alexa in the ring. For Sami, it's about doing his best never to come into direct contact with Braun at all if he can help it, diving in and out of the ring and running around wildly like the little skanking weasel he is.

Team LittleBig: Like A Big Mack Truck Cut Across Two Lanes
Here's the thing about Team LittleBig: They're adorable, and I really didn't see that coming. They've gone from just looking like a special effect by standing next to each other, to doing really funny bits together, to being so endearing as a duo that it makes me like each of them more individually than I did before. Alexa's always cute, of course, but she's usually such a manipulative snake that you're hesitant to let yourself be drawn in by her. She's still that same character here, but her affection for Braun seems increasingly genuine.
As for Braun, I admit I've had a hard time getting behind him as a babyface because he still seems like a huge mean bully. It's fun to watch his destructive antics, but I've never particularly wanted to cheer for him. Seeing him with Alexa is changing that. Seeing him with a friend who he obviously likes and respects immediately makes him more likable. Seeing him awkwardly demure during the post-match interview when the crowd starts being a bit inappropriate is also endearing. And when that same interview opens up this partnership into a possible romance angle, I find that I'm entirely in favor of it.
By the way, I also continue to be impressed with Alexa Bliss' acting ability. She's not just playing "pretending to be attracted to Braun to manipulate him," she's clearly playing "pretending to be attracted to Braun to manipulate him, but also deep down actually attracted to Braun," and she's getting it across.

The Match: It Goes Round And Round
One interesting thing about this match is that it was barely more than a year ago that Becky and Alexa were feuding over the Smackdown Women's Championship, while Sami and Braun were over on Raw feuding over … something or other. Sami's ability to take a beating, I think. Now Alexa and Sami have both changed brands, and Sami has turned heel, which means now he runs from Braun, instead of needing to prove that he'll never back down.
Sami and Becky are both great in this match, because they're always great, but Alexa and Braun's interactions steal the show throughout. The bit where she refuses to tag him in because of her plan to lure Becky into a false sense of security, and Braun reassures her that he trusts her was fantastic, and there was even a moment when I really thought that Alexa might get them eliminated from the tournament without ever letting Braun into the match, which would be a serious heel move.
Ultimately, not only does Alexa win by pinning Becky, she does it after a Twisted Bliss off of Braun's shoulders. And look, I know it's obvious that I'm distracted from discussing the mechanics of this match by my newfound affection for Braun and Alexa's affection for each other, but this right here? This is what the Mixed Match Challenge is all about.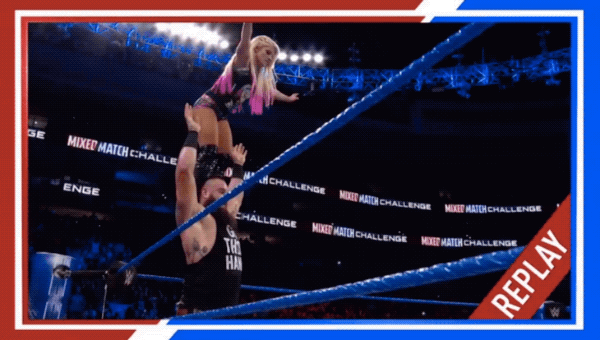 You can watch the whole thing yourself right now, on Facebook Watch.

The Future: Gold vs. Glow
Next week, married tag team Naomi and Jimmy Uso face off against the newly-assembled duo of Goldust and Mandy Rose. Mandy's the newest addition to the MMC, replacing an injured Alicia Fox. We haven't seen her do much without Absolution by her side, but her high-glamour look and love of golden gear make her a natural partner for Goldust, and I'm interested to see how they work together.
Naomi and Jimmy haven't done many backstage vignettes to build up to this match, but I guess we've seen plenty of their relationship on Total Divas. As a current Smackdown Tag Team Champion and a former Smackdown Women's Champion, I'm guessing they'll be victorious over the newcomer and the oldtimer. For that matter, Raw has now won three of these in a row, so it's probably time to throw Smackdown a bone.
Whoever wins that match will face Braun Strowman and Alexa Bliss in Week 8. Naomi versus Alexa is another matchup we've seen before, but Braun versus Jimmy Uso feels pretty new. Meanwhile, Becky Lynch and Sami Zayn are definitely contenders for the fan vote to come back in the semi-finals, so maybe we haven't seen the last of them either.
That's all for this week. Join us next time when Team Glowish faces Team RoseGold (and yes, some of these team names are terrible).