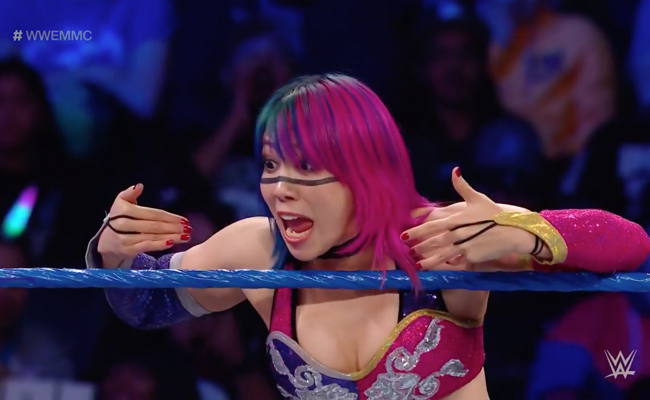 This is the seventh week of the WWE Mixed Match Challenge, a half-hour show featuring a 12-team mixed tag tournament between Raw and Smackdown, in which each team is battling to win $100,000 for their chosen charity.
The episodes air live on Facebook Watch at 10 p.m. every Tuesday night, but you can watch the new episode any time you want. Last week was the final match of Round One, in which Charlotte Flair and Bobby Roode took out Nia Jax and Apollo, who never quite gelled thanks to the constant presence of Titus Worldwide.
This week's episode features the first match of the quarter-finals, in which Finn Bálor and Sasha Banks, fighting on behalf of the Special Olympics, face off against the Miz and Asuka, fighting on behalf of Rescue Dogs Rock. Reaching the quarterfinals also means I'm going to change up the format a bit, because we don't have any more new teams to introduce.

Going In: Effortlessly Cool Vs. Cool With Effort
Sasha and Finn, the Boss Club, are old friends who obviously like each other a lot and have nothing but respect for each other's wrestling abilities and choice in jackets. They fought Natalya and Shinsuke Nakamura on the very first episode of the Mixed Match Challenge, and it was a pretty legit match. Finn and Shinsuke went hard at each other, Sasha and Nattie were even more brutal, and there was some interaction between Sasha and Shinsuke that makes you wish WWE would let the two of them have a singles match. Ultimately, Natalya tapped out to the Bank Statement and we were all like "Wow, this show's surprisingly good."
The Miz and Asuka go by the "sounds-better-out-loud" name of Team Awwwww-suka, and their veneer of mutual respect has a lot more tension behind it. Miz presents himself as the best, but Asuka actually is the best, so Miz is pretending they're equals while obviously being aware that he's attached himself to someone who literally can't lose. This paid off for him in the second MMC episode, where they beat Carmella and Big E in a fun comedy match. However, Miz has been counting on the language barrier to keep Asuka from realizing he's actually a jerk, and that plan has a time limit. In the back stage scene at the start of this episode, in fact, she repeatedly points out to him that what he keeps calling "our streak" is in fact her streak. In fact, that distinction becomes the defining factor of this episode.
The Match: Suddenly The Stakes Got High
If you've been following these recaps, you already know that this is the first finish I failed to predict in advance. Prior to the beginning of this episode, I fully expected Finn and Sasha to win. Even though they had talked about breaking Asuka's streak, I figured there's no way a mixed tag match where she's partnered with the Miz would affect her streak at all. My thinking was that the apparent lack of backstage oversight (the thing that makes this show so fun) had enabled Finn and Sasha to talk about the streak in a non-canonical way without being told not to. I also assumed that Alexa and Braun would make it to the semi-finals, and that WWE wouldn't want to put Asuka and Alexa in the ring together for something like this so close to WrestleMania when they've been building toward a title match. Shows what I know.
Obviously once the episode actually started and everyone including Asuka was talking about the streak, I knew she and Miz were going over. That's kind of the problem with streaks when it comes to storytelling. The idea that Finn pinning Miz could officially break Asuka's streak still seems ridiculous, but it did add some fun drama to the match itself. Finn just beat Miz on Monday Night Raw, and here he was constantly on the verge of doing it again (it's not like it's hard for him). Being the Miz, of course, he has too much ego to know when he needs to tag out. Meanwhile, Asuka is getting more and more freaked out until she's literally in the middle of the ring waving her arms in the air and screaming while Miz and Finn are still legal.
Eventually she just tags herself in and has a good back-and-forth with Sasha. As always the great thing about Asuka is that she has a streak but she's not Goldberg — she puts on a real match with whoever she's in the ring with before she inevitably wins. Here it's the Miz that gets the pin, but only because Finn is distracted by Sasha tapping to an Asuka Lock even though the men are legal at the time. Storytelling-wise, it's a great way to let Miz feel responsible for the win without looking too delusional, even though we can all tell he wouldn't be on his way to the semi-finals without Asuka.
You can watch the whole thing yourself right now, on Facebook Watch.

Next Time: Love And War
Next week is the second match of the quarter-finals, in which actual married couple Naomi and Jimmy Uso take on adorable flirt monsters Alexa Bliss and Braun Strowman. Will there be more development in the Alexa/Braun romance? Almost certainly. Will there be more development in the Naomi/Jimmy romance? Probably not; they have real life for that.
I had previously assumed Alexa and Braun would win, but if they want to avoid Alexa and Asuka meeting too soon before Mania, I suppose Naomi could pin Alexa (she's done it before) and move on to the Semi-Finals with Jimmy instead. On the other hand, Asuka might still be facing Charlotte at Mania, or they might use the MMC to do the "Asuka just pinned the champ" thing, or WWE might just not care.
I have to admit, I am concerned about this development of making Asuka's streak so important in the MMC. They're definitely not going to let it be broken on this show, so doesn't that just mean that Asuka and the Miz are definitely winning the tournament? Also, I hate to bring this up, but their chosen charity is literally for dogs. I like dogs, but everybody else is here on behalf of poverty or sick children or something else that benefits human beings. It's a little weird if they win, I'm just saying. On the other hand, it would be the most WWE move to suddenly decide in the semi-finals that a loss in the MMC wouldn't affect Asuka's streak after all, even though everybody acted like it would this time. Only time will tell.
That's all for this week. Join us next time when Team LittleBig faces Team GlowIsh.