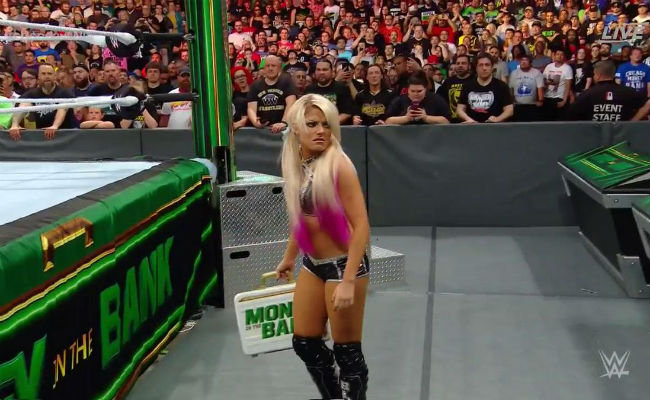 The WWE women's Money In The Bank ladder match took place early in the Money In The Bank PPV, and left room for the winner, whether from Raw or Smackdown, to cash in on a women's title match later in the same show. This seemed even more likely when Alexa Bliss became Ms. Money In The Bank.
Her former best friend Nia Jax was scheduled to have her first Raw Women's Championship defense against Ronda Rousey sometime later that night. A hurt/tired Jax or new champ Rousey sounds like exactly the opportunity Little Miss Bliss would take advantage of to regain her title, and sure enough she showed up towards the end of the match to take her shot.
Jax's title shot offer to Rousey was extremely cordial, but you never would have guessed that watching these two in the ring. Rousey had to work around Jax's size advantage, and Jax had to avoid her opponent's infamous armbar. Throughout the match, Rousey showed off some new moves, eventually locked on the armbar, and looked like she had a chance at winning.

But while Jax was in the armbar, Alexa Bliss ran into the ring and hit both women with the her Money In The Bank briefcase. She cashed in her title shot on Jax after the champ had been hit several times and Rousey was out of action outside of the ring.
After a short match, Bliss hit a DDT and then Twisted Bliss on Jax, pinning her to regain the Raw Women's Championship.