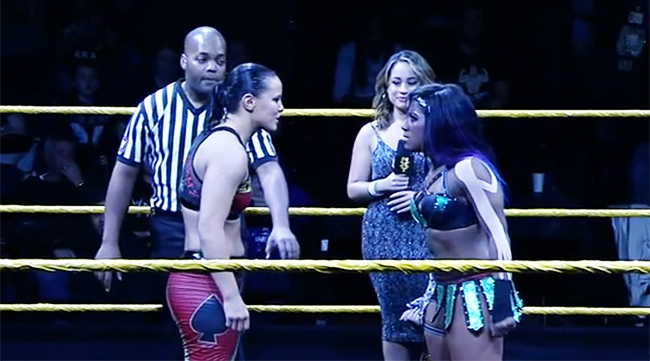 Previously on the Best and Worst of WWE NXT: Johnny Gargano put his career on the line, SAnitY got boned yet again out of a tag title rematch, and Heavy Machinery continued to be the best thing in NXT.
If you missed this episode, you can watch it here. If you'd like to read previous installments of B&W NXT, click right here. Follow With Spandex on Twitter and Facebook. You can also follow me on Twitter, where I primarily tweet about pro wrestling and emo bands, so if you fit into that Venn diagram, welcome aboard.
Click the share buttons and tell people (including @WWENXT) that you dig the column. We can't keep doing these if you don't read and recommend them! It helps more than you know, especially for the shows that aren't Raw and don't have hundreds of thousands of built-in casual interests.
And now, the Best and Worst of WWE NXT for February 14, 2018. So push the seats back a little further, I can see the headlights coming.
Best: At This Velocity
This week's episode of NXT is bookended with two title defenses, both of which were great from the bell (and honestly, from before the bell — I'll always give a Best for those blue lights).
Pete Dunne continues his streak of awesome matches inside a WWE ring with his UK Championship defense against Roderick Strong, in the battle of metalcore theme songs (in this case, a Bring Me The Horizon knockoff versus a Killswitch Engage knockoff).
Even though this contest had the indignity of having two commercial breaks placed in the middle of it, unlike last week's six-man tornado tag, Dunne and Strong did an excellent job of stitching their match together with a coherent, concise story — Strong is trying to soften up Dunne's back for his arsenal of backbreakers to have maximum effect, and Dunne is trying to incapacitate Strong's hands to limit his strength — that pays off in the match finish, when Strong goes for his Stronghold submission and Dunne whacks him in the hands, turning the tables and allowing for the Bruiserweight to come out on top.
Supplemental Best for Dunne keeping his covers fresh, too (I was specifically a fan of his matchbook fold-up after delivering a powerbomb). I can't even really recall a time where he's gone for a normal lateral press. It's these little things that once again shine a light on just how good this kid is.
Best: Into The Blinding Light
The latest Velveteen Dream segment was far too short but oh so sweet. I immediately bested his quick response of "I'm not answering that, you look horrible" to a reporter (now all I want to see if Dream dressing down Jerry Lawler on a pay-per-view pre-show.
Even better is how he's told he has a match against No Way Jose next week, and then proceeds to call out Tyler Bate instead. How hilariously ineffectual is No Way Jose that even his opponents don't acknowledge him? Ice cold, and wholly accurate.
Best: Jet Black New Year
While talking has never been the main draw of Aleister Black's character, I enjoyed him giving a quick recap of his history in NXT, referencing his past three TakeOver victories via an era (Adam Cole), an experience (the Velveteen Dream), and a sensation (Hideo Itami, I guess?).
Conspicuously, he doesn't reference his very first TakeOver victory against Andrade "Cien" Almas, and that's because he's out here to call out the NXT Championship — not the champion per se, but the actual, physical title. (I guess it's hard to name a champ when the title is going to be on the line next week — you have a 50/50 chance of being wrong.)
Instead of an anthropomorphic championship walking through the curtain, instead, we're treated to an interruption by SAnitY's Killian Dain in full gear (although I like to imagine that no one in SAnitY actually owns street clothes), who gets in Black's face and says, "Your path will be stopped by chaos." Looks like we have ourselves a No. 1 contender match brewing. Sorry, Lars.
Worst: Concealer
The hyphen-free version of TM61's first match back in front of a non-TakeOver crowd is against a couple of ham-and-eggers by the names of Andrew Duckworth and Jon Skyler (the latter of whom has been jobbing in NXT off-and-on since 2015, along with working for Ring Of Honor and being one of the many participants in Total Nonstop Deletion's tag team apocalypto match).
This didn't do much for me, and the finish was a total clusterf*ck, with both members of TM61 seemingly forgetting which one of them was legal, as neither went for the pin after their finishing move. For a match so short, you can't have gaffes like that coming through clearly on TV. Cover your mistakes up better, guys.
Best: War All The Time
It's fitting that as this episode of NXT started with a metalcore-tinged championship, it ends the same way, too (though Shayna Baszler's theme song has a bit more Enter Shikari-esque electronic elements in it, which is cool — though it has apparently already lost the horse sounds, which is a bummer).
As the house lights dimmed and the blue lights rose for Baszler to face off against women's champion Ember Moon, there was a lot of jaw-jacking flying back and forth, which got me hyped for this. Wonky finish of their TakeOver match aside, Moon has a legit gripe with Baszler's post-match chokeout — but in true babyface fashion, she waits until the bell rings and then goes to town, following the rules but just barely. Moon was just laying into Baszler for the first portion of this match, not pulling any punches on those clubbing blows to Baszler's back. It's probably nice to work with someone who comes from MMA, as they're used to taking real-deal punishment. (Just be ready to take some in return, right Braun?)
The match shifts when Ember goes for a suicide dive and reinjures her arm, letting Baszler pounce — and pounce she does, figuratively putting Ember's arm through the ringer, and literally pulling Ember's arm through the bike rack barricade at ringside. F*cking ouch. This extended beatdown triggers a run-in from Kairi Sane, who still has beef with Baszler from when she choked her out last month — and, interestingly, Ember Moon did not come to Sane's rescue then. I hope this leads to a situation where Sane tells Moon she will handle Baszler for her in exchange for a title shot. If you're supposed to be a pirate, then let's act a little more unscrupulous, no?
Lastly, a hearty supplemental Best to NXT's timekeeper, who after Kairi Sane got involved in the match, continued to ring the bell over and over, which is one of my favorite things in pro wrestling that WWE virtually never does anymore. Try watching an old episode of Monday Nitro or something — when the nWo would invariably sh*t all over the main event or something, the tension was always ratcheted up with the sound of the bell ringing again and again, letting the audience know that this behavior is not sanctioned. It's a little thing, but it makes a world of difference in my eyes (and ears).
Next Week: Johnny Gargano puts his career on the line against Andrade "Cien" Almas for one more shot at the NXT Championship, and Velveteen Dream (probably) (most likely) (definitely) beats No Way Jose.