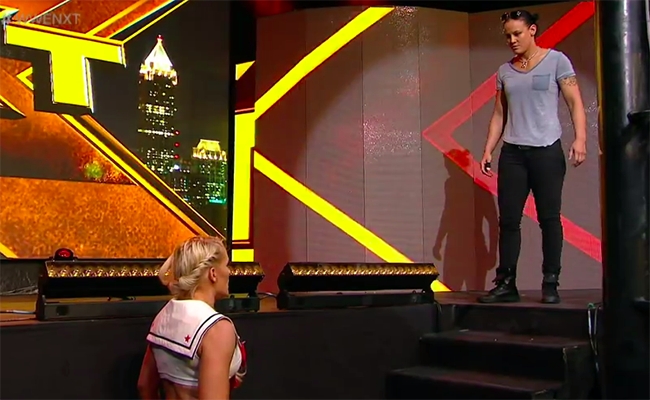 Previously on the Best and Worst of WWE NXT: Johnny Gargano solidified his status as No. 1 contender, Aleister Black and Adam Cole ran afoul of each other, the Undisputed Era beat the crap out of SAnitY, and Shayna Baszler ruined a woman's world.
Programming note: I am, unfortunately, not Scott Heisel. Scott is laid up at the moment, so send him happy thoughts. He should be back next week, and we can all relax.
If you missed this episode, you can watch it here. If you'd like to read previous installments of B&W NXT, click right here. Follow With Spandex on Twitter and Facebook. You can also follow Scott on Twitter, where he primarily tweets about pro wrestling and emo bands, so if you fit into that Venn diagram, welcome aboard.
Click the share buttons and tell people (including @WWENXT) that you dig the column. We can't keep doing these if you don't read and recommend them! It helps more than you know, especially for the shows that aren't Raw and don't have hundreds of thousands of built-in casual interests.
And now, the Best and Worst of WWE NXT for January 17, 2018.

Best: Mass Nerder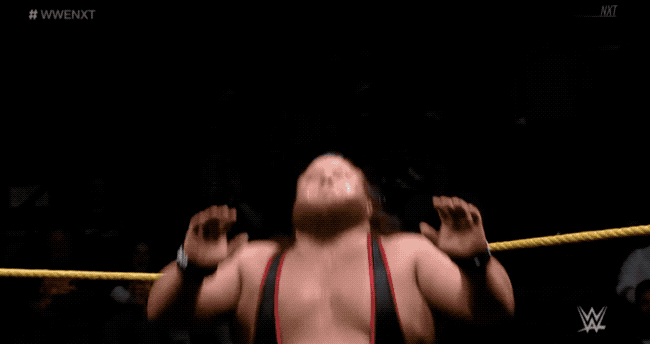 This week's first match (highlights of which are inexplicably not on WWE's YouTube channel) features our beloved beefboys, Heavy Machinery, going up against Riddick Moss and Tino Sabbatelli, the best in-canon couple in NXT apart from Alexander Wolfe and Killian Dain. If you recall, these two teams ran afoul of each other a few weeks back in an EXTREMELY entertaining vignette where Otis Dozovic made terrified Chris Farley faces and tried to lift a Maserati.
It was surprising to see this match happen so quickly, but it made sense when what was shaping up to be a terrific match was ended prematurely by CHICANERY, as Moss rolled up Tucker Knight and got a couple legfulls of rope to pick up the dirty pin. THIS FEUD MUST CONTINUE, perhaps during the episode taping prior to NXT TakeOver: Philadelphia?
(By the way, how the hell is NXT not gonna upload a YouTube video, and create a GIF of Knight's guillotine swing, but not do a damn thing in praise of the Caterpillar? For shame. We got you, fam.)

Worst: Better Than That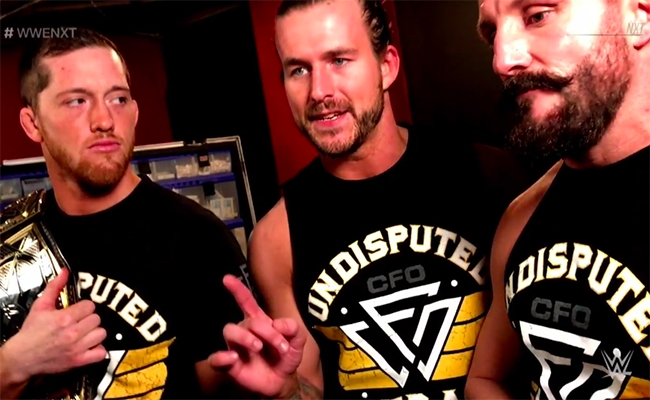 The Undisputed Era still aren't, uh, great at the whole "backstage promo" thing, which is kiiiiinda all they do most weeks. Kyle O'Reilly is increasingly dead behind the eyes, and Bobby Fish's mouthguard is increasingly the most dynamic thing about the group thus far. And I'm a BIG fan of Cole and Fish, they just need better things to do. Or anything to do, really. Minor Bests for Cole's "what, am I supposed to be scared of an Extreme Rules match," because he understands that just gives him an advantage since he has two ever-present friends, and for the Cole/Black feud recap video package. At least I can always count on you, video package team.
Best/Worst: Carry You
Much like Oney Lorcan and several others before him, Aichner is hip-deep in a "slowly building respect and support through gutsy performances" arc. No sign of him going back to his roots any time soon, but he did turn in an impressive performance here (again) before Roderick Strong kicked it into high gear and won with the RodHold.
After the match, Rod grabbed a microphone and proved to Lars Sullivan that he ALSO has an unusual voice. Take that, Lars! These two are likely also on a collision course for TakeOver, as the talent logjam in NXT remains palpable. Good thing WWE didn't sign a bunch of other indie superstars! What's that? [listens to earpiece] aw frig

Best: Original Me
For months, we've been wondering where the heck TM-61 was now that The New Girl's Nick Miller has recovered from surgery and is cleared to compete. We assumed that when we finally saw them again, they'd just pop up to professionally wrestler, but this is so much better. They had a plan!
Just like Finn Bálor and Apollo Crews and Hideo Itami and Roderick Strong, TM-61 is getting the "weeks-long professionally-made emotional documentary" treatment. It couldn't be better utilized here. It begins with some super raw and off-the-cuff bloopers where TM-61 gets a personality for the first time in their WWE careers, and cements them as the Lawful Good Iconic Duo. And it turns out they have an extremely good story. A story that features Harley Race!
I'm excited to see the coming installments, and for TM-61 to bust back into the tag scene with people actually having genuine reasons to root for them and an emotional attachment to the characters that makes sense.
The only, phenomenally minor Worst of the segment:
Worst: Problematic
There were some strong Bests early on here! Lacey Evans and Aliyah had a match where it was extremely hard to figure out who would emerge the winner, and Evans looked like a million bucks as a super-jacked pinup girl Sailor Moon punching the living hell out of people. Then she grabbed a microphone and started dog-whistling all over the place.
Let me just say up front: if they are specifically going for what I think they're going for, I am GENUINELY INTERESTED in seeing where this goes. If they are NOT specifically going for what they're going for … holy yeesh, what a bad look. Evans, a Southern-accented 1950s pinup former Marine, starts talking about how she's going to bring "class" back to the women's division, and starts running down the "classless" women she has a problem with: Aliyah (a Canadian Arab), Nikki Cross (a foreigner), Ember Moon (another woman of color), and starts running down Kairi Sane (see a pattern here?) before being interrupted.
Again, flip that Worst to a Best if they're leaning into "Tomi Lahren" or "old-fashioned patriarchal woman" as a gimmick. But if not … yeeshy yeeshy yeesh yowza wowza.
BUT THEN EXTREMELY SUPER BEST: Pummel
The person who interrupts Evans' promo is Shayna Baszler, who comes out in street clothes with her sunglasses on top of her head, silences Evans and sends her packing just by descending the entrance steps. Baszler then turns her attention to the helpless Aliyah in the ring, and calmly, brutally chokes her into unconsciousness and beyond until Ember Moon makes the save.
Baszler shuffles off, laughing, and shrugs off Moon's offers to fight right then and there by saying she's not wearing her gear and she'll fight Moon when Moon's title is on the line. A few minutes later, backstage, William Regal makes that match official for TakeOver, but the post-Evans stuff is truly groundbreaking.
We've never seen this before in WWE from a woman, and it's a breath of fresh air. It feels dangerous, and vital, and new, and legitimate. Asuka would occasionally beat up people while in street clothes, but it always came as part of an in-ring confrontation. Nikki Cross attacks people in street clothes, but those street clothes are her in-ring gear as well, and Cross is an unhinged maniac. Baszler is a person completely in control of her body, her emotions, and her mind, and she methodically, deliberately doles out extreme violence. She doesn't do it to prove she's the best, she does it because she can, and because she's violent, and a jerk.
I love it. More Shayna Baszler forever, and more people that I want to see knock her block off.

Neither Best Nor Worst: Copping Z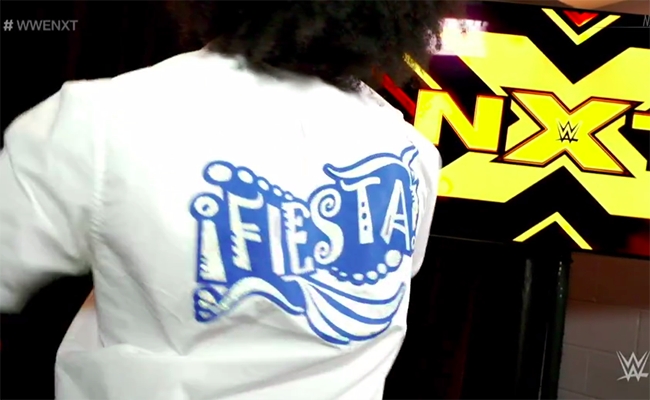 Lightning round time!
– Zelina Vega is always great, but we're also treading water for another week and a half til we get to the title match at TakeOver.
– No Way Jose is re-debuting in 2018, and while I genuinely love No Way Jose, remember what I said about that talent logjam? Not seeing MORE room for No Way Jose when Ricochet shows up, or when SAnitY is back, or when War Machine gets here, or when Tye Dillinger gets sent back down or whatever.
– Gargano's in-ring promo is as fired up as Johnny Gargano can get. He was a solid 11 on the Johnny Gargano scale. It's fine! Great job! But we're just waiting for TakeOver. Not everything can be Shayna Baszler taking souls.
Best: Breaking Things
The Street Profits wore their very best Seth Rollins Big Title Match White Ranger colorway, but despite Montez Ford's attempts at showing fearsome strength, Montez Ford's sweet moves, and Angelo Dawkins' headbands, the Authors of Pain were just too much to overcome. I still believe 2018 is going to be a big year for the Profits, but it's just not quite time yet.
The Authors will face Fish and O'Reilly for the tag titles in Philadelphia, and then will likely prepare for bigger things on the main roster, because why WOULDN'T you want this great, enormous tag team on your main roster? I mean, if you're not going to just replace all five hours of main roster programming with Velveteen Dream content effective immediately, which you should.
Next Week: We get the go-home show for TakeOver, and we get part 2 of TM-61's journey. And maybe Scott will be back! Exciting times all around, to be sure.
(Check out our must-listen McMahonsplaining podcast with WWE Superstar Matt Hardy. Subscribe on iTunes or Google.)