Best: He Used To Move Snowflakes By The O.C.
Here's some good news related to something we were worried about following Monday's "NXT invasion" edition of Raw; NXT is still privy to the "kill anyone not wearing the same t-shirt color" Survivor Series build and main roster canon, but in a much smarter way where they just bring in, say, one-to-three notable characters you might actually get excited to SEE at NXT instead of just backing up a dump truck full of Raw jobbers to Full Sail University.
This week's appearance comes from AJ Styles, the kind of guy who doesn't need the help if we're being honest but could still benefit tremendously from an environment where everyone's happy to see him all the time and wants to watch him have good, long wrestling matches. On purpose. Like, as part of the plan, and not just what happens when the original plans fall through. The influence of Raw and Smackdown can be seen in the fact that they're opening NXT with a "promo parade" to set up a tag team match with a non-finish for the main event, but Tommaso Ciampa spins hay into gold by christening NXT the "main roster," and positioning Raw and Smackdown as developmental. It's certainly been that way for about half a decade now, from an artistic standpoint.
The main event ends in a non-finish, because unfortunately of course it does. That Adam Cole vs. Daniel Bryan match from Friday Night Smackdown was a real anomaly, I guess, caused either by the futility of the Saudi Arabia drama or, in MY assumptive and imaginary head-canon, Daniel Bryan refusing to wrestle a guy like Adam Cole and NOT fully put him over.
Regardless, it works, due in part to the fact that NXT remembers that it needs to advance its own, ongoing stories in addition to the grander Survivor Series narrative. You can't just have everyone forget who they are and how they feel about things because it's time to have t-shirt fights. Here, Tommaso Ciampa teases revealing the fourth member of the Ciampa/Lee/Riddle War Games team. So when Finn Bálor's music hits you know (based on watching a previous episode) that he's in opposition to the babyfaces, but there's still enough of a benefit of the doubt that he COULD be out here to back up NXT and throw hands with the guys (kayfabe) dick-riding his New Japan legacy. He's only out here to be a jerk and make gun hands, though. But then Adam Cole of all people shows up to "help" Ciampa and superkick Styles, and then … you know, attack Ciampa too, because he hates him and is hated back, independent of in-ring WE ARE NXT speeches.
I don't know if they're going in this direction, but I'd honestly love for them to keep the bad WCW three-team War Games concept around and use it when thematically appropriate, like it is here. You've got a traditional two-team War Games match with your women's division, so how do you differentiate the men? Run Team NXT (or whatever) vs. Undisputed Era VERSUS The O.C., with Finn Bálor in there for maximum Bullet Club aesthetic. That way you get some "brand warfare" or whatever on TakeOver without completely ruining TakeOver with Survivor Series, Finn gets a major character development moment he probably should've gotten at some point on Raw, you vary up the card so we aren't watching the same match twice, you pop the nerds who wanna see NJPW vs. NXT vs. WWE, and everyone benefits. I like being able to give the wrestling promotion I'm watching the benefit of the doubt! We've still never had a bad TakeOver.
Best: Dream Of Some Young Kai
Speaking of the women's War Games match, it gets some major development thanks to a Shayna Baszler vs. Dakota Kai match, and an "earlier in the day" announcement of team members on The Bump. Rhea Ripley added Tegan Nox and Candice LeRae to her team, and sorta mentioned in passing that Dakota Kai might take that fourth spot. So not only does Kai go into this match with Baszler with a ton of baggage from being bullied into oblivion in their previous feud and almost getting her arms broken last week, she knows she has to prove herself, win or lose, to get that next opportunity.
It's Baszler vs. Kai, though, so there's only one direction in which it can go.
Kai does well, mind you, but she's got a mental block with Baszler. When the post-match attack from Marina Shafir and Gentle Jessamyn Duke turns into a team vs. team battle, Kai's not able to contribute. Mia Yim shows up with a kendo stick to save the day, and that gesture gets her the fourth spot on the War Games team. Kai doesn't make the cut, and has to walk away all sad. Tegan Nox is like, "I don't know her."
I don't know what they're gonna do and am speaking purely as fan speculation, but it'd be cool if they did this to get you distracted by/paying attention to Kai, only for it to be a misdirection, and for Mia Yim to have coerced herself into the match so she can turn on her team, cost them the match, and accept Baszler's offer to join the Horsewomen. It'd be like when Roderick Strong betrayed Pete Dunne to join Undisputed Era. And then you'd have Kai on the outside of the cage, completely unable to help, and in position to be the one who has to avenge the honor of the team that didn't even want her. That's some true-hearted babyface shit right there, and I want it.
Worst: Is This The Match, Or Are We Watching Them Practice The Match
The low point of the episode, and almost definitely the low point of NXT's life on USA Network to date, is this Taynara Conti versus Santana Garrett match. I've seen a lot of Garrett's stuff, on NXT TV in an enhancement role and elsewhere, and I have no idea what happened here. It looked like someone had shot her with tranquilizer darts before she walked out onto the stage. The whole thing is weirdly slow, and honestly looked more like two people practicing a match than actually having one. Like, watch this GIF. This is not slowed down for effect.
Mauro having to sell it like he's watching Cole vs. Gargano is just sad. Taynara's got a lot to offer as a performer, I think, and again, I don't think I've ever seen Garrett be this bad before. So hopefully this is just a bad night for one or both of them, and not the standard we're expected to accept. Taynara should've just cut off one of those "walk across the ring making dramatic hands and yelling about your upcoming offense" spots, of which there were like five, and just pump-kicked her into unconsciousness. I can't stand those things.
Best: Be Priestly
In contrast, I thought Pete Dunne vs. Damien Priest over-delivered. These two have a ridiculous amount of chemistry together, and pairing Priest with Pete Dunne allows him to show off his actual wrestling acumen (in addition to his Baron Corbin-style presentation and King Cuerno taunts, which is what most of his previous matches have stuck to) and makes him feel more like a cohesive part of a growing heavyweight division, rather than a random character off to the side. It even ends with some logical babyface comeuppance, too, as Dunne blocks a low blow — the move that felled him last time they went one-on-one — and scores one of his own, giving him the advantage that helps him win the match. Retaliatory attacks from the good guys are so much better and easier to handle from an ethical standpoint, at least in American wrestling, than the Raw and Smackdown thing where a good guy gets cheated once and spends the next two months retaliating ad nauseam.
Another good thing they do here is use the Dunne vs. Priest variably to progress its story and the larger story surrounding it. In this case, the "larger story" is Killian Dain, who got his fingers snapped a few weeks ago and isn't going to rest until he's thrown his body at Pete about it. Dain shows up looking to murder Pete, but Priest ALSO wants to murder Pete for what literally just happened in the ring, so Dain and Priest end up going at it as well. It's a nice and logical way to build toward (I'm assuming) a triple threat without robbing us of the experience of watching and enjoying the matches in the build. Every match is an opportunity, not just the one at the end of your plans.
Best: Swerve Vs. Dijakovic
I want to watch these two wrestle forever. They should still be wrestling right now, I don't care. Isaiah Scott is going to be the biggest deal in the entire promotion once everyone in the WWE Universe™ catches on to how good he is. I'm not even sure I can articulate how good he is, but this seven minutes in Wrestling Heaven with Dijkaovic says everything you need to know. He turned Mauro into Wario* when he hit that discus lariat. wwwwwAAAHHHHHHH! NXT's talent pool is so deep and thorough that a guy like Dijakovic's gonna have a DVD full of Best Matches before the year's up.
*Wauro
Best: No, My Pants!
Angel Garza takes on 205 Live's resident ab-haver Tony Nese in a number one contender match for the Cruiserweight Championship. It's about 12 minutes long and really good, but I want to make sure I compliment it for its pants-based storytelling. NXT's created a wonderful environment in which an arena full of wrestling fans calls Tommaso Ciampa "Daddy," and get sad when a man is prevented from whipping off his breakaway pants to show them his underwear.
Perhaps more importantly is this moment, in which Nese tries to powerbomb Garza out of the corner, ends up accidentally ripping off said breakaway pants, and then FULLY POWERBOMBS THEM.
I love that he doesn't realize what's happened until he's completely executed the powerbomb. Brother was in there trusting his strength. Mauro Ranallo gets the call of the night by watching this and hoarsely shouting, "I NEVER THOUGHT I'D SAY NESE HAS POWERBOMBED A PAIR OF PANTS." Magnificent. I don't see Lio Rush losing the Cruiserweight Championship to Garza next week, but I wouldn't hate it, and hell, I didn't see Lio Rush suddenly winning the Cruiserweight Championship from out of nowhere until he was holding it up in the ring.
Best: Top 10 Comments Of The Week
Bigsexy75
If Full Sail isn't careful, those "Swerve" chants gon' summon Vince Russo.
The Real Birdman
Final member of Baszler's team will be Shafir on Duke's shoulders in a trenchcoat under the name Vincent Wrestlewoman
*Kevin Owens is seen backstage after The OC attack*
Mauro: "And look! KO is invading NXT as well for Survivor Series!!"
KO: "Right… yeah… invading…"
Jericho7820
Does Shayna Bae-szler have a boyfriend? Asking for an enemy
SexCauldron
Sneak preview of invading Raw and Smackdown superstars at NXT:
Pdragon619
If you ever question Ciampa's toughness, remember he survived growing up in Milwaukee. (Side note: stay out of Milwaukee)
I like that Finn has yet to actually do the too sweet since turning heel. Feels like it's subtly laying the foundation for something.
miklonus
The non-Ronda/Shayna MMA horsewomen are so s-word that Shayna had to pick her enemies to team up with.
AddMayne
AJ: "All your champions are out of commission!"

🎵*horse neighs and trots* 🎵

They really should've had Charly Caruso out there if they were gonna go the, "how does it feel to be a wasted pick, LOL," route.
Anyway, that's it for this week's NXT. Thanks for reading, as always. Drop us a comment down below to let us know what you thought of the show, toss us up on your social media as a share to help us stay in business, and be here next week for more Wednesday night wrestling fewer and fewer people are watching, but still makes our heart grow three sizes.
Next Week: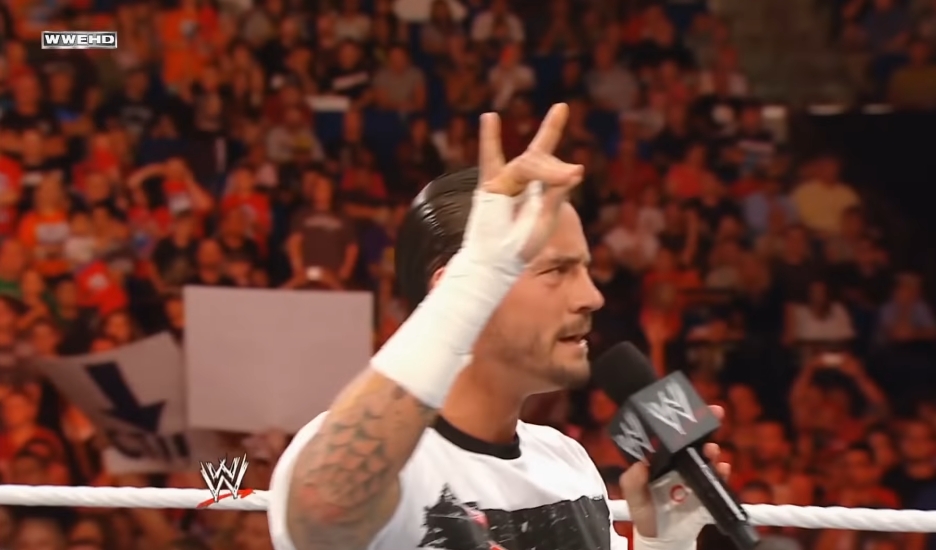 … naahhhh.