Previously on the Best and Worst of Friday Night Smackdown: The opposite of this week's episode is almost every way, and probably a preview of what next week's going to look like.
Things to do: Follow us on Twitter and like us on Facebook. You can also follow me on Twitter. BUY THE SHIRT.
One more thing: Hit those share buttons! Spread the word about the column on Facebook, Twitter and whatever else you use. Be sure to leave us a comment in our comment section below as well. I know we always ask this, and that this part is copy and pasted in every week, but we appreciate it every week.
Here's the Best and Worst of WWE Friday Night Smackdown for November 1, 2019.
Best: They Are NXT
I've written about this a lot, but WWE TV is never better than when they're physically unable to do their first draft idea due to injury or illness or weather or travel issues, and have to go with a backup plan at the last second. It's almost always a better idea, because they haven't had a chance to micromanage everything to death until it's jammed in between rock bottom and the lowest common denominator. It's practically forced to feel alive, impromptu, and exciting by its very nature.
This week's show gets to be that way thanks to reported problems in Saudi Arabia following the latest Blood Money: In Your House with most of the roster getting stranded and abandoned in the Middle East. That gives us an entirely new announce team, as well, made up of NXT UK's Demoted Tom Phillips, Smackdown "special contributor" Renee Young, and Bert from Sesame Street. Bert gets quickly replaced by Pat McAfee of "guy who isn't Sam Roberts" NXT pre-show panel fame, in living evidence of the superiority of a two-person booth.
The reason McAfee randomly shows up and replaces Aiden English — besides English being an expert on travel difficulties, having spend one night in Milwaukee — is because the new idea for the episode is an NXT talent invasion, and they reportedly didn't touch down in Buffalo until five minutes before the show was supposed to go on the air.
There's some stuff that worries me about the NXT takeover — more on that after I've done my customary, ongoing butt-kissing of the yellow and black brand — but as a longtime fan of the show, it was super exciting to see some of my favorite wrestlers and characters randomly show up on a brand that's been limp and lifeless since its Fox debut and inject it with some life.
Up first, presumably because she was the first one to arrive at the arena and didn't have to change into her gear or whatever, was NXT Women's Champion and Queen of Shovels Shayna Baszler. Her appearance is so dominant and important that the 9-minute Bayley vs. Nikki Cross Smackdown Women's Championship match that was the only match in the entire first hour got clipped down to just its finish on WWE's YouTube. It's awesome to see Actually Evil Bayley show up to kill Evil Bayley, especially if it leads to (1) Sasha Banks actually going back to Full Sail and wrestling like she promised, (2) Bayley actually going back to Full Sail and wrestling like she promised, especially to see how the audience reacts to their precious child turning into a rebellious 16-year old goth, or (3) Crazy Nikki Cross going back to Full Sail where she's got more character development than, "Alexa Bliss' friend who gets made fun of for being 'ugly' sometimes."
After that, we get a backstage segment involving four of my favorite NXT stars ever: "Hear and Soul of NXT" Sami Zayn, Matt Riddle, Keith Lee (KEITH LEE), and Queen Cathy Kelley. Shout-out to Cathy for making her Smackdown debut, most of all. Cathy should be the, pardon the phrasing, crown jewel of WWE's backstage interview team. She should be this generation's Gene Okerlund.
Anyway, Riddle and Lee end up chasing Zayn to the ring and hitting MOVEZ on him, because I guess Sami's seriously not a wrestler anymore and might as well be showing up for these segments in a weasel costume. Still, though, getting to see Matt Riddle toss his flippy-floppies and Keith By God Goddamn Lee hit a second rope moonsault with a giant SMACKDOWN logo under him was essential. I would've preferred a match, but everybody got there late and the whole thing's impromptu, so it is what it is. Oh, and I also wish Matt Riddle would've shown up to get in Brock Lesnar's face like he accidentally got into Boomer Bill Goldberg's, but again, we'll touch on that in a minute.
Tommaso Ciampa replaces new Universal Champion (lol what) Bray Wyatt on Miz TV. I like to think this would've been Velveteen Dream's spot if he wasn't hurt, but maybe he'll show up on Raw or whatever. Ciampa gets in the face of The Miz and calls Miz "everything that's wrong with WWE," and Miz does his best Cagey Veteran John Cena impression by hitting Tomato Champs with "fine speech" and goading him into a match. Miz had some extreme jet lag here, calling Bray Wyatt "Bray Wiley," and saying he's a good enough actor to win an "Oxtar." Ciampa should've shown him some respect, though, as Miz (hilariously) is an "NXT Original." Season 1 Pro, baby!
They have Ciampa's least interesting match in years, which is still pretty good, and Ciampa wins. The concept of the USA Network "developmental" third brand guys showing up on the five billion dollar Fox brand and completely murking everyone is really funny, although I'm worried they're gonna pull a Nexus on them and have them get "payback" by beating invaded and humiliated and beaten to death on every other episode ahead of Survivor Series. [shrug] I'll just try to enjoy it while I can, and stay cautiously optimistic that Project H will fair better than Game Show Winner Wade Barrett.
Fire and Desire end up getting "caught off guard" and brutally squashed thanks to the combination of Bianca Belair attacking their scheduled opponents and yeeting Carmella into oblivion, and Rhea Ripley and Tegan Nox showing up to take their place. Mandy Rose and Sonya Deville were sincerely not prepared for the existence of Rhea Ripley, and if the followup isn't Deville going "oh shit WAIT WHAT" and wandering around NXT UK trying to find her and make her her new tag team partner, they're missing an opportunity.
Finally on the NXT tip, my impossible fever dream becomes a reality as Daniel Bryan randomly runs into NXT booster club D-Generation X and ends up in an NXT CHAMPIONSHIP MATCH AGAINST ADAM COLE. UNFING INTENSIFIES.
Brother, we get a 20+ minute NXT Championship match on Smackdown between my favorite wrestler of all-time — and vote for current best wrestler in the world, even if he's not physically on the reckless maniac level he was in his prime — against the all-star workhorse champion of WWE's best brand. Holy shit. It's GREAT, which is something I seriously hope you don't need a guy on the Internet to tell you, and, get this, it's got a CLEAN FINISH. Cole beats Dragon clean as a sheet by countering the Knee Plus with a superkick, busting out the Panama Sunrise on Smackdown, and hitting the Last Call. Triple H and Shawn Michaels are all hype in the background because they love NXT, and also because they hate Daniel Bryan, whether they're polite to him these days or not.
But yeah, no, we got a consequential championship match between arguably the best star of the most recent generation and arguably the best star of the current one that got 20 minutes and had a clean finish that built intrigue for future episodes and the upcoming pay-per-view. ON SMACKDOWN. ON FRIDAY NIGHT SMACKDOWN.
The Only Downside
There were some minor problems throughout the episode like the production team misspelling Tegan Nox's name, Aiden English calling Shayna Baszler the "queen of hearts" like a dipshit, and the announce team constantly, breathlessly insisting that the NXT Championship is being defended on Smackdown for the FIRST TIME EVER when Kevin Owens defended it against Zack Ryder on the June 2, 2015 Smackdown. If only you guys had an extensive network of archived shows you could reference! Or a YouTube page where you can type "NXT Championship Smackdown" into the search bar and look at the top result!
The only thing that actually bothered me a bit was the same thing that always bothers me about Survivor Series; blood rivals on wrestling shows suddenly putting the integrity of the "brand" before themselves and teaming up to pal around for the benefit of their bosses. Remember when like, Chad Gable and Jason Jordan were randomly fighting each other backstage because one of them got a Smackdown shirt and one of them got a Raw shirt? Only it's worse with NXT, which is built from the ground up on character consistency, observable wrestler histories, and heated personal rivalries. Seeing the women's War Games participants who were just at each other's throats on Wednesday standing in the ring with their arms around each other on Friday because Triple H said so was a fucking bummer, but at least Tommaso Ciampa remembered his character motivations and stood on the opposite side of the ring as the Undisputed Era.
I also don't like Triple H picking and choosing when to play NXT Dad when they could've and should've had a pissed-off William Regal out there angrily kayfabe shitting on the McMahon Brands. Again, I had a lot of fun watching the episode, so I'm fine "waiting and seeing where it goes." Survivor Series has just been the most depressing time of the year in WWE for a hot minute now, and I'm cautiously pessimistic about-
In Non-NXT News
Brock Lesnar has a private plane and doesn't like to spend more than 15 minutes at a WWE pay-per-view, so of course he's in Buffalo in time to open the show. As a "kill some time" bonus, we get to see the Crown Jewel match against Cain Velasquez in its entirety — all two minutes of it — and boy, is it not any better the second time. I don't give star ratings for matches, but even I'd give that shit a negative two. Between the body grease, bad punches, and love of MMA, WWE Cain Velasquez is a customized baseball jersey away from being Shane McMahon.
After we re-watch the match and the post-match attack from Rey Mysterio, Paul Heyman announces that dude to WWE's recent insistence on "brand exclusivity," Brock Lesnar's quitting Smackdown and heading to Raw to throw Rey Mysterio and his WALTER-ass son at the ground as many times as possible. In case you missed it, The Fiend no-sold nine more Stomps and a pratfall into some fireworks-shooting electrical equipment to win the Universal Championship in Saudi Arabia (seriously, lol, what?), so this is their way of making sure one brand doesn't get both top singles champions.
And I don't want to put this energy into the world, but knowing how much Fox probably wants Brock Lesnar to be a Smackdown guy and not Raw, it might also be their way of randomly putting Seth Rollins over him again so he can drop the Universal Championship and go back. It's fine, everything is fine.
And That's It For Accidental NXT TakeOver: Buffalo
Here's four minutes of The Boogeyman playing with a kitten.
Best: Top 10 Comments Of The Week
Jericho7820
The big news from tonight was really Brock Lesnar showing up to work when nobody else did
BigD_TVF
FOX suddenly realizing they paid a billion dollars for the wrong brand.
AddMayne
EC3: *sneaks in with an NXT shirt*
cyniclone
Sami: you guys are gonna love this
*Sami unzips his jacket to reveal an AEW shirt*
AshBlue
Guys, I'm starting to think Triple H got tired of trying to find an opportunity to murder Vince in his sleep and just bribed an airplane mechanic to pull some wires.
Harry Longabaugh
Eco-warrior Bryan will finally end this country's dirty obsession with Cole.
AwkwardL0ser
I just hope Lio Rush invades on Raw by making out with Lana
LUNI_TUNZ
Turns out Ciampa doesn't just hate Gargano, but everyone from Cleveland.
troi
If Rey does win the WWE Championship then he better lose it to John Cena 15 minutes later
Baron Von Raschke
Vince is wondering how the fans in the arena know who the NXT talent is without five weeks of vignettes and another five weeks of walking out on TV without doing anything.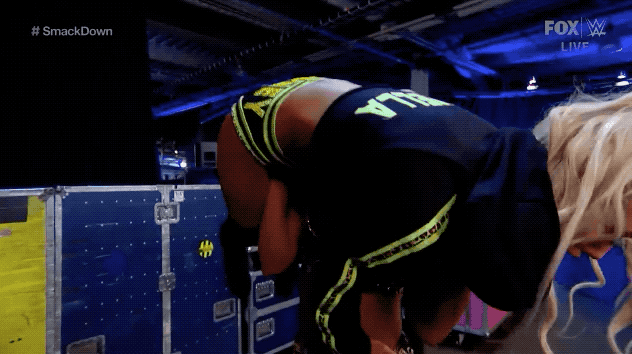 That's it for this week's Blue NXT. Thanks for reading!
Drop us a comment below to let us know what you thought of the show (and/or who you think is invading Raw on Monday … and which hopefully good Raw and Smackdown guys are showing up at Full Sail on Wednesday), and give the column a share on social media to help us out. Fingers crossed that everyone on the WWE roster stays safe and sound and comfortable, but also remains in transit somewhere until Tuesday morning!