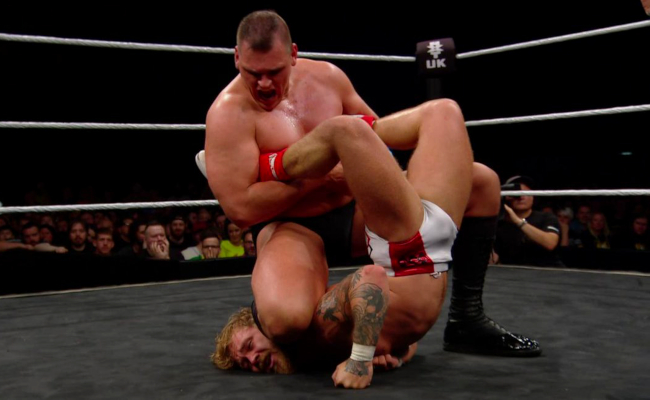 Last time in the last Best and Worst of NXT UK: Cesaro declared his intentions to come to TakeOver, the tag team contenders and champions brawled, and bunch of stuff happened that had nothing to do with TakeOver. If you'd like to read previous installments of the Best and Worst of NXT UK, click right here. Follow With Spandex on Twitter and Facebook.
And now, the Best and Worst of NXT UK TakeOver: Cardiff:

Worst, But Not That Bad: Caught Beneath A Landslide
Here's the part where I say that Travis and Noam are both great wrestlers who can really go in the ring, and this match was certainly an example, in the abstract, of a quality wrestling match. But this is an NXT TakeOver card, UK or not, and it takes more than quality wrestling to stand out on a card of this caliber. I mean, the rest of the card is three title matches (two of them with dramatic title changes, and the third with the most drama of all), a surprise bout between two European comic book characters, and two large men trying to murder each other with every object they can find. So to have Dar and Banks wrestling just to wrestle, just because the story is that Dar is guaranteed a TakeOver match by his contract, doesn't really do much for me.
And speaking of Noam Dar's contract, hopefully that story pays off in the next TakeOver, because it sure didn't here. With super-heel Dar going around bragging for a month that he's contractually guaranteed TakeOver glory, I figured he'd at least get humiliated in the match if it didn't somehow get taken away from him at the last minute. But no, he just got to have a pretty good match at TakeOver, which he won. I guess we'll revisit the contract storyline later, then.