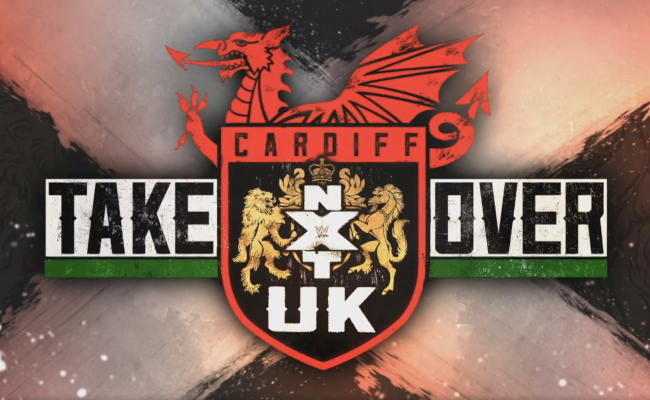 As a brand within WWE, NXT UK is still kind of finding its feet. The weekly show premiered on the Network last October, and they had their first big show, TakeOver: Blackpool, in January of this year. Tomorrow, August 31st, is their second TakeOver, and it promises to be a pretty good one. However, it still seems like not as many people watch the UK show as its US counterpart, so this preview will get you ready for TakeOver even if you haven't watched the weekly build.
NXT UK TakeOver: Cardiff Card:
1. WWE UK Championship Match: WALTER (c) vs. Tyler Bate

2. NXT UK Women's Championship Match: Toni Storm (c) vs. Kay Lee Ray

3. Triple Threat Match for the NXT UK Tag Team Championship: Grizzled Young Veterans (c) vs. Gallus vs. Mark Andrews and Flash Morgan Webster

4. Last Man Standing Match: Dave Mastiff vs. Joe Coffey

5. Noam Dar vs. Travis Banks
Noam Dar vs. Travis Banks
Who are they: Noam Dar is from Scotland, and he's a cocky asshole. You probably remember him for his distinctive pronunciation of Alicia Fox's name when they had a relationship storyline on Raw and 205 Live a couple of years ago. These days he's a regular on NXT UK, and he brags that he has a particularly good contract that guarantees him a match on every TakeOver.
Travis Banks is a nice young man from New Zealand. He's called the Kiwi Buzzsaw, but honestly there's nothing particularly buzzsaw-like about him. He's a just a handsome babyface who mostly hasn't been a particularly memorable part of the UK roster, except for a really great championship match he had with Walter back in June. He was scheduled to fight Jordan Devlin at TakeOver: Blackpool, but Devlin injured him before the match and had to fight Finn Bálor instead.
What's going to happen: This match has no real consequences, but it should be solid. If nothing unexpected happens, I think Noam Dar probably wins because he's the bigger star, but they could give it to Banks if they want him to look stronger going forward. It's also possibly that this is where Cesaro becomes a factor. We know he's going to be there, and if he's going to be involved in a match, this is the one where he could insert himself without messing up any major storylines. Since Travis got replaced by a main roster guy at his last TakeOver (and since Cesaro is a heel), it would make the most since for Dar to get taken out of this match for some reason. That would also pay off Noam's boasting about how he's guaranteed a TakeOver match, if he doesn't end up having one.
Last Man Standing Match: Dave Mastiff vs. Joe Coffey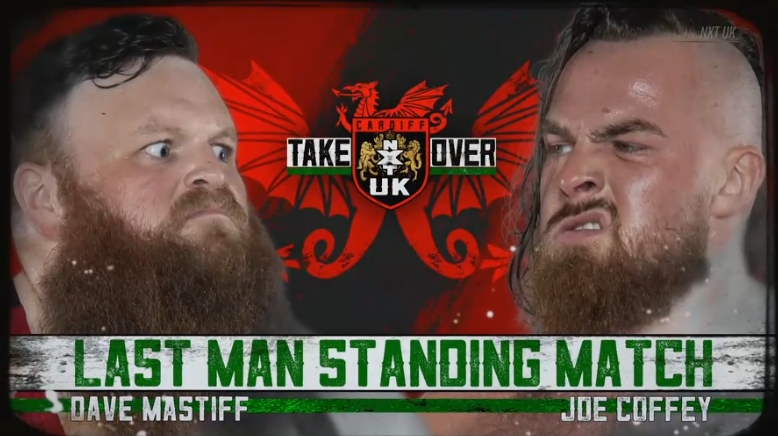 Who are they: Bomber Dave Mastiff is a Bob-omb shaped Englishman with a mighty beard and an absurd amount of charisma. He wrestles like a wrecking ball, just throwing his round body at opponents with abandon. Of all the guys I'd never encountered before watching NXT UK, he's become my favorite. While everyone at the top of the card has been dealing with Imperium (we'll get to them), Dave has been locked in a struggle against Gallus, a heel faction of Scottish rednecks who just want to beat people up and cause chaos.
Joe Coffey is the leader of Gallus, and a Scottish redneck who just wants to beat people up and cause chaos. Neither his body nor his beard are as expanse as Mastiff's, but he's a similar sort of big-but-not-that-tall hoss brawler, so they make natural physical opponents. Of course Coffey is less likely to through himself at you, and more likely to pick you up and throw you instead.
What's going to happen: This is a Last Man Standing match, so it's probably going to go for a while and involve Dave and Joe beating the hell out of each other all over the arena. Bomber Dave will almost certainly hurl himself from a great height at some point, and Coffey may hurl Dave from a great height as well. I expect Mastiff will win. NXT UK already has a dominant heel faction at the moment, so I don't think big victories for Gallus could really lead anywhere right now.

Triple Threat Match for the NXT UK Tag Team Championship: Grizzled Young Veterans (c) vs. Gallus vs. Mark Andrews and Flash Morgan Webster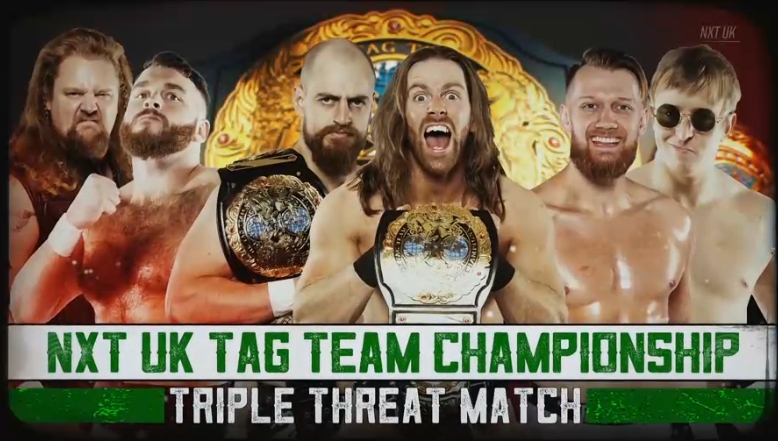 Who are they: The Grizzled Young Veterans are Zack Gibson (the bald one) and James Drake (the one who looks like Seth Green). They're great heels who cut excellent promos while wearing plaid suits, and they're the inaugural NXT UK Tag Team Champions. They won the belts in a tournament final at TakeOver: Blackpool, and they've held them ever since. Unfortunately they haven't defended them all that much, and they're not enthusiastic about having to defend them here.
Wolfgang and Mark Coffey are the other two-thirds of Gallus. Joe is basically a slightly more groomed version of his big brother Mark. Wolfgang is a really huge guy who wants us to believe he's a brute, but if you look at his many tattoos, you'll notice that most of them are really nerdy. For example, he's got a huge DC Comics Joker on his arm. Anyway, as I believe I've mentioned, these guys are big Scottish rednecks who enter to swamp rock and just want to beat people up and cause chaos.
Mark Andrews and Flash Morgan Webster are also known as South Wales Subculture, although that hasn't become their "official" name in NXT UK so far. Since Moustache Mountain are busy in the main event, these are your nice sweet boys for this match. Mark Andrews is a floppy-haired skater boy, and Flash Morgan Webster is an old school mod in a striped suit and scarf. They're both Welsh, and were so enthusiastic about being on this card that they won singles matches against each of the opposing teams just to prove themselves worthy.
What's going to happen: The Grizzled Young Veterans have held these belts for so long with so few defenses that it's hard to imagine they'll keep them here. And as I said before, I don't think this is the time for the rise of Gallus. So that leaves the babyface team. Andrews and Webster had an underdog journey to even get into this match, so for them to win the titles would be the perfect pay-off. Plus, having a face team as Champs is the perfect setup for a storyline where Fabian Aichner and Marcel Barthel of Imperium come for the belts.
NXT UK Women's Championship Match: Toni Storm (c) vs. Kay Lee Ray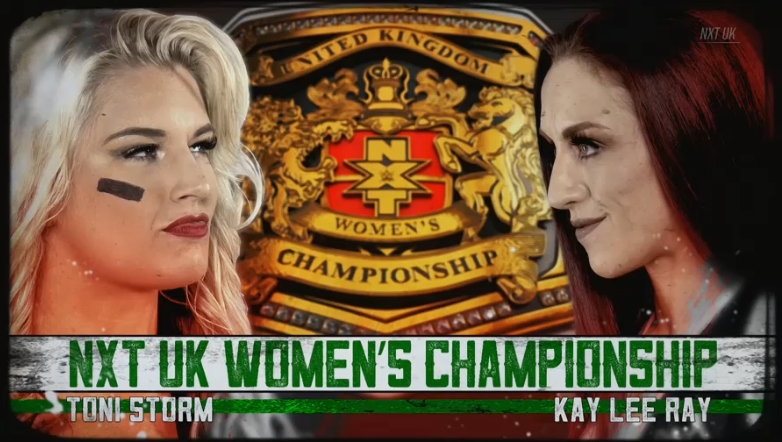 Who are they: Toni Storm is only 23 years old, and already racking up accomplishments. She won the 2018 Mae Young Classic, and then beat inaugural NXT UK Women's Champ Rhea Ripley at Blackpool, and has held the title ever since. Like Ripley, Storm's from Australia originally, but she's wrestled all over the world, holding multiple titles in Stardom, among other places. She's a strong, respectable fighting champion, and no, I don't know why she has a black rectangle on her cheek.
Kay Lee Ray (not to be confused with AEW's Kyle Rae or the Undisputed Era's Kyle O'Reilly) used to be Toni Storm's best friend, but since arriving in NXT UK she's become a nasty jerk, because this is wrestling. She's more slightly built than most women in the division, but her wiry, twisty, ultra-athletic body only makes her more threatening, like some sort of mutant snake person. She's been particularly brutal in the lead-up to this match, including cutting a promo about how Toni's so unlovable that it's her fault all her friends and family have abandoned her, including the father that left when she was little.
What's going to happen: I think this one could go either way. Kay Lee is a hell of a wrestler, and she should definitely hold this belt eventually, if not now. Also, Toni seems like somebody who might get called over to work on one of the US shows, especially if they're expanding the NXT US roster for the move to USA. So I think a heel victory is a strong possibility here. On the other hand, if Toni's not going anywhere, she could beat Kay Lee and then have a feud with Jazzy Gabert and Jinny, who must be about done with their Xia Brookside storyline by now. But since I'm predicting babyface wins in the other championship matches, I'm putting my money on Kay Lee Ray.

WWE UK Championship Match: WALTER (c) vs. Tyler Bate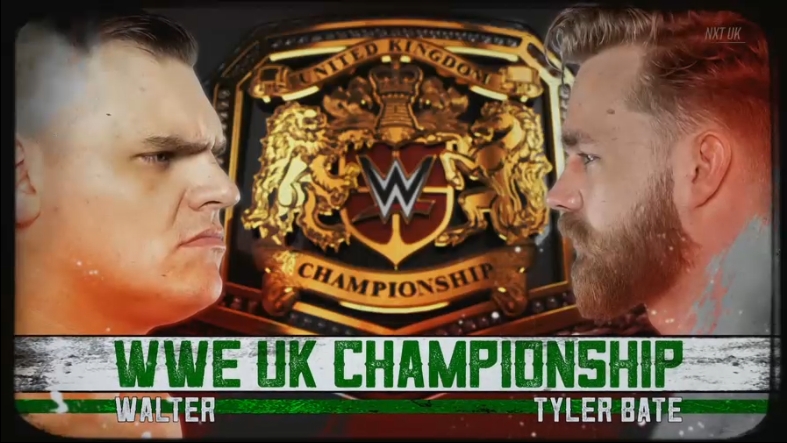 Who are they: WALTER is a huge man from Austria who may or may not be a Frankenstein. He's also the leader of Imperium, a continental faction that's all about the sanctity of wrestling in a gross, conformist, pseudo-fascist kind of way. The ironic thing is that he's big and strong enough to beat almost anybody, and he and his friends claim to be obsessed with the right way of doing wrestling, but of course his friends will cheat to help him win anyway. Walter won the WWE UK Championship from Pete Dunne at Blackpool, and more recently he and Imperium went after Dunne's friends from Moustache Mountain, Trent Seven and Tyler Bate. They cuffed Trent to the ring and made him watch while they beat Tyler so badly he was hospitalized. Then when Trent came for revenge, they beat him up too.
Now Tyler Bate is healed up and ready to take it to WALTER. Tyler's only 22 and 5'7″, but he really is a Big Strong Boy. He was also the inaugural UK Champion, and if he wins here, he'll be the first two-time champion. Tyler's already done so much for his age, but he remains (at least in his NXT UK incarnation) humble and good-hearted. He'd like to be champion again, sure, but more than that he wants to defeat WALTER because WALTER is a bad man who needs to be defeated, and Tyler feels like he's the only man who can do it.
What's going to happen: Okay, here's the thing: it still feels a little soon to end WALTER's reign of terror, but Tyler feels like absolutely the right person to end it. The build to this match has been intense and perfectly executed. Tyler Bate is a hero by nature, and he's never seemed more heroic than he does right now, going into this match. I think they have to give it to him. I think it's going to be a brutal match, and Tyler's going to get beaten up a lot, but he'll rally. Imperium will try to get involved, but Trent Seven and maybe Pete Dunne will show up to counter them. And I think Tyler can do it, I'm predicting him to win.
If this was American NXT, I'd say this would have a messy ending that sets up a rematch, but if NXT UK is only going to have two TakeOvers a year, that seems like the wrong way to go here. They've told a good story, and I think Bate has to win for it have a good ending. As UK Champion, Tyler would be in a position to give real main event feuds to guys like Noam Dar and Jordan Devlin. Meanwhile, WALTER can fight Ilja Dragunov while Imperium chases the Tag Team Championships. It's the clear path forward, and while I'm not 100% confident they'll take it, I sure hope they do.