Worst: I Can't Believe Nitro Would Bait And Switch Us Like This
Over the past week, WWE's been pushing this odd story about how Brock Lesnar had "disrespected" the Money in the Bank contract by not cashing it in when he said he would, even though being able to cash in whenever and however you'd like is the entire point of the Money in the Bank briefcase. So WWE management was mad at him, and demanded satisfaction. It's such a random, illogical plot point that even members of the Raw announce team were shitting on it on social media. Think of it like poor Peter Dinklage doing his best during Game of Thrones season 8 to keep his composure and not flip out about how Tyrion's big idea for safety against a guy who can raise the dead is to hide in the crypts, with all the dead people.
So they do a Miz TV segment where Seth Rollins is rightfully like, "Lesnar said he was going to cash in on Raw, I'm Raw's world champion, let's go ahead and get this over with." Lesnar teases cashing in, but doesn't.
Later in the episode, Rollins shows up to bait Lesnar into cashing in on him again and ends up getting the End of Days from evil Olive Garden bartender Baron Corbin. That frees Lesnar to show up and absolutely MURDER Rollins with suplexes, chair shots, deadly blows from the decorative Halliburton, the works. With Lesnar's road to the championship as easy as nudging Rollins' corpse with his foot and pinning him, Brock — who last week got mad at Heyman because he didn't realize he had an entire year to cash in — re-re-announces his cash in for this Friday in Saudi Arabia.
To recap, Brock Lesnar won the Money in the Bank briefcase in a match he wasn't in, and didn't participate in at all until the last 15 seconds. They then treated Money in the Bank like he had to make a decision on who to cash in on RIGHT NOW and cash it in RIGHT NOW. Brock realizes he's got a year to cash in and peaces out completely, because that's how Brock Lesnar works. He doesn't want to have to do anything. And then WWE management gets mad at him for understanding the rules of their match prize and pressures him into cashing in right away anyway. Brock agrees, beats the champion within an inch of his life, and then decides to just not win the Universal Championship easily so he can fly 16 hours to another country and work 2 1/2 minutes there, losing the element of surprise and the illusion that he wants to be champion at all.
Cool?
Best: The Cinematography Was Great, Though
I really loved this shot. It's got a real "Spider-Man No More!" vibe, except Lesnar walked away and left the Universal Championship in the garbage.
Rollins does a full-on stretcher job to sell the attack, and honestly it'd be pretty funny if he just bailed on the Saudi Arabia trip due to injury and made Brock sit on a plane for 32 hours for nothing. Also you can tell WWE has fully poisoned my brain, because when Rollins was being loaded into the ambulance I either wanted (1) Dean Ambrose to randomly be driving with no explanation, or (2) John Cena to jog up, smash the EMTs' heads into the back of the vehicle, and start trying to kiss Becky Lynch.
Best: Rust-leMania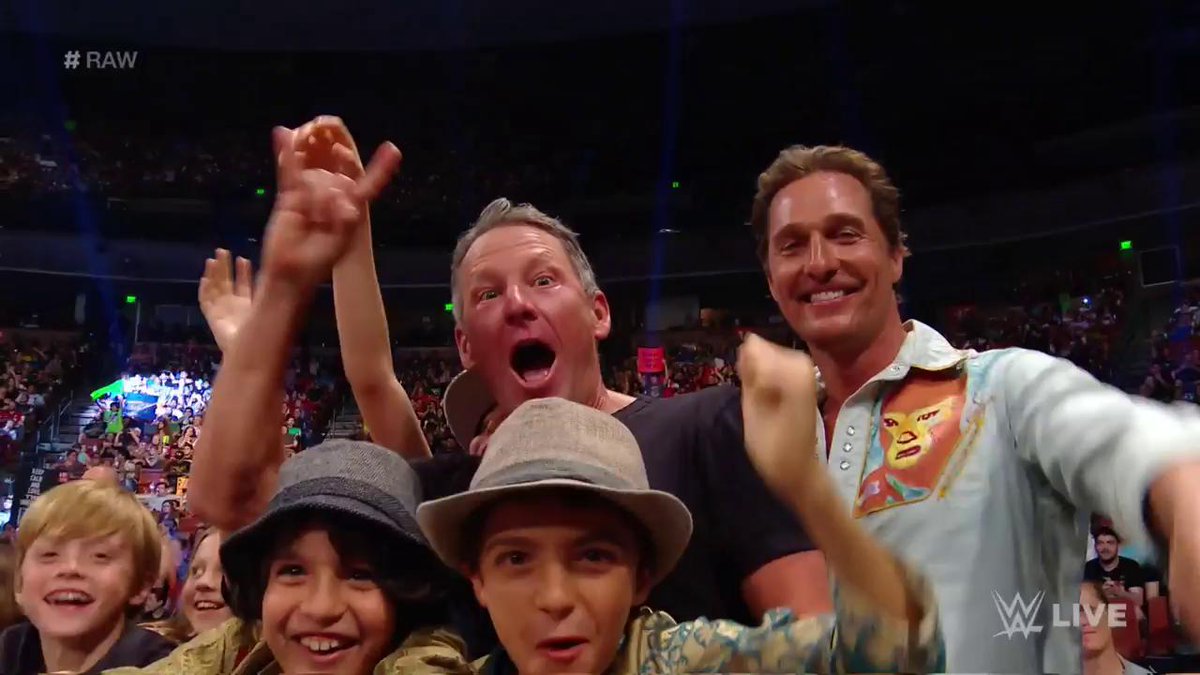 "I think sports-entertainment is a tragic misstep in evolution. We became too self-aware, pro wrestling created an aspect of wrestling separate from itself, we are creatures that should not exist by natural law. We are Superstars that labor under the illusion of having a self; an accretion of sensory experience and feeling, programmed with total assurance that we are each somebody, when in fact everybody is nobody. Maybe the honorable thing for our promotion to do is deny our programming, stop signing, walk hand in hand into AEW, one last midnight — brothers and sisters opting out of a Monday Night Raw deal."
Alright alright alright.
Best, Mostly: The Four Actual Matches
I have to give Raw some credit for getting to the first match a lot quicker than usual — only about eight minutes of promo parade this week, leading straight into a six-man tag team match (even though it'd already been announced) — but it's still three minutes of Reigns walking to the ring, a heel interruption, a sneak attack, and somebody making the save. It's just the Reader's Digest version of the normal Raw opening. I prefer that if I have to pick one or the other, but Michael Cole's call of, "Roman Reigns is set tonight for a six-man tag team match-up to kick us off on Monday Night Raw, he's going to team with his cousins the Usos to take on the Scottish Psychopath Drew McIntyre and The Revival," was enough. That's all you have to say, and then the match starts. I don't think you're taking away anyone's good time by opening ONE of your 52 yearly Raws without characters wandering out to music and monologuing at each other.
The match is pretty good, too, although I wonder how good it could've been with an extra five minutes or so from the opening promos added in and the multiple commercial breaks removed. I think the most frustrating thing about Raw going to commercial so often is that it feels like they're in a rush to get from one break to the next, and the actual content of WWE Raw The Television Show is less important than the amount of time we see Popeye's chicken and The Radkes. I couldn't remember half the matches from Raw this morning, but I can tell you that the woman from The Radkes thinks online shopping is rad, and kale is bad. And I know that guy getting openly insulted on a date should've taken his Popeye's chicken and gone home.