Previously on the Best and Worst of Raw: Drake Maverick went pee-pee on Bobby Roode's favorite decorative bathrobe. Also, Dean Ambrose got shots, which somehow made him even more crazy. Raw Is Anti-Vax!
Remember that With Spandex is on Twitter, so follow it. Follow us on Twitter and like us on Facebook. You can also follow me on Twitter. BUY THE SHIRT.
One more thing: Hit those share buttons! Spread the word about the column on Facebook, Twitter and whatever else you use. Be sure to leave us a comment in our comment section below as well. I know we always ask this, and that this part is copy and pasted in every week, but we appreciate it every week. We're on the road to … something, I'm starting to lose consciousness.
And now, here's the Best and Worst of WWE Raw for December 3, 2018.
Worst: Another Episode Of Raw
[deepest sigh possible for human beings]
Worst: 3-On-1 Fights Are Either The Advancement Of The Sport Or The Act Of Evil Cowards Depending On What The Senile 73-Year Old Man In My Earpiece Is Screaming
Let's go ahead and get this out of the way.
From two weeks ago, when we got Lucha House Party vs. The Revival, 3-on-2, thanks to Jojo's announcement of "lucha house rules."
Lucha House Party are now able to wrestle matches under "lucha house party rules," which state that all three members of the team can compete in tag team situations. More directly, it means the babyfaces have a contractually agreed-upon shortcut that lets them cheat in every single match and all their tag matches handicap matches. How in the hell is it fair that three guys get to take on The Revival? What are they gaining from winning these?

Imagine if babyface Finn Bálor made them sign all his matches under "Bálor Club rules," which means Karl Anderson and Luke Gallows are allowed to be in the ring with Finn and attack his opponent in singles matches. But if his opponent gets any help, they're disqualified. And then everyone cheered Finn. It's ridiculous. The Revival should've been allowed to have a third guy out there, too, or they should've just immediately attacked the referee and beat these pinata-lobbing assholes down with chairs.
From last week, when we got Lucha House Party vs. The Revival, 3-on-2, thanks to Jojo's announcement of "lucha house rules."
The "advancement of the sport" is that one side has an unfair advantage because you like them. Imagine that being "advancement of the sport" in any other sport. Imagine if you turned on the Rams/Lions game on Sunday and the Rams got to have 22 men on the field at all times because the game was being played under "Rams rules." Who knows, maybe we're all idiots, and Renee understands wrestling more than the rest of us. The thing that's been holding wrestling back is that tag team matches were 2-on-2 and trios matches were 3-on-3. Fuck [gestures broadly] all of you.
From this week, when we got Lucha House Party vs. Scott Dawson, 3-on-1, because apparently even singles matches are contested under "lucha house rules."
[screaming internally]
I don't know what's more infuriating; the fact that Lucha House Party are each considered 1/3 a single human being and get to win handicap matches against anyone they want whenever they want because they told the ring announcer they had special rules, the fact that Lucha House Party is supposed to be the babyfaces in this scenario and keep humiliating the heels who just want to wrestle normal wrestling matches with rules, or Corey Graves desperately begging for reason — and using the same 22-men on the field football example I used last week — while Michael Cole and Renee Young make wanking motions at him and tell him it's fun and fair because the announcer said it was. Renee's dismissive, "take it up with the person who makes the rules," is such bullshit.
So, understanding all this, let's look at all the other times someone had a 3-on-1 or 3-on-2 advantage.
Omnipresent Baron Corbin tells Bobby Roode and Chad Gable that they can have another Raw Tag Team Championship match against AOP if Roode can defeat Drake Maverick one-on-one, with Gable and AOP banned from ringside. The match starts, and almost immediately we jump to the back to see AOP beating up Gable with a stack of bread crates. Corbin shows up and says OH NO, I FORGOT, IT'S ACTUALLY A 3-ON-2 MATCH, GET OUT THERE. Renee, the woman who last week said that 3-on-2 matches are the advancement of the sport, screams that this is corporate corruption.
AOP beats down Roode, then beat down Gable again when he tries to make the save. Maverick pins Roode, meaning Roode and Gable will not get another Raw Tag Team Championship match. Which we all assume means Roode and Gable will get another Raw Tag Team Championship match at TLC. Renee: "What a joke."
What We Learned: If the fans are supposed to cheer you, anything you do, whether it's blatantly cheating or not, is fun and great. If the fans are supposed to boo you, anything you do, whether it's fair or not, is cowardly and opportunistic. You don't need to watch a 10-bell salute to George H.W. Bush to know that Raw Is Partisan Politics.
After a few weeks of wrestling Bobby Lashley and a few weeks of wrestling Dolph Ziggler, we're back to Finn Bálor's Mixed Match Challenge-inspired quest to pin Jinder Mahal as many times as possible before the year's over. While it's not technically a handicap match (or wrestled under "Bollywood Boyz Rules"), the Singh Brothers get involved, utilizing the Damned Numbers Game®, and make it 3-on-1. Apollo Crews runs down to attack them and even the odds. Graves: "WHY?" Renee: "GOOD!"
Reminder: Finn Bálor (in Raw red) was Universal Champion for less than a day. Jinder Mahal (in Smackdown blue) was WWE Champion for 170.
On the plus side — because yes, I have to give a Best to something — Bálor (of all people) actually had a pretty good night from a character perspective. He shows up during Drew McIntyre's match after being sub-tweeted in a mid-match promo and almost costs him the match. He shows up AGAIN during an Elias/Bobby Lashley segment to help Elias get one-up on Lio Rush. I'm still not sure what his character is beyond "smiling Irishman who paints on himself sometimes," but at least he's standing up for himself and reacting to attacks instead of instigating them all himself.
Still, let's talk about this.
Corbin announces that tonight is "Drew McIntyre Appreciation Night," which might as well be a flashing arrow pointing at McIntyre with "HE'S GOING TO LOSE TONIGHT" written on it in Lite-Brite. He awards McIntyre with a gold medal — the Raw Gold Medal Of Excellence, which if we're being honest should be awarded to no one — and Drew cuts a promo about how the roster is a bunch of lousy millennials who play Candy Crush, or whatever.
Dolph Ziggler interrupts, and somewhat justifiably asks how Drew McIntyre could go from one heel faction to a new one without breaking up the old one or evening mentioning it to his tag team partner. McIntyre is suddenly like, "ACTUALLY DOLPH ZIGGLER, YOU ARE THE ONE WHO IS THE BALL LICKER," and that sets up a match. They had McIntyre and Ziggler dominate Raw for months and be Raw Tag Team Champions just to break them up off-screen via the writer forgetting about it. Sure.
McIntyre calls out Finn during the match, so Finn shows up. When the referee's back is turned, Finn dropkicks Drew into the barricade and almost causes him to get counted out. Michael Cole's response to this is to shout-speak in his weird Josh Mathews voice while everyone cheers. So to recap everything so far:
if you're heels, 3-on-1 and 3-on-2 are a cowardly "joke"
if you're faces, 3-on-1 and 3-on-2 are exciting and fair
if you're a heel, having someone outside the ring help you while the referee is distracted is bad
if you're a face — or, uh, a heel who is suddenly a face again tonight for some reason — having someone outside the ring help you while the referee is distracted is great
Let's Tie It All Together
The show's opening segment is a great illustration of how whichever awful Foley child wrote this week's show is obsessed with handicap matches. It's supposed to be an advertised Ronda Rousey and Natalya vs. Tamina and Nia Jax match, but that never happens. The Riott Squad shows up with a table, and the heels team up 5-on-3, dividing it up into a 2-on-1 attack on Rousey (from Jax and Tamina, "savages of the highest order," their words, not mine) and 3-on-1 on Natalya. Because the heels have an advantage, the faces are "outnumbered" and beaten down thanks to the "numbers game."
We pick up with Natalya backstage sucking wind like Shane McMahon, and Rousey uses Marks Of The Round, aka "we need some help!" to summon a bunch of backstage personnel. Rousey confronts Also Evil General Manager Alexa Bliss about everything, and a make up match is made for later in the night.
That gives us a main event of Ronda Rousey and her new tag team partner, Ember Moon (upgrade), against Nia Jax and Tamina. This is the point in the report where we have to mention that we have working eyes and brains, and can notice that while Nia Jax is pretty bad in the ring most of the time, Tamina's just Nia Jax with all her stats turned down to zero. Teaming with Tamina must be like teaming with someone's confused grandmother. She can't hit anything, she can't sell anything, and if she didn't have a "Snuka" in her name she would've never gotten this job in the first place. Somehow she's hung onto it for almost 10 years. She's actively the worst wrestler in the entire company, especially for someone with almost a decade of experience. You don't need me to type this at you.
Jax does the right thing by mostly staying out of the match (at least when Rousey's in) and dodging her pay-per-view opponent, and Tamina takes the loss via an armbar she somehow seems like she doesn't know how to take. Although I guess I should point out how lame it is that faces who are unstoppable monsters or violent bad-asses turn into cowards the second they turn heel, and how embarrassing it is to have someone twice Ronda's size who calls herself an "irresistible force" tagging herself out of matches to avoid conflict and getting thrown in over the ropes by her hair like she's Jim Cornette interfering in a Midnight Express match, but I digress. It's fine.
Please Welcome Our Special Guest, Patch Boomhauer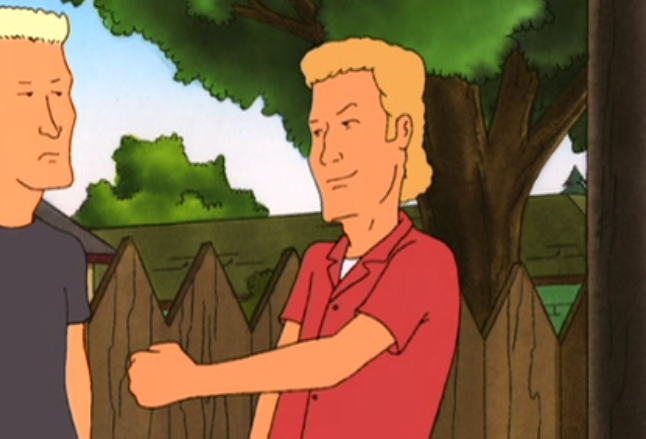 Morgan Wallen is such a big country music star, WWE doesn't even know his name. He's playing at Tribute to the Troops, so at least he's an upgrade from Train. They missed a real opportunity to have him meet Xavier Woods and talk about Up Up Down Down.
Worst: If At First You Don't Succeed, Do The Same Thing Over And Over Again
When there's an especially bad segment on Raw, the joke is usually that WWE's going to do it again next week, and again the week after, and again the week after, until it gets the crowd reaction they want. Did I say "joke?" I meant "observation."
Last week's … well, second worst segment behind that Nia Jax promo, was the "open forum" in which Alexa Bliss asks local wrestlers in the front row of the family and friends section of the audience to ask Bayley and Sasha Banks questions. One (1) question was asked, and then a bunch of heels attacked to set up a match. This week, they do the same thing, only Bayley and Sasha lampshade it by telling Bliss they know she's going to have heels run out and attack them. Bliss says "nu uh," and then four questions in, a bunch of heels run down to attack them.
The swerve, I guess, is that Bliss tells them to stop, and makes a match without any brawling. So … basically they did the "heels run in and beat up the faces to set up a match for right now" bit without the attacking part, but it's the exact same segment as last week. Unless you've got a lot of emotional currency for Bayley answering what super power she'd like to have and Sasha barely paying attention. The best part is that Bliss decides to make it 2-on-2, telling Dana Brooke she can "stay out here if she wants." She should've announced that it'll be 3-on-2 because of Dana Brooke Rules.
You've seen this match before. Hey, at least it's a fucking wrestling match on the wrestling show for a couple of minutes.
Worst: Rhyno's Retirement Match Gets About A Minute
Realizing that his show needs more time for 40 Baron Corbin segments, open forums where fans ask questions, 3-on-1 handicap matches, pee-pee jokes, and guys with conga lines not having matches, Baron Corbin tells Heath Slater and Rhyno that there's only enough room on Raw for one of them. Neither of them responds with, "we're a tag team, if there's enough time for a Heath Slater singles match, shouldn't there be the same amount of time available for a Heath Slater tag team match?" At least that would've jumped ahead to the "swerve." Corbin makes a one-on-one match between the two, with the winner keeping his job, and the loser being fired.
But yeah, the breakup of the first Smackdown Tag Team Champions and final Actual ECW Champion Rhyno's shoot retirement match (apparently) gets three fewer minutes than the Alicia Fox tag. Heath Slater wins with a transitional, regular neckbreaker. And that's just it. Boop!
The payoff joke is that Slater kept a job, but not as a wrestler; Corbin's making him a referee. I'm not the General Manager-Elect or anything, but doesn't it seem like a bad idea to retire a wrestler's best friend and make him be a referee right before you, an active wrestler, has a pay-per-view match where winning or losing will decide whether or not you get to be General Manager permanently? Just saying. Arthur B. Sleigh couldn't have telegraphed this shit any harder.
Worst: The Shadows Betray Seth Rollins, Because They Belong To Dean Ambrose
Finally, because we can't have anything nice, here's sudden germaphobe Dean Ambrose in full-on Bane from The Dark Knight Rises cosplay showing up with a bunch of dudes in gas masks — called a "SWAT team" by Michael Cole and WWE.com, because wearing a gas and black clothes makes you part of a swat team — to cut a promo that's kind of about Seth Rollins, but mostly about how much he hates the fans. They seem to have fully skipped the "feelings of inadequacy" stuff they set up for Ambrose's heel turn on The Shield in favor of just having him tell everybody their town sucks. It is what it is.
Rollins shows up and they brawl around in the crowd a little bit, but then he falls victim to the Damned Numbers Game® that is either fair, unfair, or "no comment, how dare you" if you're the heel's real life wife. He hits a couple of Dirty Deeds ( … Dirty Deedses? Dirties Deeds?) and leaves Rollins lying. I'm disappointed that at no point did he get back into Psycho Mantis cosplay and tell Rollins to put his controller on the floor so he could make it rumble. "You like Crossfit, don't you?"
Best: Top 10 Comments Of The Week
SHough610
A ten bell salute for George H.W. Bush without whom the Wrestlemania 7 main event wouldn't have been possible
Cami
All misused NXT call ups after watching that Sullivan video: Gabba Gabba one of us!
The Real Birdman
"You didn't think I was keeping you on Raw as a competitor, did you"
"Well I haven't been one since 2016, so no, not really"
Bigsexy75
Corbin: "Braun Strowman is a one-armed man!"
Braun: "I DIDN'T KILL MY WIFE!!!"
Pdragon619
"there's only room on Raw for one of you"
"There's been room for one of us this entire time!!?"
Mr. Bliss
So if my math is correct, by pinning Drew, Dolph has earned himself an IC title shot against Seth.
Endy_Mion
With a jacket like that, Dean needs to somehow leave the arena on a jetski and then save the president's daughter.
Daniel Valentin
Dean: "Do you know how it is to live with someone who always has to be in control?"

I can FEEL the sideye from Graves right now.
Thrillhouse
Really respect that when given the opportunity to change his outfit, Dean went for "Vin Diesel's jacket in XXX".
AshBlue
Ambrose: "Are you my mummy?"
"You Have Never Seen A Freak Like Me!"
This Week's Raw In A GIF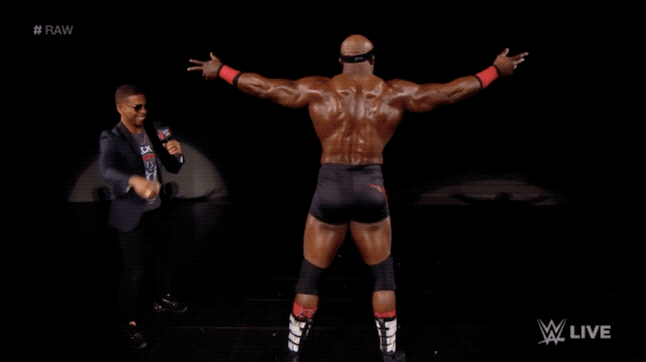 That's it for this week's report. I hope you enjoyed having all your sins eaten. Drop down into the comments section to let us know what you thought of the show, and share the column on social media to help us stay in business during this creative recession. Join us next week for all of this again.