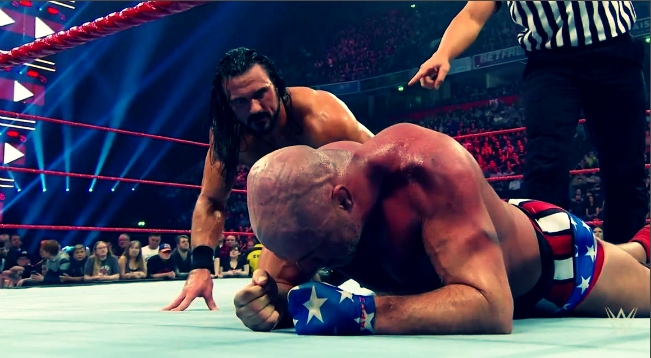 Previously on the Best and Worst of Raw: The go-home show for Crown Jewel featured … well, you're about to read about this episode, so I'll just say, "same."
Remember that With Spandex is on Twitter, so follow it. Follow us on Twitter and like us on Facebook. You can also follow me on Twitter. BUY THE SHIRT.
One more thing: Hit those share buttons! Spread the word about the column on Facebook, Twitter and whatever else you use. Be sure to leave us a comment in our comment section below as well. I know we always ask this, and that this part is copy and pasted in every week, but we appreciate it every week. We're on the road to Survivor Series, the one time each year when Raw and Smackdown go head to head! Except for the Royal Rumble, and the battle royals at WrestleMania, and the battle royal at Evolution, and that whole tournament they did in Saudi Arabia on Sunday, and-
Nevermind, here's the Best and Worst of WWE Raw for November 5, 2018.
Worst: Mostly The Stuff You Saw Last Week
Let's just get these all out of the way so we can talk about the few new things on this episode.
As the Mixed Match Challenge was getting underway, we saw Finn Bálor (either with Bayley, or with Bayley at ringside) wrestle Jinder Mahal (with Alicia Fox, or with Alicia Fox at ringside) five weeks in a row. Every single Raw between September 24 and October 15. On October 22, Finn finally (finnally?) got a new opponent in Bobby Lashley. This is every show since October 15:
10/22: Finn Bálor defeated Bobby Lashley via roll-up
10/29: Finn Bálor defeated Bobby Lashley via disqualification
[Lashley is rewarded with a spot in the World Cup tournament for his two losses, loses in the first round]
11/5: Bobby Lashley defeated Finn Bálor
Is everyone in WWE wrestling under Best of Seven rules now, and they've just forgotten to announce it? That would at least explain why they feel the need to do the exact same match every week with a slightly different finish for a mostly indifferent crowd. Since Finn lost this week, does he get to be in a tournament to crown the best wrestler in the world? Does he have to prove he's better than Shane McMahon?
If they aren't going to announce it, they should at least change the name of Lashley's Yokosuka Cutter finisher to the "Flat Ending." Join us next week for Finn vs. Drew McIntyre, and then the week after that for Finn vs. Drew McIntyre, and the week after that for Finn and Bayley vs. Drew McIntyre.
At Evolution, Bayley and Sasha Banks teamed up with Natalya to defeat the Riott Squad in a match that was better than anyone expected it to be. The next night on Raw, Bayley and Sasha Banks teamed up with Natalya (and Trish and Lita) to defeat The Riott Squad (and Alicia Fox and Mickie James) in a match that wasn't as good. This week, Bayley and Sasha Banks team up with Natalya to face the Riott Squad again, and the diminishing returns continue.
One thing WWE really loves to do is destroy cherished personal items for its wrestlers to create "heat" for its matches. The only problem is that they don't ever consider this love in the long term, so if they want to destroy a cherished item, they usually introduce it on the same episode it gets destroyed. The week before, max. For example, this match ends in a double count-out when Ruby Riott destroys a pair of sunglasses given to Natalya by her late father, which (unless I missed it somehow) we haven't seen until right now.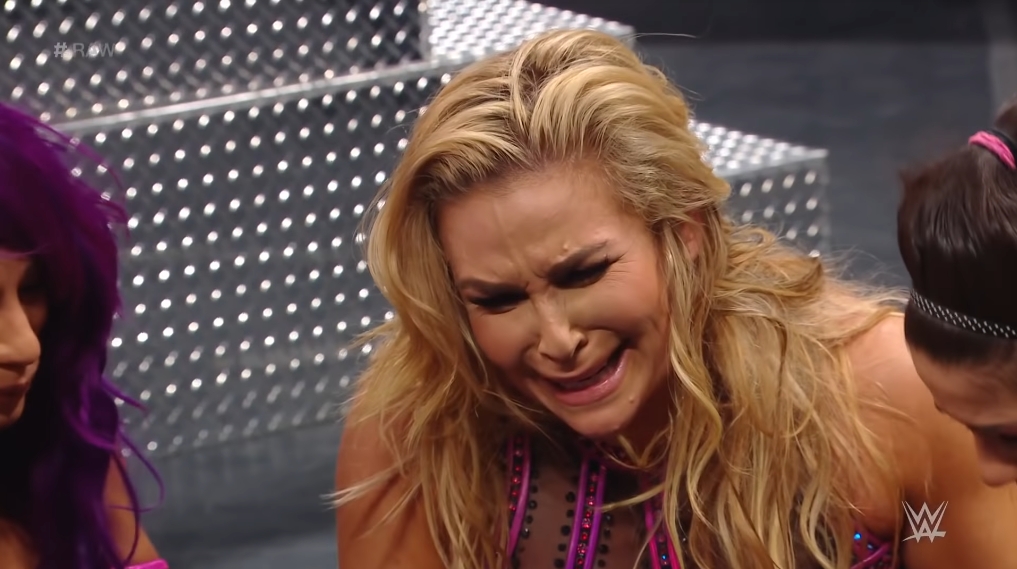 So that's a … no contest via crying? Can you imagine Bret Hart, Owen Hart, and The British Bulldog losing a six-man tag to Droz and the Headbangers when Droz stomped on Bret's glasses, and Bret burst into tears about it at ringside? This is one of the frustrating things about how WWE books its women Superstars. There's been a lot of progress and Evolution was amazing, but the weekly shows are still mostly about jealousy angles, calling each other bitches, and crying. Try some new things, guys.
10/8: Ember Moon defeated Nia Jax
10/15: Ember Moon and Nia Jax defeated Dana Brooke and Tamina
10/22: Ember Moon defeated Nia Jax, Dana Brooke, and Tamina
10/29: Nia Jax defeated Ember Moon when Tamina interfered
11/5: Nia Jax defeated Ember Moon, Tamina interferes after the match
Let me guess:
11/12: Nia Jax and Tamina defeated Ember Moon and Dana Brooke
A couple of truths about this:
Ember Moon is so much better than Nia Jax it's not even close
Is the plan to get Nia Jax over by teaming her with a smaller, older, slower, worse Nia Jax?
Best: Ronda Rousey Has Had A Difficult Life
We also got a promo from Ronda "Darkest Timeline Chloë Grace Moretz" Rousey, which boils down to "you are the man but I am a bitch" and features some concerning messages about what happens when your parents are judo obsessives. This is definitely Ronda's best promo yet as she gets progressively better as she goes along, and includes more believable emotion than we've ever seen from her. She's great at "smiling gratitude" and "angry Terminator," but she hasn't really shown much in-between.
It's ruined a bit by Linda Belcher-ass Nia Jax showing up afterward and doing that passive-aggressive heel thing she just decided to do again. Remember the first time they feuded and Jax was a face, then one random week she was super heel, and then she turned face again? Apparently we're doing that same cycle again.
Becky Lynch's response on Tuesday should be, "you might be the baddest bitch on the planet, but at least people can sit through my show." And then she should light her the fuck up at Survivor Series.
Also In Action, One Hand Clapping Defeated A Tree Falling In The Woods With No One Around To Hear It
Jinder Mahal going from being WWE Champion to losing to Apollo Crews in three minutes in the middle of Raw is a Sheamus-level plummet. If they spend the next six weeks trading victories, so help me God.
Best/Worst: Just One Of Those Things
On the positive tip, AOP are finally the Raw Tag Team Champions, Raw seems to have remembered it has a functioning tag team division, and we can move on to actual tag team feuds instead of randomly assembled singles stars wearing the belts as props.
On the negative tip, you've got to wonder what this does for anybody. AOP won the Tag Team Championship, sure, but in a 2-on-1 handicap match orchestrated by an evil authority figure. Dean Ambrose I guess already forfeited his half of the championship when he turned on his partner the second after they won them — and beats Seth up after the match here just the same, presumably not for losing them — so that doesn't do much for the belts. Seth Rollins fought valiantly, but lost to the AOP, and not even to their regular finisher. It's just one of those things.
Maybe the ends will justify the means, and they'll refocus AOP and The Revival (lol) and Breezango and Gable and Roode and whoever else and build a competitive division. Maybe monkeys will fly out of my butt, I don't know.
Best/Worst: Elias Vs. Dolph Ziggler
Elias vs. Dolph Ziggler was the best (and longest) match on the show, but I've got to say, it's extremely on-brand for Dolph Ziggler to defeat Kurt Angle and Seth Rollins to make it to the finals of a "best in the world" tournament only to lose to a nearly 50-year old non-wrestler in three minutes and follow it up with a loss to a mid-card comedy guy on Raw. The only thing that would've been more Dolph Ziggler is him winning the Best in the World Cup, showing up on Raw the next night to throw it in the garbage and say he's better than that, and then cutting a backstage promo about how nobody notices him or gives him a chance to prove he's the best.
Again, this wasn't bad. It felt a little rehearsed and dancy at times, but at least they were attempting something, and it's not a match we've seen a thousand times before. Elias has been the jam for more than a minute, and as a guy who has watched him since the first Pro Wrestling Day and his entire NXT run, I sincerely cannot believe that The Drifter turned into one of the best hands on Raw. That NXT thing where the show's biggest stars end up as jobbers (Bayley, Finn, Asuka, Revival, etc.) and its jobbers end up as the biggest stars (Elias, Rosebud Braun Strowman, etc.) is so weird.
The Survivor Series Build Begins
Or
Best: At Least Drew McIntyre Seems Pretty Cool
[deep breath]
Now that we're through Crown Jewel, we're into this year's Survivor Series build. Reports say that before Roman Reigns got sick, the plan was to skip all the Raw vs. Smackdown stuff from last year that drove me to the absolute brink of insanity. Roman got sick, though, so it's Raw vs. Smackdown again. Champion vs. champion. That means that yeah, some of the matches will be good, maybe even GREAT, but there won't be any story behind them. The only story anybody gets for the next month is "I wear a red shirt and I hate the guy in the blue shirt," or vice versa.
So the show opens with Baron Corbin announcing that he's going to face Kurt Angle one-on-one to see who will captain Raw's Survivor Series team. Did I miss the explanation of why Corbin's still "acting General Manager" now that the actual General Manager is back from "vacation?" He announces that Ziggler and Strowman already have spots on the team — surprised John Cena wasn't also automatically given a spot to be taken away later — and gives injured Alexa Bliss the captain job for the women's team. Come on, Alicia Fox wears that captain's hat for a reason.
Anyway, the segment ends with Strowman deciding to get revenge for that whole "flying him to Saudi Arabia just to embarrass him and cause him to lose to Brock Lesnar in two minutes like a complete chump" thing and chase him off. Strowman chases him around the building, culminating in the really funny visual of big-ass Braun Strowman running at half speed to make sure he doesn't actually catch up with Corbin's getaway car.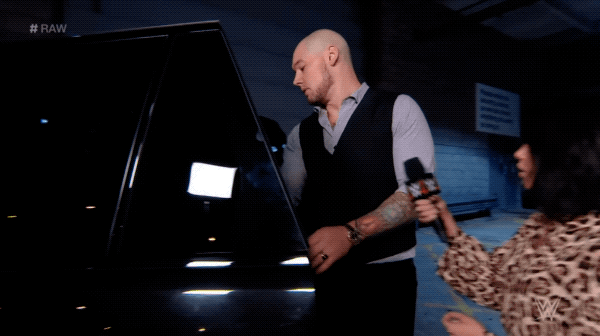 Corbin names Drew McIntyre as his replacement for the match with Angle, which is the biggest upgrade ever, considering Constable B's got an overall rating of 4 and Drew Mac looks like he could throw Kurt Angle into the molten core of the Earth.
The match ends up playing out surprisingly believably, with Angle fighting valiantly from underneath but still getting his ass kicked. If they'd played this evenly it would've been insulting. Kurt Angle vs. Drew McIntyre is like Old Yeller versus a rifle. McIntyre hits an Angle Slam and taps him out with the Ankle Lock for ultimate dominant humiliation (and to mirror a similar but more competitive match between the two from Impact back in 2016).
So with Corbin fleeing and Angle not making the Survivor Series team, does Angle go back to being General Manager, or are we doing Corbin vs. Angle? We're probably doing Corbin vs. Angle, aren't we. Ah well, at least the Raw Survivor Series team that has to make sure they stick together to win the match for the "A-show" features a trio of guys who literally just got angry and broke up. I hope the final two members of the team are Seth Rollins and Dean Ambrose, just to drive it home.
Best: Top 10 Comments Of The Week
IC champion Pdragon619
Angle: huff…hufgh….FREEEEEDOOOM!
Drew: hey that's our thi-(ankle lock out of nowhere)
Endy_Mion
Drew: We spell it "Whisky"
Finn: We invented it, and spell it "Whiskey"
Drew: Oh it is on, let me get my kilt
Finn: we invented that too
Drew: I'll hit you with a claymore!
Finn: we invent- *hit with Claymore*
Corbin: I'm teaching lessons, and also I want people to respect me
Brian Kendrick: Hey!
Itami: Hey!
Corbin: go back to being KENTA!
Itami: god I wish
Amaterasu's Son
"So Velveteen Dream, what did you think of WWE Crown Jewel?"

"What?"

"WWE Crown Jewel in Saudi Arabia."

"The Dream has no memory of that."
The Real Birdman
Like Ronda's scared of Tamina. She just needs to have a coconut at the ready
muchsarcasm
If Ronda were a D&D character the DM would complain that the player min/maxed to boost strength and dexterity at the expense of the other four stats.
Clay Quartermain
Strowman read the RAW spoilers to find Corbin
poppadux
The Wrestler with Mickey Rourke is on Encore right now. I thought about switching the channel to that but realized I've seen it a half dozen times already. Then I realized I'm watching RAW where I've seen every match at least a half dozen times already so now I'm torn
PatsShredShack
The match was ended because someone broke a dead man's property.

It's not often you see a women's wrestling match in 2018 fail the Bechdel Test.
Baron Von Raschke
Seth: Nicholas! HELP!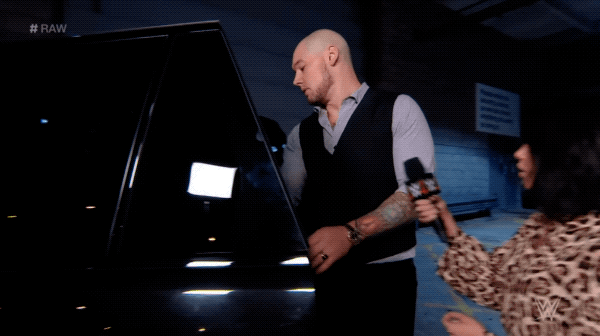 Just wanted to watch it again. Funniest WWE run since John Cena's legendary 2012 boner run.
That's it for this week's Raw. Survivor Series is going to be great and the build ISN'T going to kill us! Make sure to drop a comment below to let us know what you thought of the show, share the column around if you'd like to help us stay in business during this creative downswing, and be here next week for more exciting Raw Is War action. That, uh, you saw this week. And last week.