Previously on the Best and Worst of WWE Royal Rumble: Randy Orton won the Rumble and earned a title shot for WrestleMania, beginning his devious plot to give up that shot to ingratiate himself to the Wyatt Family, then turn on them anyway and have to regain that shot instead of, like, just keeping it and wrestling normally. And then the ring was full of bugs, and then they fought in a haunted house, and … you know, actually, I don't remember what happened last year.
If you missed the Rumble, you can watch it on WWE Network here. Remember that With Spandex is on Twitter, so follow it. Follow us on Twitter and like us on Facebook. You can also follow me on Twitter.
One more thing: Hit those share buttons! Spread the word about the column on Facebook, Twitter and whatever else you use. Be sure to leave us a comment in our comment section below as well. I know we always ask this, and that this part is copy and pasted in every week, but we appreciate it. We're finally on the road to WrestleMania Fleur-de-lis!
Here's the Best and Worst of WWE Royal Rumble for January 28, 2018.
Up First, The Extremely Pre-Show Pre-Show
Up first on the Rumble Kickoff in near-SummerSlam levels of crowd capacity was Kalisto, Gran Metalik and Lince Dorado vs. Drew Gulak, TJP and Jack Gallagher. 205 Live is in a holding pattern as it prepares to either retool or reboot itself, so it wasn't a bad idea to send out some masked tecnicos against some vaguely threatening rudos and give them stage time in front of like, 1/8 the audience.
The triple moonsault spot was cool, and if I was a little kid I would be very into a trio of masked dudes backflipping from high places onto squares on my wrestling show. If Rey Mysterio sticks around and hangs out on 205 instead of just Raw or Smackdown — he wants a limited schedule, after all — these three could be in a very good position. There are worse things you could do with 205 Live than turn it into Lucha AboveGround. Let's just make sure we don't lose precious baby Drew Gulak in the transition, okay?
Competing in front of slightly more fans were The Good Brothers and The Revival, and as I am not currently a little kid, the thing I'm into is old school tag teams of ugly guys doing wristlocks and chop blocks. That said … there really wasn't much to this. If you need an illustration of that, the WWE Fan Nation video (which is usually a clip of the match's big highlight) is a near-silent Luke Gallows comeback with some body slams. Also, when did Dash Wilder get Jim 'The Anvil' Neidhart's body? Dude's starting to look like someone inflated him with a bicycle air pump.
Both of these teams have better things to do — Gallows and Anderson finally have some relevancy as Finn Bálor's friends and The Revival need a little professional rehab after being gone for a year and getting murked by like ten old dudes at Raw 25 — so maybe it was good to have their "grudge match" in a forgettable spot like this. There's like a 75% chance they do it again on Raw though, right?
Finally we got a United States Championship Open Challenge (stop doing those!) between champion Bobby Roode and challenger Mojo Rawley. I think most people were underwhelmed by the choice of Mojo here because (1) the "open challenge" on the pre-show suggested it'd be someone unexpected or surprising, (2) Roode already beat Rawley clean in the tournament that gave him the title in the first place, and (3) they've managed to nerf Rawley's creative momentum without really doing milquetoast-ass babyface Bobby Roode any favors. So while the work isn't bad, it's not worth noting, and sometimes that's worse.
Best/Worst: The Eternal, Sisyphean Smackdown Battle Between Good In-Ring Work And Shifty Booking
The first two matches on the Royal Rumble pay-per-view proper were from Smackdown, and if anything's defined Smackdown over the past few months it's been the battle between talented wrestlers doing what they do best in the ring and a creative team working to make things as difficult for them as possible.
For example, we opened with AJ Styles defending the WWE Championship against Kevin Owens and Sami Zayn in a handicap match. If you've been keeping up with Smackdown, you know how confusing it was to get here. Very little of it has to do with Styles, Owens or Zayn. It's mostly about how Shane McMahon is still mad at Kevin Owens for headbutting his dad (which was a response to Shane), is still mad at Zayn for helping Owens avoid being smushed at Hell in a Cell (which was, again, a response to Shane taking things too far), and wants to fire them both. Smackdown General Manager Daniel Bryan doesn't, and keeps sort of double-talking them into title opportunities and weird stipulations to make us wonder if he's in cahoots with them, or just railing against a tyrannical McMahon, which he's known to do.
For the actual match, things hold together nicely. It's less chaotic and nutty than you'd expect given the stipulation, as Owens and Zayn are made to tag in and out and, aside from some normal tag team double-teaming, abide by the stipulation. So the work is good, and they do some entertaining stuff, but you just know the other shoe's about to drop. The booking looms over everything, to the point that you aren't like, "I hope AJ Styles can retain," you're like, "what's the next authority figure-related booking decision."
That decision ends up being Styles pinning Owens while Zayn was the legal man, and Shane McMahon not only knowing this was against the rules, but smiling and taunting the heels about it. It's all a set-up to get you to watch Smackdown, which wouldn't be a bad idea if Smackdown ever advanced the story. Smackdown usually just says HERE'S MORE STORY without ever approaching a point. If the point ends up being that Shane McMahon is (kayfabe) a colossal pile of shit and Daniel Bryan is right to side with the heels against him en route to a big multi-person double-turn, sure, that's awesome. But I'm very, very worried that the point is always going to be "the heels are heels so they deserve to be mistreated, whether it's fair or not, and the popular guys are always the faces no matter what they actually do." I'm really hoping I'm wrong.
As a second example, the Usos vs. Chad Gable and Shelton Benjamin in a 2-out-of-3 falls match for the Smackdown Tag Team Championship has a fantastic first fall. These two teams are very good at what they do, and Chad Gable might be more on fire than any in-ring performer on the main roster right now. The first fall gets a little over 12 minutes, and you're like, "wow, 2-out-of-3 falls matches where they don't burn through the falls at the beginning and actually treat it like a three-fall match are the best thing in the world." And … then there's a small package, and the match ends two minutes later in two straight falls.
That in itself isn't a bad decision. Both teams are great, obviously, and the smart thing to do is to keep a pair of tweeners like the Usos as champions heading into WrestleMania so the most popular tweener act on the show right now (Rusev Day) can have a moment, but the flatness of the second fall undercut the good work of the first. Two straight falls in a 2-out-of-3 falls match is creative and often unexpected — see also MVP vs. Chris Benoit, which is forever one of my favorite 2-out-of-3 falls matches — but I think most people were ready for another ten minutes of this, no matter who won or lost. Again, that's the problem with Smackdown right now … the booking, even when it's totally logical and makes sense, feels like it's taking good wrestling away from us. Preventing us from enjoying the show the way we want to enjoy it. I hope that makes sense.
So yeah. A couple of "wait and see where it goes" moments that don't do anything ostensibly bad to the talent, they just make the Royal Rumble feel more like a regular Smackdown than it needs to.
Best: Surprise! The Royal Rumble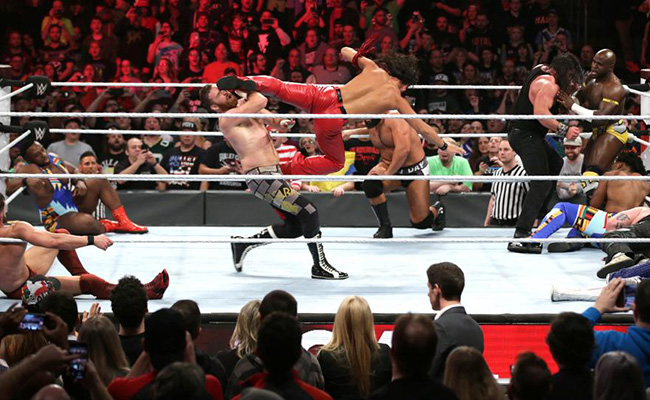 Overall, I thought the men's Royal Rumble was one of the best Rumbles in years. I thought it was as tightly booked as it could be, provided the right amount of surprises versus logical, forward-thinking decision making, and actually appeared to understand and work with the live crowd instead of trolling them into oblivion.
Since it's hard to review this kind of match in my format, I'm gonna appropriate the numbered list from the homie Dave Shoemaker and share ten thoughts about this year's Rumble.
1. The finish. One of the things I love most about WWE is the anticipation of anger. It's one of the things pro wrestling does well, but WWE does better than anyone. More often than not you feel conditioned to expect the worst, and if you need examples of that, look no further than the past few years of Royal Rumbles. Remember back in 2014 when the only thing people wanted was for Daniel Bryan to show up in the Royal Rumble, but he didn't, and then Batista and Roman Reigns were the final two? People were desperate for fan favorite Reigns to eliminate Batista, but he didn't. Things ended up being more than okay, but at the moment it felt AWFUL. 2015 had the absolutely abysmal "Big Show and Kane eliminate everybody you might want to see win" sequence, and was capped by fan least favorite Roman Reigns getting his predestined super push and winning. People wanted him to lose so badly they were hot for RUSEV almost winning, which wasn't a normal thing in 2015. Then 2017 was arguably the worst, with Roman entering in the #30 spot, and the crowd having to choose between another Roman Reigns win or RANDY ORTON.
WWE used that brilliantly in this year's Rumble, leaving us with a clearly divided final four: the two guys smart fans would want to see win (Finn Bálor and Shinsuke Nakamura) versus the two guys who define corporate decision-making trumping anything we'd want to see (John Cena and Roman Reigns). The tension of that kept us glued to the match, and the longer they extended the one-on-one sequence between Reigns and Nakamura and the more they countered each other's signature moves, the more we lost track of how we felt. They stretched it out and played it until we were like, breathlessly waiting for the entire closet of shoes to drop. They're so, so good at this, and I guess you have to fail your audience 9 out of 10 times for that 10th time to matter as much as it does.
2. Shinsuke Nakamura winning was the right call. He's been "just another guy" since debuting on the main roster (thanks, Dolph), and was arguably just another guy when he was trading NXT Championships with Samoa Joe. He never really felt like the Nakamura we wanted to see. The one from the Sami Zayn match. This was a great, instant rehabilitation, and now none of that matters because we've got ROYAL RUMBLE WINNER SHINSUKE NAKAMURA going up against WWE Champion AJ Styles at WrestleMania.
(Now let's just get to WrestleMania without Styles dropping the belt, or the story somehow becoming about the goddamn Smackdown authority figures.)
3. From our Royal Rumble predictions:
This is the year Kofi Kingston wins, and he avoids elimination by walking on a bunch of pancakes like they're stepping stones.
Kofi didn't win, of course (because Kofi's never winning, no matter how badly we want him to), but he did use the pancakes, and it was fantastic. Even better than the pancakery was the Chikara-style Ant Hill pogo spot to get him back into the ring. Kofi Kingston, able to leap tall Jinder Mahals in a single bound!
At least the poor guy didn't have to cave in his chest this year. Can we pay off a decade of this guy staving off elimination by giving him at least one Royal Rumble victory before he retires? Otherwise he's gonna be like Shelton Benjamin killing himself in Money in the Bank ladder matches for no reason.
Either that, or bring back John Morrison, have them be the final two, and spend like 30 minutes watching them try to eliminate each other.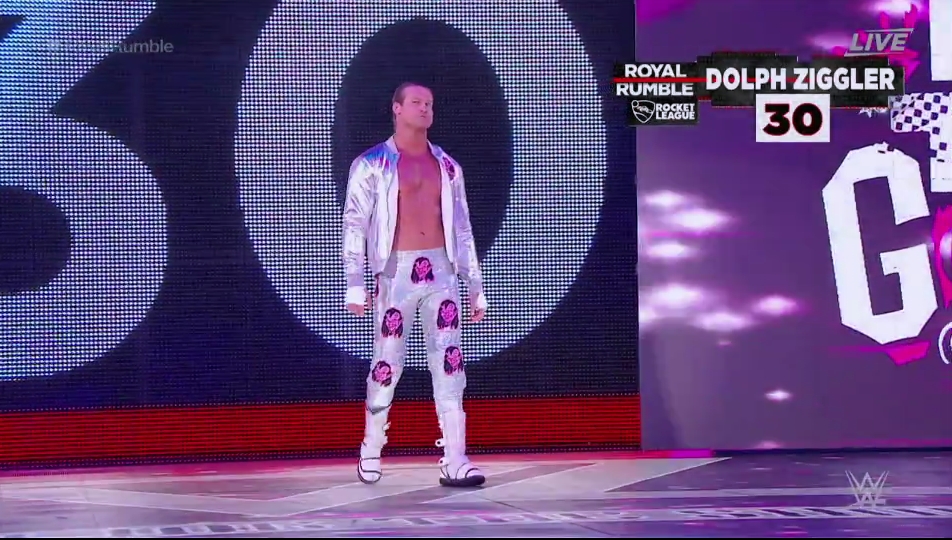 4. How perfect of a character moment was it for Dolph Ziggler to spend years complaining about not getting an opportunity, win the United States Championship in a match he only got by complaining, forfeit the title for no reason and apparently quit the company only to return at the Royal Rumble in the #30 spot and get eliminated about 90 seconds later, effectively re-entering the company in a lower spot than when he left?
Dolph Ziggler is the (kayfabe) most embarrassing wrestler ever.
5. Surprises that mattered. How great was it to see Andrade 'Cien' Almas show up the night after having one of if not the best NXT Championship match ever at NXT TakeOver: Philadelphia and then last almost 30 minutes in the Royal Rumble? A few months ago it felt like Almas was directionless, and in one weekend he gave us an hour of important, critically-acclaimed wrestling as his promotion's top star. That rules. I just wish we'd gotten Almas vs. Roman Reigns in a Samoa X Mexico Handsome Battle.
It was also cool to see The Hurricane back in WWE (if only for about 20 seconds before Enemy Of Fun John Cena tossed him like garbage), and Adam Cole popping up was a legitimate surprise. And think about how great it is that we had a Royal Rumble where John Cena was in the ring with Prince Devitt, Adam Cole, La Sombra and Shinsuke Nakamura. Wrestling is great.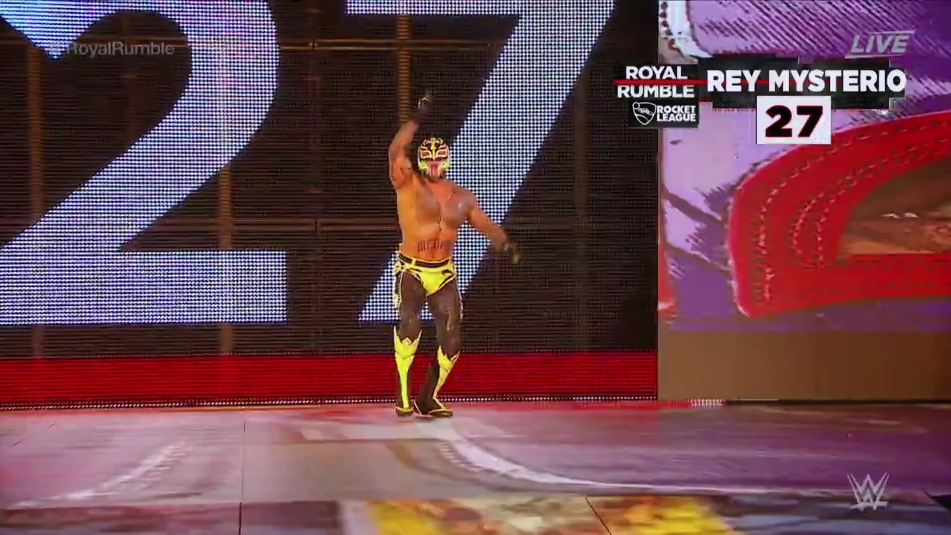 6. The best of the surprises was, of course, the return of Rey Mysterio. Mysterio looked better (at least on WWE TV) than he has in years, wore tights again instead of the very early 2000s baggy vinyl pants, and made it to the final six alongside Cena, Orton, Finn, Nak and Reigns. That's good company, from a WWE perspective. Although I'm kinda surprised Cena didn't heat-seek him and throw him out immediately in a callback to that time he shit all over his title win on Raw.
My only questions are:
7. Baron Corbin getting eliminated early and freaking out on everybody was also a good character moment, as it led directly to ANOTHER good character moment (across shows!) with an unconscious Heath Slater trying desperately to get back into the ring for like ten minutes. Big E helped revive him with some crotch pancakes, and then he came to and got into the ring just in time to eliminate Sheamus in one second. That's a lot of fun character work tied together, and something WWE should be doing more often, especially in matches like these.
8. How over is Rusev? That makes my heart swell. Guy was still getting "Rusev Day" chants 25 minutes in.
9. Only a few people went into this Rumble and came back with negative momentum. One of those is Woken Matt Hardy, who only showed up for about a minute to get eliminated alongside Bray Wyatt. Following Matt's weirdly truncated loss at Raw 25, you've gotta wonder if they're trying to "break" him again. Wyatt spend 20 minutes in the match, but if you can name one interesting thing he did while he was in there, you're lying. Dude was a total non-factor, and I continue to hate typing shit like that about him.
10. My only other complaint about this fantastic Rumble is the fact that they put it in the middle of the show. Don't get me wrong, I love that the women's Rumble main-evented (because history) and understand they wanted to save the Ronda Rousey non-surprise for last, but booking the match everyone wants to see that lasts for over an hour and for the first time in YEARS ends with the guy the crowd wanted to see win winning in the middle of the event was the DEATH of the matches that followed it. More on that in a second.
If I was putting this together, I think I would've opened the show with the Rumble, relied on that Styles handicap match with a goofy booking-finish to be the "cool down" people are still mostly excited to see because of the talent involved, and then progressively built the show back up with the tag matches and the hosses. Right? When Roman and Nak were battling for the win I legitimately felt like the show was about to end.
Worst: Sorry, Raw Tag Team Championship Match
But yeah, immediately following the barn-burner finish to the 2018 Royal Rumble was a Raw Tag Team Championship match that basically served as a plot point for Raw, the catalyst for another "who's more injured and who can still show up every week" title change, and a match with a dead crowd you aren't going to remember a second of. I think the most notable part of it was Seth Rollin's Guy Fieri bowling shirt pants.
That said, even this wasn't bad, and Jason Jordan continues to have an almost supernatural understanding of how to play an unlikable character. I kinda loved him getting rammed into the post early on and being too hurt to compete, leaving Rollins in there by himself the entire time and then tagging out again almost as soon as he gets tagged in. I also like that he's 100% going to blame Rollins for the loss, despite him overtly shitting the bed as a tag team partner.
At the same time, Sami Zayn already made it very clear that WWE needs to do zero (0) concussion angles forever. Ah well, Raw should be fun. Let's get the tag titles on the Revival already! They need something to do on the WrestleMania card (even if it's the pre-show) besides being guys Mark Henry eliminates 40 seconds into the Andre the Giant Memorial Battle Royal.
Best: Brock Lesnar And Braun Strowman Are Legitimately Trying To Kill Each Other
Remember a couple of years ago when Braun Strowman didn't bump for a Brock Lesnar suplex, so Brock hammerfisted him in the side of the face to knock him down for real? The dream of that match was alive in the Universal Championship triple threat, as Braun countered a fireman's carry attempt by Lesnar with a stiff knee to the ear, and Brock responded by punching him as hard as possible in his fucking face.
In case you missed it:
If Brock Lesnar punched me in the side of the head like that, my severed head would still be rolling through the streets of Philadelphia on Monday afternoon.
That created an absolutely CHAOTIC environment for the match, as Kane kinda stood around trying to not to get killed for real while these two gigantic, hateful trash monsters threw hands at each other. It wasn't a "good wrestling match" by any stretch of the imagination (and the finish of Lesnar pinning Kane was predicted by everyone with a functioning brain), but man, it was fun to watch. WWE should save the latest Roman Reigns coronation for SummerSlam or whatever and book Lesnar vs. Strowman in a Brawl For All at WrestleMania.
In a related story, no more Kane ever.
Best: The Women's Royal Rumble Is Even Better Than You Were Expecting
One again, with apologies to Shoe, here are 10 random thoughts about the first ever women's Royal Rumble match, assuming "Nia Jax is a monster giant who actually acts like a monster and a giant now" are numbers 11-15.
1. We kept trying to talk ourselves out of it for some reason, but yeah, Asuka as the winner of the first-ever women's Royal Rumble was the right call. She's the irresistible force right now, and while wins for Becky Lynch or Nia Jax would've been cool or appropriate or earned, Asuka is the kind of performer you can give an accolade like this and trust to carry it proudly throughout her career.
And how unbelievably cool is it to see two Japanese-born Superstars win Royal Rumble matches on the same night? I wish I could go back 10 years and tell my younger self that not only are Shinsuke Nakamura and Kana huge WWE stars, they've gotten pushed without wind chimes and Godzilla sounds and "Hirohito" gimmicks, and are headed to WrestleMania after Royal Rumble wins. I think 2008 me would be shocked beyond reason that people are correctly pronouncing "Shinsuke" and not calling him Shin-sooky.
2. The best part of the entire night for me was seeing Ember Moon show up and square up with Asuka. Holy shit did I love that. Ember looked better in the Rumble than she ever has in NXT, which is saying something, because weird unexplained Dungeons & Dragons werewolf gimmick aside, she's great there too. I think my favorite part of it all is the fact that they not only referenced the rivalry, they continued it and kept up the character continuity.
Think about it. They didn't just have them do battle royal forearms and say "we remember THIS rivalry!" like they usually do. In NXT, the story was that Ember had Asuka figured out and had her number, so Asuka has to take shortcuts she'd normally never come CLOSE to having to take to beat her. In the Rumble, Ember had her number and even hit her with a dope Eclipse (jumping OVER her), and Asuka had to go after her injured arm to keep from getting her ass kicked. I am (pardon the pun) over the moon waiting for this rivalry to come back into play on WWE TV. Let's keep Asuka undefeated until Ember comes up just to give that whole story some closure.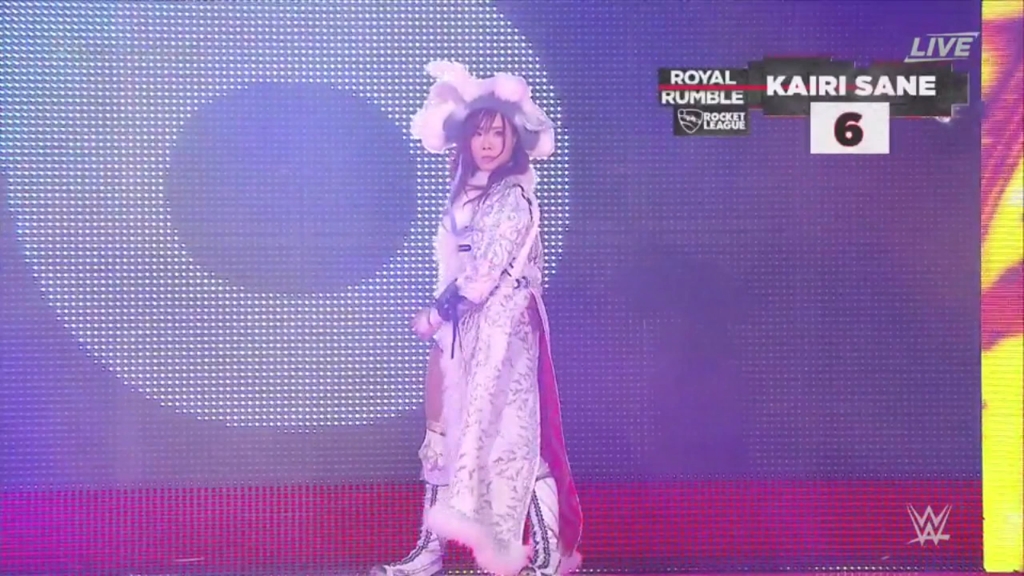 3. I'm sad she didn't stick around long enough to have a staredown with Asuka, but seeing Mae Young Classic winner and former Black Lotus Tribe assassin Kairi Sane show up in the Rumble and murk everybody with gorgeous flying elbows was one of the highlights of the night. Oh, and while I'm thinking about it …
4. Probably the worst aspect of the entire night was Michael Cole's insistence on how "interesting" everyone and every number was. I don't know if Stephanie McMahon was instructing him to do that or if Vince was screaming STATE FACTS in his ear or what, but Cole had a shitty Macy's Parade fact or anecdote about everything that happened. The worst was him explaining that Sane "is a yachting enthusiast, thus the boating theme," when THE PRETTY JAPANESE LADY WHO IS ALSO A BAD ASS IS DRESSED LIKE A PIRATE speaks for itself. At one point he said Sarah Logan "had an interesting story" and then the point was just, "she's from Kentucky." Cool story, bro.
Like, Naomi could enter at #20 and he'd say, "interesting fact about Naomi, she says she has The Glow! Also, number 20 is an interesting number! It is one more than 19, but one less than 21." We've spent the past 20 years wishing Michael Cole would talk about the wrestling, and when it does, it's somehow worse. Go back to mindlessly arguing, I guess, jeez.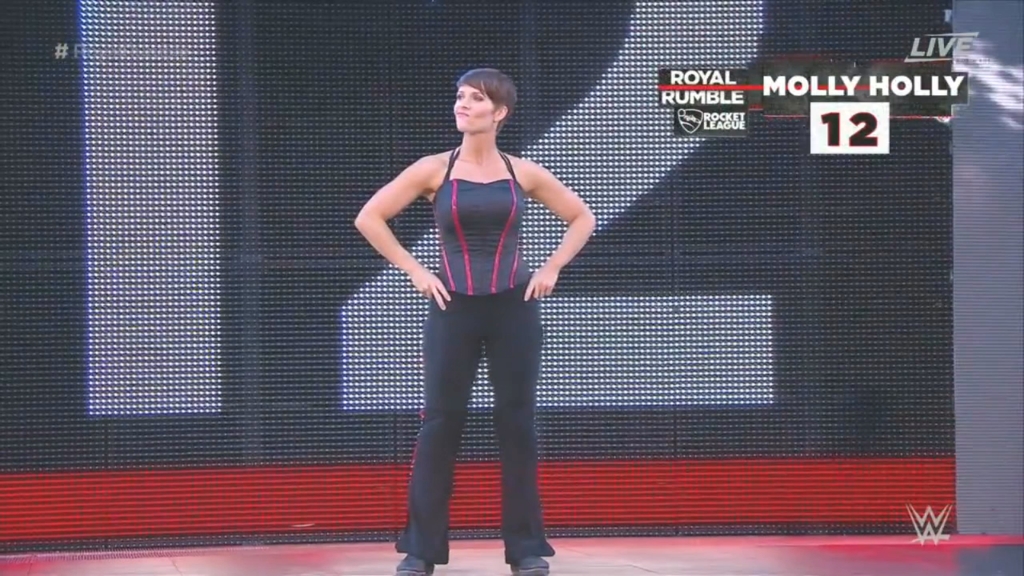 5. If you know anything about me as a wrestling fan, you know which two surprise entrants in the women's Royal Rumble were my favorite (because Michelle McCool showed up but Layla El didn't, and the Iconic Duo are still chained to NXT for some reason). The first of those was one of my all-time favorites, Molly Holly, who looked like she directly stepped out of 2003 and nothing had changed. Not only did she LOOK amazing, she was Molly-Going-Around fools like she'd been on a regular schedule for the past 11 years.
Of all the non-rostered special guests show showed up on Sunday, Molly's the one I want to see brought back and featured on WWE TV. I think my only complaint is Cole saying Molly had "fought stereotypes" during her career, like WWE wasn't the ones who made her an uptight virgin with a "fat ass" and made her shave her head to get a WrestleMania match. Anyway.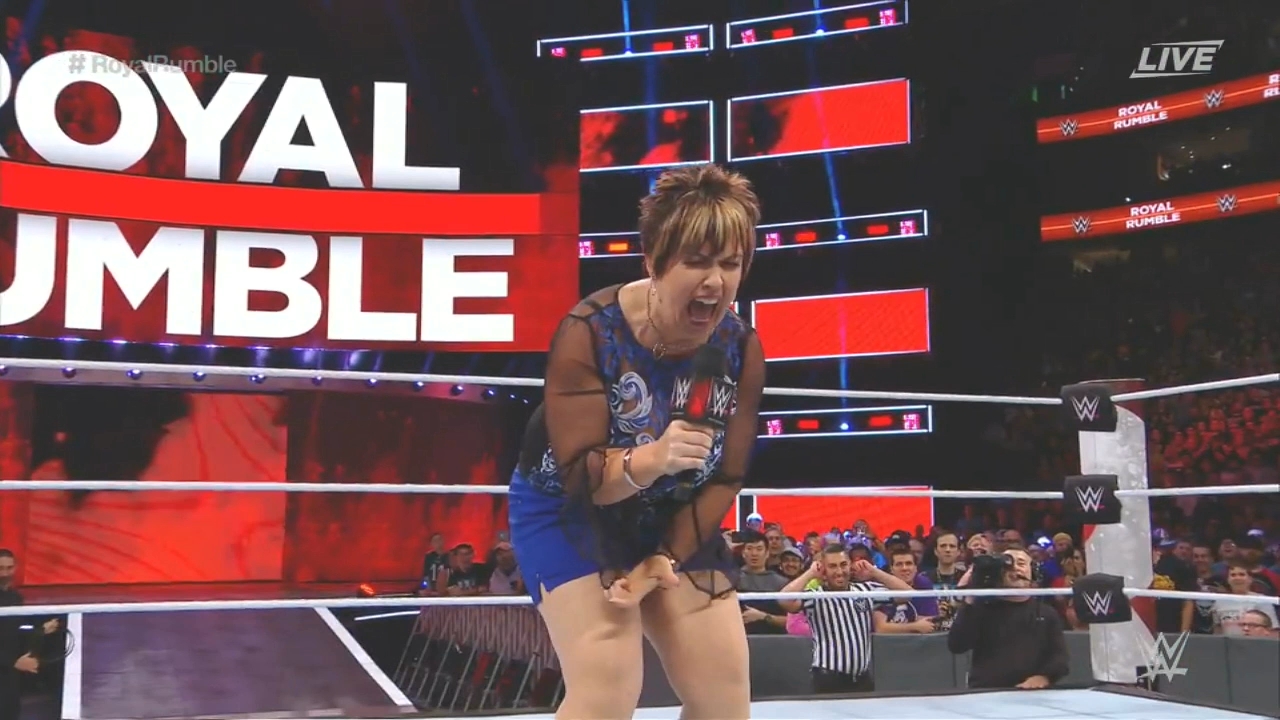 6. The second was, of course, living saint of crowd heat Vickie Guerrero. She's not really a wrestler, but God, I'm so glad she was there. She provided some much-needed comedy to keep the women's Rumble for being too much of the same, and seeing her get a little redemption on the way out by Halliburton'ing Carmella was outstanding. Vickie for the Hall of Fame, please. Molly for the main roster, Vickie for the Hall. And then Molly for the Hall later.
One of the most interesting parts of Vickie's appearance is how long it's been since Eddie's death, and how many people tweeted at me to let me know they had to explain who Vickie was to modern wrestling fans using Lucha Underground and explaining that she's Chavo Guerrero's aunt. I'm not sure we'll ever be able to show Vickie the proper amount of love for being thrust into an unwinnable situation — getting a TV role with no acting or wrestling experience, after her endlessly loved husband's death and playing a heel — and winning it harder than anyone ever could've. Vickie Guerrero fucking rules, full stop.
7. Let's not get so into the match that we forget how terrible Kelly Kelly is. You had a few entrants (like Torrie Wilson) who were more or less non-wrestlers, or at best extremely not-intended-to-be-wrestlers "Divas" who still held their weight and performed well. Then you had Kelly, who showed up in a jacket for some reason and botched her one big showcase move. We uh, we couldn't have given this spot to Peyton or Billie?
8. Old rivalries.
Of course, WWE wasn't going to have a women's Royal Rumble without bringing back the two women they've always considered great from the previous era: Trish Stratus and Lita. I thought Trish looked a lot better than Lita, at least when Lita was barely getting over on that Moonsault Dangerous, but they were both running on comparable levels to how they ran in their prime. Lita's gained some prestige in retirement by being the woman who presented the reborn Women's Championship, and her tribute to all the women who couldn't be there was a wonderful touch. Really glad they were both in there.
The best moment of these two in the women's Rumble was without a doubt the confrontation between Trish and Mickie James, who had the best (and arguably the only really good) women's match in WrestleMania history pre-Women's Revolution. If we didn't get a Trish vs. Lita standoff, we got the next best thing. Now all we need to bring Mickie's career full circle is to have James Storm show up and toss her in front of a train.
Oh, and how great was it to see Pin-Up Strong back together again? And Natalya wins the Worst Person Of The Year award for turning on Beth Phoenix, the one person in WWE TV history who seemed to enjoy Natalya's company. If you remember their NXT run, even Natalya's real-life husband didn't want to be around Natalya most of the time.
9. It was very WWE to have the Bella Twins be two of the final three in the first women's Royal Rumble match, wasn't it? At least we got Nikki turning on Brie again.
Finally, At Talking Point Number 10, Ronda Rousey
On the positive tip, I think Ronda Rousey's going to do a lot of positive things for WWE's women's division. I think her stardom will translate into a lot of new eyes on the product, which WWE could use now that they're actually booking women's wrestling and creating women's wrestling storylines instead of just doing Playboy Pillow Fights and mud wrestling matches or whatever. I also loved Ronda's Rowdy Roddy Piper tribute (with his actual jacket!), and her pure fan smile at how cool it was to be there pointing at the WrestleMania sign at the end of a Royal Rumble was infectious.
On the negative tip, though, I do (like a lot of people) wish Asuka had been able to have her moment. As soon as she won, Charlotte Flair and Alexa Bliss were in the ring with her, and before she could choose which champion she was going to face, Ronda interrupted. Then the entire moment because about Ronda Rousey and what she was going to do, which we all know is "challenge Stephanie McMahon." I'm not sure when the right place would've been to do this, so I get why they did it this way — especially since they wanted the first women's Rumble to be as historic as possible — but yeah, I also kinda wish Asuka had literally spin-kicked her in the face for figuratively stepping on her toes.
Best: Top 10 Comments Of The Night
Beige Lunatics, King of String Style
BETH: Hey, Nattie! Did they call you up for a Legends appearance too?
NATTIE: I, uh, still work here.
BETH: ….
Blade_222
If Andy Kaufman doesn't win the first women's Royal Rumble, why did he even fake his death?
Harry Longabaugh
This crowd is so dead that they might as well be watching a Kane match in 2018.
TheBazz
Poor Kane. He of all people should know a third party has no chance of winning.
cyniclone
Nice of Seth to drop in from taping his show Diners, Drive Ins and Suicide Dives
Mr Grift
Was that really Flair? There is precedent for wrestling companies to use an impersonator to sell fried chicken…
Juan Bachur
It's amazing how we have Shinsuke Nakamura, Finn Balor and Adam Cole in the ring and Mike Mizanin is the smark favorite.
The Real Birdman
Titus: "I got a number in the high 20s, what are my chances Dana?"
Statistician Dana: "0%"
Spitty
No Heath, 3 pancakes ain't enough. You need 5.
Brute Farce
They're holding the Women's Rumble at the Manhattan Center right now!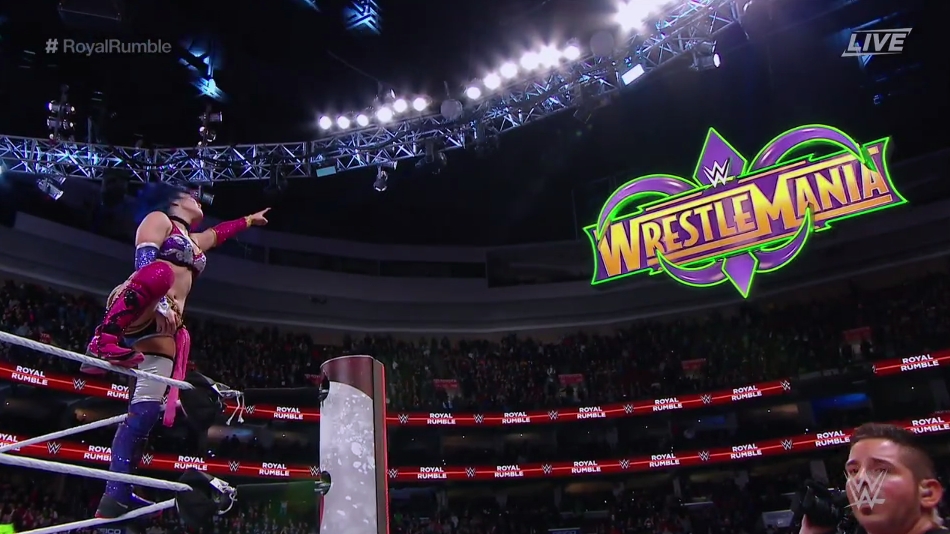 And that's the Royal Rumble. Hell of a show this year. Let's hope the remainder of 2018 keeps it up.
Thank you for reading. As always, drop us a comment in our comments section below, and share the column to spread the love and support the site. It's important to share the good stuff as well as the bad sometimes, and I'm really happy to say this was mostly "the good stuff."
Join us next year when the Royal Rumble winners are Rusev and Lana. Calling my shot.
If you haven't already, listen to this week's McMahonsplaining podcast where we talk to Diamond Dallas Page.
[protected-iframe id="77295b030660fdfeabccb2daf32edb61-60970621-10222937″ info="https://omny.fm/shows/mcmahonsplaining/episode-24-diamond-dallas-page/embed?style=artwork" width="100%" height="180″ frameborder="0″]