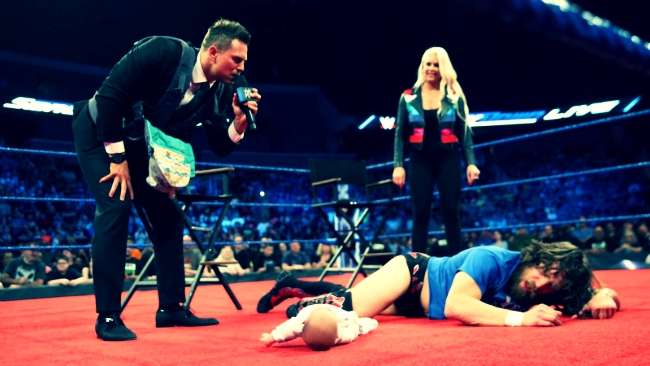 Previously on the Best and Worst of WWE Smackdown Live: The Miz held a funeral for Team Hell No, Shinsuke Nakamura is transforming into Gollum because of the United States Championship, and Randy Orton tried to tear off the bottom half of Jeff Hardy's ear. Fun for the whole family!
Remember that With Spandex is on Twitter, so follow it. Follow us on Twitter and like us on Facebook. You can also follow me on Twitter. BUY THE SHIRT.
One more thing: Hit those share buttons! Spread the word about the column on Facebook, Twitter and whatever else you use. Be sure to leave us a comment in our comment section below as well. I know we always ask this, and that this part is copy and pasted in every week, but we appreciate it every week.
Here's the Best and Worst of WWE Smackdown Live for July 24, 2018.
Best: Legacy OG
This was a very good episode of Smackdown from top to bottom, and the best part was a show-opening Randy Orton promo. Brother, I know. I'm surprised to be typing it.
Apparently the WWE Universe needed answers for why Orton reappeared from oblivion to target a relatively harmless Jeff Hardy with hilarious, measured nut-shots, and here's Randall with the answer: In objective terms he is literally John Cena minus the popularity and begrudging respect of the audience, which means he's been out here grinding in one form or another for 16 years without ever being the most important guy. He doesn't inherently earn respect from wrestling types despite almost two decades of high-level work because he's got a bad reputation, seems pretty shoot unlikable, and literally and/or figuratively takes a dump in and/or on most things people love about pro wrestling. He's sick of that, and has turned heel again to rededicate his life to his great passion: emasculating famous wrestlers.
You see, it is YOU who is in fact the Legend Killer. Orton turns his old nickname on the crowd in the most "where's the lie" promo since Kevin Owens shat on Full Sail back in the day for being the John Cena of Wrestling Fans. I love that Orton took a couple of months off and become himself 10 years ago. Heel Randy Orton with a purpose is really good at this job, he just gets stuck as "old faithful" on the booking white board so often they forget (or choose not) to use him for something greater. He wrestles haunted house matches and shit while John Cena gets a Prestige Workrate era. Lesnar squashing Cena is a touchstone. Lesnar squashing Orton felt cheap and lazy. It's such an interesting dichotomy to play with, with Orton as Tom to Cena's Jerry.
This was really good for a few reasons, which include:
it wasn't overly long
it got right to the point, which for a Randy Orton promo is its own special miracle
you believed what Orton was saying, because it felt like Orton believed what Orton was saying
it acknowledged history, even ancient history like a feud from 2008 and the (LOL) Smackdown Top Ten List
it tied those stories into the current beef, clearly establishing "if yes, then what?"
enough shade to give Steve Ditko vertigo
Randy Orton throwing up the Too Sweet (pictured)
All in on pissed-off veteran heel Randy Orton.
BUT WHOSE SIDE IS HE ON?
Best: Los Ingobernables de Bulgaria
New number one on the list of matches I want to see again in 15-minute pay-per-view form: Andrade 'Cien' Almas vs. Rusev from Rusev Day. The finish is extremely dumb, with Zelina Vega and Lana Rusev catfighting and Aiden English causing a distraction while trying to help, but there's enough good work here to raise your eyebrows and make you wonder how good this would've been on a show where matches actually get to end.
I love that the Rusev Day chants persist, even after an awkward year that's included Shane McMahon's infamous "noted" ad-lib, a bunch of gossipy changes to the Greatest Royal Rumble card, and a sudden repositioning at the top of the card without really winning many matches at the top of the card. This is the best part of that phase for us as fans, because we get dope matches like Rusev vs. Styles at Extreme Rules, which I believe was good enough that they wanted to see him in the ring with Secretly Better AJ Styles, Cien Almas. All I want in the damn world is these guys unleashed on each other under a very bright, closed-set spotlight.
It's utilitarian, too. Almas needed a big win and got one, Rusev took another hard loss but remained a fan favorite while doing it, and the loss was caused by the guy he's prepped to feud with as either (1) a weird underdog who is twice as quick and strong as his opponent, or (2) Drama King's dreaded heel superior. As long as Rusev keeps getting these spotlight matches and gets time to wrestle the best wrestlers in the world, I'm happy.
Best: Joe Is Gonna Kill You
Coming in very close on the list of Best Things About This Episode is Samoa Joe becoming the new number one contender to AJ Styles' WWE Championship by waiting for him to clap at another man's misery, choking him the hell out, flipping over a bar table onto him, and signing the contract like a boss. This is after he chokes out R-Truth in a 55-second match, which falls somewhere between "an appropriate length for that match" and "52 seconds too long."
Joe feels hot right now, and has felt important (for better or worse) since returning after WrestleMania. He's at the top of his game and hungry as hell, and Styles needs a match or two against an opponent he's burned the house down with in the past to make up for the relentless disappointment of his Nakamura feud. Joe is the first Styles challenger who really feels familiar and closely associated with him, and can bring out the best in his work without diverting too far from "WWE style." Trying to fit square peg Nakamura into the round hole of a WWE-style Main Event doesn't work, but Joe's spent the past couple of years making sure he fits no matter where you put him.
I think this is finally going to be the Styles championship match we've been wanting so badly, on WWE's second biggest stage of the year, for WWE's actual biggest title, and should be the best thing he's done since the 2017 Royal Rumble.
Worst Best: The Ballad Of James Ellsworth And Carmella
If you're wondering what Styles was clapping about at the beginning of that Joe murder clip, he's clapping because James Ellsworth popped in to pretend he was the next WWE Championship challenger and got fired by Paige for … being James Ellsworth, basically. The content of the segment isn't great, but hey, it removes the James Ellsworth character from the conversation for a while to hopefully improve our SummerSlam Smackdown Women's Championship match, ensure that the upcoming Evolution pay-per-view doesn't get Ellsworth in a wig pulling down a Money in the Bank briefcase or whatever (or even cause that conversation to happen), clear the runway for Becky Lynch to be able to unseat Carmella, and send our women's championships into the women's pay-per-view with at least one of the champions not being a chickenshit heel who wins via shenanigans. Not that I'm actually picking Becky to win, but it'd sure be nice!
And speaking of Carmella …
Poor Asuka's feud with Carmella played out so badly you need to give Asuka a squash win on Smackdown to rehab her. She faces Billie Kay and wins a little less than two minutes in when Peyton Royce tries to interfere and triggers Asuka's KICK YOU TO FUCK limit break. It's good for what it is, which felt more about a refocusing effort than being a "good match."
ALSO speaking of Carmella …
Becky Lynch has defeated the Smackdown Women's Champion! Uh, good!
This felt like what they should've done at SummerSlam, honestly. Carmella's remained the champion through the Asuka feud because of James Ellsworth. Becky Lynch has been winning match after match in an effort to prove she's deserving of a championship match. You assume Carmella's going to retain because Ellsworth cheats so much and Becky's so sympathetic and likable she's usually there to come close and take crushing defeats. But then suddenly Ellsworth has been hoist by his own petard, Carmella's forced to try to survive by cheating on her own (and wrestling an actual wrestling match), and none of that's good enough to stop Bex from tearing up her shoulder and winning. This should've been the payoff, right? Not the match that sets up a "bigger" match that might not actually add anything to the story or pay anything off?
Anyway, just to make sure I've typed it clearly, I very, very much prefer having to nitpick the "how" of a story and think or talk about it constructively like this instead of drowning in an empty "why."
Mostly Best, But It Should Be Even Better: The Smackdown Tag Team Tournament
Pet peeve: four-team tournaments. ESPECIALLY done over three weeks. Those feel more like "qualifiers" or Kurt Angle-style Eliminators™ than tournaments. The Bar vs. The Usos and New Day vs. Sanity is an incredible semi-finals to an 8 or 16-team tournament. So why start with the semis? You could very easily expand that to 8 teams and let folks like The Bar who haven't really been doing anything get in some good work to get people hyped for when they face a harder team. I don't know, it's less a complaint or a "worst" than a missed opportunity, and something I wish we got to spend more time with.
That said, yeah, of course New Day vs. Sanity is good. Unfortunately the bulk of the match gets wiped away via commercial break, and the finish was a little more overbooked than it maybe needed to be. +1 to Alexander Wolfe for swimming like a fish while he's in the Big Ending, though, because your arms and legs are free … unless you're knocked out, shouldn't you at least be pretending to escape? It makes you look like a smart wrestler in a real match, and puts over Big E's strength for being able to hold you in place against your will.
Come to think of it, we should've just done Bar/Usos and New Day/Sanity at the pay-per-view, done Bar vs. New Day (or whatever) later in the same pay-per-view for the Smackdown Tag Team Championship, and left the Bludgies at home. Get poor secret super worker Luke Harper away from the burgundy jumpsuits and toy hammers and that name as soon as possible. Or go in the opposite direction and show me some bloody hammer murders, you know? The Steampunk Skyscrapers aren't really doing it for me.
Best: Miz-Direction
This is the episode where The Miz goes full American Sniper and throws the world's fakest baby at Daniel Bryan. It's GREAT.
Next week, Gene Snitsky should make the save for Bryan.
But yeah, this is our main event, and it's worth the wait. The Miz decides to promote his television show by bringing his infant daughter he named like a TNA Knockout, Monroe Sky, and … well, okay, it's hard to explain Miz's plan without just coming out and saying it's a plan. He cast an ACTOR BABY (!!) to play his daughter on TV, because he'd never actually bring his daughter out here in front of the WWE Universe. He decides to trick everybody backstage just to establish that a real child exists in the arena, so when he's in the ring lovingly patting this immobile, clearly plastic baby doll you might buy it. I love it. It's such a bad plan. And then the whole thing relies on Bryan interrupting, Bryan being able to beat up both security young boys, and Bryan not only getting into the ring to confront Miz with wife and child, but getting him into the ring where he'll stand still long enough for Miz to lob a fucking baby at him. Ozymandias is in the back like, "bro, just punch him in the back of the head."
The Miz is (fictionally, I feel like I have to type more often so y'all don't get it twisted) the very worst person, so of course he's going to talk up the life-changing power of love and family while using love and family to beat up a co-worker that gives him an inferiority complex. SummerSlam is looking like it's going to rule. Great show this week.
Best: Top 10 Comments Of The Week
ryanhenrysmith2
"Do you think I would bring my baby to a city like this?"
*guitar strum*
"Hello, I am Elias, and I felt that my presence was needed."
The C Team (aka The Coolest Team, duh!)
He should have done the Skull Crushing Finale onto the fake baby.
troi
I DON'T EVEN HAVE A CHILD
Rusev trying to remember Summer Rae's number
The Iron Yuppie
Is Daniel Bryan gonna heel hook a baby?!?
notJames
DBry heel-hooking Miz while he uses Monroe Sky to reach the ropes would be amazing.
Blade_222
I like the idea that The Bar have been gone for a while because they were too busy watching the World Cup.
Nippopotamus
Big E and Velveteen Dream should be in a segment together. I just want to see what the pinnacle of weird sexual energy looks like.
Mark Silletti
"Asuka what are your thoughts on the evolution ppv?"
"I love a buffet."
Ryse
Lana's accent is chilling on a beach somewhere with Kofi's.
That's it for this week's column. If you get nothing else from this show, remember: if you need to trust someone with your infant child, trust Sin Cara. He definitely won't drop it!
Share the column to help us out, make like figurative babysitter Sin Cara and drop us a comment below, and be back next week for more of this season's best main roster show.