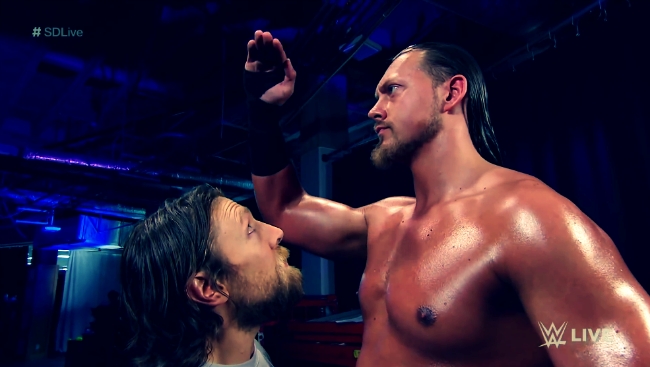 Previously on the Best and Worst of WWE Smackdown Live: Heel Shinsuke Nakamura became the King of Dong Style, Paige introduced us to an exclusive clip from her new movie Being The Smackdown General Manager, and the Iconic Duo ditched the "duo" for an extra "I" and helped Carmella become the new Smackdown Women's Champion.
Remember to follow With Spandex on Twitter and like us on Facebook if you haven't already. You can also follow me on Twitter @mrbrandonstroud for pretty much just wrestling stuff. And remember to check out the new-ish With Spandex podcast, McMahonsplaining.
Hit those share buttons! Please spread the word about the column on Facebook, Twitter, and whatever other social media outlets you use. Be sure to leave a comment in the comment section below as well. Your help and participation means a lot. As a quick programming note I am not Emily, but her run on the column's got me needing to up my quality, so +1 to her for that.
And now, the Best and Worst of WWE SmackDown Live for April 17, 2018.
Best/Worst: The United States Championship Situation Conveniently Fixes Itself
From yesterday's Best and Worst of Raw, about Raw's Jeff Hardy winning the United States Championship from Smackdown's Jinder Mahal and the title switching brands:
I'm guessing it's less about the Slater and Rhyno-esque ineffectiveness of a top Smackdown guy coming to Raw and being instantly recast as a jobber and more about how Smackdown needs a secondary championship and it's a fun idea to have Jinder show up as champ, lose, and then send that new champ back in the shake-up. That'd probably work better as a random draft choice thing and not a "negotiation" from a GM who gives up one of his champs and just hopes for the best, but we aren't supposed to think about it like that. Wait, did I type "are" or "aren't?"
Sure enough, one of the first matches we get is Smackdown's newest shooken-up superstar, United States Champion Jeff Hardy, answering the challenge of Living Single Shelton Benjamin. Randy Orton actually answers the challenge first, but Jeff Hardy double answers it as Orton's sashaying to the ring, and that impresses Orton enough that he just kinda … chills and disappears? I don't really know, but I'm down for any angle that limits Orton's contribution to the show to, "walks out for a second so people who want to see him can cheer." There's a billion percent chance Hardy catches an RKO out of nowhere within the next 6.5 days of programming.
Hardy vs. Benjamin gets a perfectly cromulent eight minutes and change to do its thing, and it continues to show Jeff Hardy's unexplained, almost supernatural connection to WWE fans. It's the reason why he keeps getting spotlights and world titles and main events despite all the dumb and harmful shit he does in real life. I don't know if it's good will left over from the Terri Invitational Tournament and TLC days or what, but 40-year old bodysuit Jeff Hardy doing his greatest hits lights people the hell on fire. The Hardys are just like that. The Broken Universe couldn't have worked with anyone but a Hardy Boy, because they've got this deeply sincere, manic wrestling energy about them people feed off of, and it translates from Boyz to men without them even having to do anything.
But yeah, Brother Nero brought the championship back to Smackdown and established it as a Smackdown Live®-brand exclusive, meaning Seth Rollins and the Intercontinental Championship can stay on Mondays and not ruin his t-shirt gimmick.
That kind of title switcheroo brings up further questions, though, so let's jump ahead a little and tackle those.
Best: Samoa Joe Is Here, But What Does It All Mean?
One of Smackdown's biggest "gets" in the Superstar Shake-up (and trust me, it ended up being a lot of them) was Samoa Joe, fresh from his two-week Emasculate Roman Reigns return tour on Raw. He shows up to absolutely wreck poor Sin Cara, who at least got that cool new version of his mask on regular TV again. Poor, poor Sin Cara.
With Jinder Mahal showing up on Raw on Monday with the United States Championship and losing it, there was a clear path to balancing everything out. Either Rollins shows up on Smackdown on Tuesday with the IC title, or new United States Champion Jeff Hardy gets traded back. Hardy got traded back, ta da. Problem solved. With Joe showing up having already gotten shorts-deep in an angle with Reigns, the title situation becomes a little blurry.
The most direct path to keeping the WWE and Universal Championships balanced is to go an obvious route, namely:
Brock Lesnar retains the Universal Championship against Roman Reigns at the Greatest Royal Rumble, Lesnar doesn't do shit at Backlash and Joe vs. Reigns goes on as planned with nothing at stake, or the more expected option …
… Roman Reigns winning the Universal Championship at Greatest Royal Rumble, Reigns going over Joe with like one (1) spear at Backlash, and Roman Reigns romanly reigning all over the place
With Joe moving to Smackdown, you either have to have him lose at Backlash or risk turning the match into another House of Horrors situation where they establish a feud only for the brand split to jack it up as soon as it gets going, and after they've announced the next big match. So, you know, the obvious answer is probably the correct one.
Bill Hanstock has pretty great theory about what could happen with a top title switch, however, which has Reigns winning the Universal Championship at Greatest Royal Rumble, Nakamura winning the WWE Championship from Styles on the same show, followed by Joe beating Reigns and Finn Bálor beating Nakamura at Backlash. That'd send the Universal Championship to Smackdown with Joe, and bring the WWE Championship over to Raw with Finn. But then you realize the Good Brothers got sent to Smackdown for some reason, so Finn doesn't get to keep his Club unless he finds his way over in that jumbled-up twine ball of title change options. It's so much fun to actually be engaged in where the championships might go and why, and not just have to write 10 dense paragraphs about how nothing makes sense. Lots of things make sense right now, even things they might and aren't ever going to do!
TL;DR version: Samoa Joe fuckin' owns shop and we hope he wins the thing.
Worst: Stop Hammer Time
The least eventful part of the episode, and really the only part of the entire thing I could classify as "bad" or not trending in a positive direction, is (again) the Bludgeon Brothers. Luke Harper goes one-on-one with Jey Uso and beats him in like 40 seconds, setting up a weird post-match attack where they're gonna kill the Usos with hammers until Naomi runs out and begs them to stop. If this was the Best and Worst of Smoky Mountain Wrestling or whatever I'd have an idea of where they're going with this, but unless they left Nikki Cross off the "Sanity is coming to Smackdown" graphic is because they want to make her a Bludgeon Sister and feud her with Naomi, I've got no idea. Best case, it gives Harper and Rowan some sort of "code" where maybe they don't want to murder a guy with a plastic hammer in front of his family? Maybe it's better to have your adversaries live in fear? We don't know much about these guys besides "they used to be cultists" and "they spent a month and a half wandering around in the woods with hammers."
Even this wasn't really bad, it was just a random-ass minute in the middle of the show that kept the tag title scene treading water instead of injecting it with the fresh blood the rest of Smackdown got. Maybe that's what next week's for.
Best: A Giant Casshole
Here's something I wasn't expecting to type: on a show that featured Samoa Joe and Asuka showing up, the shaken-up superstar I'm most interested in following right now is Big Cass.
I think pairing him with Daniel Bryan's one of the smartest things they've done in a while. You don't want to shoot Bryan back up to the main event scene and put championships on him until, let's be honest, his body lets him actually stick around for a long time for real as an active wrestler and doesn't shit in his cereal the second he does something big again. His first big injury happened almost as soon as he won the World Heavyweight and WWE Championships in the best WrestleMania moment imaginable, and the second came after he won the Intercontinental Championship in a WrestleMania ladder match as part of his big comeback. Let him grind with some of these lower-level guys for a while, especially the ones who can give him compelling stories. Especially the ones like Cass, who have exhibited no real positive traits beyond "being very tall" and could use a master like D-Bry helping them grow inside and outside of the ring. Cass working with Daniel Bryan for a month will do more for his wrestling brain than six years of teaming with Enzo.
The other thing is that it's such a great physical mismatch, but you don't think for a second Daniel Bryan can't wreck Big Cass. For lack of a less cringey comparison it's a lot like when they'd put Chris Benoit in the ring against someone like Ron Studd. You can buy the big guy winning or getting in big offense because he's got so many physical advantages, but you can also just as easily buy him getting his ass handed to him because the other guy's 1/3 his size but 3/1 his stature.
Best, For Now: Smackdown's Bait-And-Switch Main Event Scene
The show opens with AJ Styles doing one of those promos where he's just working his way up to saying something might be one thing, but it's not phenomenal, and we end up getting a few seconds of Styles vs. Rusev from Rusev Day. Aiden English jumps in for a quick DQ, Daniel Bryan runs out to make the save for Styles, and Smackdown management honors their Old Gods and makes it a Tag Team Match, Player. We even get Paige doing a Teddy Long impersonation and Shane McMahon doing the Teddy Long dance, because shit on Peanuthead all you want, that dude made a legendary impact on how WWE General Managers work.
I mean, he's no John Laurinaitis, but other than that he's at the top of the list.
That sets up the main event, which has another wildly screwy finish but at least contains most of an Actual Match. Daniel Bryan, who makes me mostly type in GIFs of cartoon characters making heart eyes, has poor Jobber to the Stars, Especially the Zombie Wizard Ones Rusev knocked out with a running knee. While this is happening, the best character improvement since WrestleMania — Shinsuke Nakamura, now with the condescending, buckwild swagger that made him a big deal in Japan in the first place — hops out of the crowd and straight-up Tiger Uppercuts AJ in the balls. Having successfully flattened Styles' globes [cough], Nakamura hangs out to make crazy faces and distract Bryan for a Big Cass attack.
There's something really wonderful about the big Smackdown to Raw move on Raw being Mike Mizanin's walk of shame back to Tuesdays and into Daniel Bryan's fists, but he chilled with his family for a week to avoid the drama and now suddenly this 7-foot tall goober who can't convincingly speak like a human being is obsessed with kicking Bryan's ass. Gonna guess that's not a coincidence. I hope Miz manages to avoid Bryan by throwing mid-carders in front of him AT LEAST until SummerSlam, but for a feud this epic I'd be okay with them Stinging it and pushing it through to WrestleMania. Bring back Alex Riley, Damien Sandow, Derrick Bateman, bring the whole thing full circle.
Best: Peyton Royce Baby Voice Forever
Mella Is Money®, sure, but this week's total layup for favorite Brandon moment goes to Peyton Royce bringing back her Wooby Wiot baby voice to dump on Charlotte Flair for being a big baby who's "cranky-poo" because somebody stole her water bottle and it made her so mad she shit her pants. It's so good even Charlotte's out there laughing at it.
If you aren't up on your Eye-Iconics lore, just know that they're intentionally the most absurdly obnoxious women in the world and it's the greatest.
Best: Smackdown Really Killed It In The Superstar Shake-Up™
The "Mellabration" — which is certainly no Bellabration — turns into Charlotte threatening Carmella, the IIconics showing up to make Charlotte's life miserable for the second week in a row, a fight breaking out and Becky Lynch jogging out to make the save. If you didn't see her behind the scenes bit where she realizes she has to do a run-in mid-quinoa, please watch that immediately:
But yeah, that sets up a singles match, somehow, between Flair and Billie Kay with Lynch and Royce at ringside, and Carmella on commentary. Carmmentary? Flair wins easily because she's OP and Billie Kay's a dramatic cape from being "Jessie", and it turns into a 3-on-2 post-match schmozz.
That sets up maybe the biggest acquisition of the night: Asuka, who makes the save for the faces and is either here to respect Charlotte Flair for ending her undefeated streak at WrestleMania or, in a more perfect world, to put on clown makeup and problematic World War 2-era uniforms to put the fear of God into her and break all her limbs. Either way is pretty cool.
And for real, Smackdown ended up cutting a lot of the roster fat — Jinder Mahal's entire thing, the Fashion Files crew they weren't appreciating/using very well anyway, the Hype Bros, the Riott Squad, Ziggler, Corbin, Roode, Kevin and Sami's horrible GM storylines, etc. — and brought in a ton of either big or popular ace workhorse types who can do great character work and put on even better matches. Samoa Joe, Asuka, The Miz, the IIconics, future not Raw Tag Team Champions The Bar, and even Andrade 'Cien' Almas. Even the question marks they picked up like Big Cass and R-Truth have proven they can do good work with focus and a purpose. Add all that to a roster that already includes AJ Styles, a heel Shinsuke Nakamura, The Usos, The New Day, goddamn Daniel Bryan and more, that's one of the most insane and streamlined collections of WWE talent ever assembled on one show.
Raw's probably going to be an unbearable hunk of shit for the most part, but it looks like the WWE Universe may have finally corrected the weird "Raw's been better than Smackdown" imbalance. And hey, maybe those stale faces on Raw will find some new, hot combinations and breathe life into some characters that desperately need it. Things are looking good as hell right now, so let's keep it going!
Best: Top 10 Comments Of The Week
AddMayne
Having Cass here is appropriate considering Shinsuke just made AJ sawft
Amaterasu's Son
If Renee gets on her damn game and Rosetta Stones some Japanese to ask the questions next week, she will earn her spot in the Hall of Fame in one moment.
FeltLuke
"A casket match? Bah! I've been buried before. I'll be fine." – Rusev
The Voice of Raisin
Angelo Dawkins and Montez Ford are booked for the Greatest Royal Rumble, but aren't featured on any of the promotional materials. Sharia law forbids visual depictions of the Profits.
PhilBallins
I hope they have Big Cass and Charlotte cut promos on each other some time. It'll be like jazz, you have to listen to the syllables they're NOT enunciating.
Endy_Mion
Shame that the Iconics never got to team up with Kelly Kelly and Alexa. They could have named their faction Shrimp on the Barbie (Blank)
The Real Birdman
More like Meh-lebration amirite??
Ja Gi Kyung-Moon
"Samoa Joe is on Smackdown!"

Roman Reigns: *Discreetly hands a big bag of money to Kurt Angle and Paige*
That clip in the montage makes me think about how stupid the cash ins always seem when they're fake outs.

"I want to cash in!"
"Are you sure?"
"Are you really sure?"
"Yeah, I'm sure!"
"Are you super serious for sure?"
"OHMYGODYES!"
"Yes what?"
"… Huh?"
"What are you cashing in for?"
"The money in the bank contract!"
"I don't understand."
"The hell?! I literally just went over this with you yesterday!"
"OK, I guess you can use the contract."
"Awesome! Ring the bell!"
"For what?"
"I will kill you. I will kill your family."
LUNI_TUNZ
Samoa Joe: "This place looks more like the land of handouts. For god's sake Jinder Mahal was the champion over here, I mean what the hell?"
That's it for this week. Thanks for reading, and for supporting us as we move into a strange new era of WWE programming where things mostly seem hopeful and positive! And make sure you join us for night three of the Superstar Shake-up tonight, as NXT drafts a bunch of randos from EVOLVE and somehow gets Curt Hawkins AND Tyler Reks from Raw.
Be sure to drop a comment down below to let us know what you think of the new-look Smackdown, and give us a social media share if you're a good brother. ? See you next week!
Have you subscribed to the With Spandex podcast?