Previously on the Best And Worst Of International House Shows: WWE went to Saudi Arabia for a terrible Undertaker match, a random John Cena appearance, and Titus O'Neil falling and almost killing himself while running to the ring for a Royal Rumble. This time we're in Australia, and everything's the same, except the women are allowed to be here, so Titus doesn't make the show.
If you haven't watched Greatest Royal Rumble yet, you can do that here. Remember that With Spandex is on Twitter, so follow it. Follow us on Twitter and like us on Facebook. You can also follow me on Twitter. BUY THE SHIRT.
One more thing: Hit those share buttons! Spread the word about the column on Facebook, Twitter and whatever else you use. Be sure to leave us a comment in our comment section below as well. We're going through some major league transitions this week, but I'm gonna keep trying to write bad jokes, so if you want to keep reading them, that'd be swell.
Here's the Best and Worst of WWE Super Show-Down In Australia, originally aired on October 6, 2018.
Best: A Great Saturday (Morning) Night For Australia
I really only wanted three things from this show; the IIconics being treated like national treasures and winning their tag team match against Naomi and Asuka on their home turf, Buddy Murphy becoming the Cruiserweight Champion even though I thought for SURE no titles would change hands, and John Cena doing his hilarious Sixth Move of Doom, which I've decided to stop worry about and learn to love. Against all odds — and WWE's tendency to make someone look as bad as possible in their hometown — I got ALL THREE.
First and most importantly are the IIconics, who need to sell me that Australian flag variant IIconics shirt immediately even though I'm not Australian and didn't go to the show. While it wasn't exactly CM Punk in Chicago, they were treated well, and even got to cut a straight-up babyface promo before the match. Plus, they made sure to continue to be he most GIF-able sports-entertainment personalities 1998 Chris Jericho before the match even began.
The match itself wasn't great, but they kept it short, which helped me not get too depressed about Asuka going from the world's coolest and most unstoppable wrestling champion to a slightly less helpful Cameron since WrestleMania. If you haven't seen it, make sure you watch the Dot Com backstage followup with Billie and Peyton where they show them camera phone footage of their families watching them wrestle. I sure do love those two. I don't know if Women's Tag Team Championships are a thing WWE could promote and maintain without forgetting they exist in six months, but I hope they at least briefly exist so the IIconics can have another thing.
As for Buddy Murphy, not only does he shock the world (or at least me) by ending Cedric Alexander's seemingly unstoppable run and becoming Cruiserweight Champion on a show that DEFINITELY wasn't going to have any title changes, he and Cedric completely steal the show with just over 10 minutes of super hot, super exciting cruiserweight action. They probably should've gotten more time, but the WWE Championship match needed half an hour, and Triple H and the Undertaker needed about two and a half hours. We'll get to that in a bit.
But yeah, that thing about Buddy Murphy being the "best kept secret" in WWE is true. That could be said for like three or four guys on 205 Live, but Murph has completely transformed himself from the less interesting half of the world's least interesting NXT tag team into modern WWE's closest approximation to Eddie Guerrero. He's small but jacked out of his mind, big enough to make his offense look believable against any opponent, but light enough to move like lightning. Everything he hits connects with urgency and impact, and right now (as long as he gets more than 90 seconds), Cedric Alexander could have an engaging pro wrestling match with a pile of wet laundry. Or even worse, TJP.
I think even the Australian crowd didn't buy Murphy coming away with the win here, but man did they want him to, and I found myself at home (at like 6:30 in the morning) vocally saying, "come on, do it," when he'd go for pins. The story they told in the ring was as compact and astute as the men performing it, and I appreciate that. A really great win in the best possible moment for a guy who is as good at WWE's idea of "light heavyweight" wrestling as you're gonna find.
Note: please don't drop it back to Ced on Wednesday.
LOL: As For Big Match John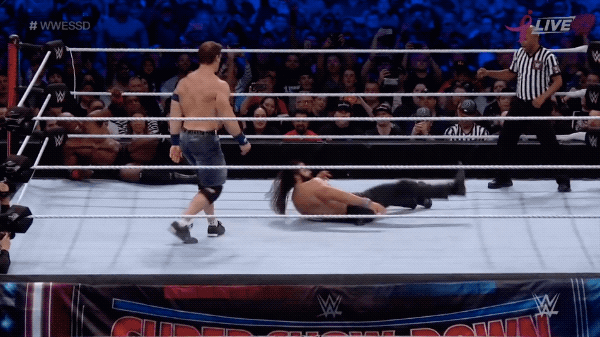 ⚡️ LIGHTNING FISTO ⚡️
John Cena's in the middle of shooting a Jackie Chan movie and can't legally bump without pissing off his producers, so he shows up with JBL's haircut bolted onto his head like a Lego man and stands on the apron during a Bobby Lashley match. When it's time for him to tag in, he plays his hits™, and because he's in there with pro wrestling's giving tree (Kevin Owens and Elias), that's enough to win him a Flawless Victory. You can watch some highlights here, but just close your eyes and think "John Cena," you've seen it before. Now think, "weird hair."
That's definitely the hair Lance Catamaran should've had. We've already shared a post full of people reacting to his new do, but about five minutes into the match I realized who he reminds me of:
Anyway, Lightning Fist — or Shǎndiàn quántóu" (闪电拳头) as Graves calls it, hilariously — is probably my favorite thing in the world. John Cena took 20 years to learn a new move and even TRAVELED TO THE MYSTERIOUS ORIENT to study martial arts and came back with a punch that doesn't connect. I'm guessing it knocks you out via static electricity, built up when he does that super fast t-shirt removal and the cotton brushes against his preppy hair.
Give me a WrestleMania feud where The Rock shows up with both his eyebrows up like "AW JOHN CENA JOHN CENA GOT A FEW MOVIE ROLES AND UNDERSTAND'S THE ROCK'S POINT OF VIEW NOW, JOHN CENA STARS IN BLOCKERS AND GOES TO CHINA TO FILM [prejudiced Chinese joke] WITH JACKIE CHAN AND SUDDENLY THINKS HE CAN DELIVER 'THIS WILL ALWAYS BE MY HOME' SPEECHES LIKE THE ROCK!" And then Cena shows up with a full Joe Dirt mullet and knocks Rock out with a Crane Kick that misses by a foot and a half.
Best, Mostly: So Is The Story Over Now?
I've been begging the AJ Styles Championship reign to have a match that ends with him actually winning and looking strong. I've also been begging the Styles vs. Samoa Joe psychosexual family-hunting feud to end with Joe as WWE Champion. At least I got one of my wishes!
The match at Super Show-Down very surprisingly ends with Styles … tapping out Joe to the Calf Crusher and retaining the championship. It's not exactly what I wanted, but since it involves Styles winning with one of his signature moves after a hard fart victory, I'll give it at least a mostly Best. I'm still not sure why they had to do wacky non-finishes on two straight actual WWE pay-per-view events, including one really important one in SummerSlam, to apparently blow off the feud in the middle of an international show in the middle of the morning. Plus, the match goes about 25 minutes and the crowd's not ever very into it, even when they're killing themselves jumping through chairs and shit, so it feels like this one could've had about 10 minutes cropped off and gotten the dumb finish. I guess I'm so used to being disappointed by these Styles matches that I'm almost more disappointed when nothing ridiculous happens that I can write about and I end up just mildly underwhelmed by very good pro wrestling.
So yeah, I'm very okay with this if it moves Styles on to something else, because if we're never going to let Samoa Joe have a run with the WWE Championship, we might as well ease him away from constantly losing WWE Championship matches. Plus, hey, we've got The Miz vs. Daniel Bryan in a number one contender match on Super Show-Down that is definitely going to be an exciting barn-burner no matter what, right? Right guys?
Right guys?
Worst: Price Is Right Loser Horn
So the WWE Fan Nation video of Miz vs. Bryan here features about 1:12 of the match. That means that only about a minute and 15 seconds of the match isn't in the video. Yes, for some reason they decided to fly Daniel Bryan and The Miz to Australia for a number one contender match to help further their eight-year-long feud and have it end in less than two and a half minutes with a small package. Tell me if you can remember EVER hearing a Daniel Bryan match end with him winning in such silence that the bell sounds like it's being run in the room next to you.
I don't even know what to type about this. The WWE Championship match seemed like it went on forever and spoiler alert, Triple H vs. Undertaker for nothing gets half an hour, so maybe Bryan and Miz ended up in a death slot and took one for the team? Maybe they were going for a really exciting flash pin thing to make it seem like a match could end at any time, and it just didn't connect with the audience or anyone watching, because that was one of the matches on the card we actually wanted to see? Did they both have food poisoning or something? The video package for the match was longer than the match. The entrances for the main event lasted longer than the match. I haven't timed it, but I'm pretty sure Bryan beat Miz faster than the Undertaker could walk from the stage to the ring.
Flash finishes are fine, and I like having my expectations subverted, but I hate it when it feels more like I've been deprived of a match than given a finish. Does that make sense? Anyway, Bryan moves on to face AJ Styles for the WWE Championship in Mohammad bin Salman's living room, and I sincerely hope Miz gets involved to help Bryan win instead of lose, because why the hell wouldn't Miz want the guy he's endlessly feuding with to provide him with a bunch of WWE Championship shots?
The 'Most Of The Show Was Very Much A House Show' Lightning Round
New Day opened the show with a Smackdown Tag Team Championship title defense against The Bar, going with the uncommon pairing of Kofi Kingston and Xavier Woods for once. They've got the best tag team finish of the group with that backstabber/double-stomp combo. The Bar haven't even been on a WWE pay-per-view since WrestleMania unless you count the Greatest Royal Rumble, possibly because they lost the Raw Tag Team Championship to a 10-year old, and they don't fare much better here. I don't know why a 4-time former World Champion and his tag team partner, a legitimate Superman who should be at least a 1-time former World Champion by now, are as threatening to the Tag Team Championship as Primo and Epico, but here we are. The match was good, and a good way to open the show.
I think we all knew coming in that Becky Lynch vs. Charlotte Flair at Super Show-Down would just be an excuse to add some heat or a stipulation to their much more important match at WWE Evolution, and that's what we got. The match was good until Becky Lynch decided she needed to be an overtly WWE heel character and start being afraid of everything and cheating all the time, and the match ends in a very house show fashion with her getting herself disqualified to avoid tapping out. That causes a small post-match fight between the two, and we end the match exactly where we started.
Whatever they do at Evolution should be good, though, as it's currently the only assumed match on the show with any backstory whatsoever.
We all expected Nikki Bella turning on Ronda Rousey to set up their long-rumored match for Evolution would be the only thing that happened in the six-woman tag team match, but then that didn't happen, so … nothing really happened? Much like John Cena, Ronda Rousey used her star power to stand on the apron the entire time waiting for the hot tag, then tagged in, got her shit in, and won the match single-handedly. Whether or not this double armbar submission to tap out Liv Morgan and Sarah Logan at the same time was creative and cool or corny as fuck is up to interpretation:
I'm going to say it was pretty cool, but that no self-respecting WWE official should allow that to be the finish, there's no reason they couldn't have done it to have a cool fun spot and had Ruby break it up to set up a less exaggerated finish, and that WWE could probably stand to build up some competition for Ronda instead of openly showing that she's so much better than all the wrestlers that she can beat 2-3 of them at a time.
I kept waiting for a double clothesline or something at the end to spark that Bella feud, but maybe they didn't trust Brie to hold out her arm and run forward without putting their big new star into a coma.
Finally in the house show lightning round we have The Shield, who showed up looking like a trio of rejected Mortal Kombat ninjas, to defeat Braun Strowman, Dolph Ziggler, and Drew McIntyre.
The weird thing about this match is that objectively it was very, very good, but the crowd could NOT give less of a shit about it. There were times during the match where I was looking away and thought my feed had paused it was so quiet. I don't know if they were just burned out, or if they just put the match on at the wrong time, or it it went too long or what, but I don't think I've ever heard a Shield trios match go from beginning to end without the crowd being into it. There's a lot of good here, from the Ambrose dissension teases (which Michael Cole only sort of ruins by watching Ambrose tease it for like a full minute on the apron and then say he believed Ambrose was gonna turn for "half a second there") to the Shield Bros making big time saves for Ambrose, allowing him to pick up the win himself. I love that story beat. They showed they'd be there for Ambrose by actually being there for him — Roman with the interception on Braun Strowman's security railing spring, Seth Rollins with the bound in at the end to stop the Claymore — and exhibited his role as the wild card of the team, who is important and needs to be protected even if his role isn't as obvious as Seth or Roman's.
But yeah, I wish they'd been able to get the crowd into it. Maybe crowds just need to know the Shield isn't going to just get hurt or implode and break up again, and that they're actually staying around and staying a team, so we can buy into the drama of whether they'll win a match or not.
Worst: Super Slow-Down
Finally, in the most finally finally I've ever typed, we have Triple H vs. The Undertaker for the Last Time Ever®. As everyone expected, they used the Last Time Ever match to set up another match, because of course they did. We didn't think Once In A Lifetime would happen less than twice, and we certainly didn't think the End of an Era would stop anything.
This seriously might be the most embarrassing shit I've ever seen in my life. Triple H vs. Undertaker matches didn't do a lot for me 20 years ago, and they certainly didn't do a lot for me at the post-Shawn Michaels WrestleManias, so now that Triple H is semi-retired and The Undertaker looks like he's literally on death's door every time he puts on the costume, it doesn't do anything for anybody. Unless making you feel bad for them is doing something. Here's a GIF that sums up the entire match: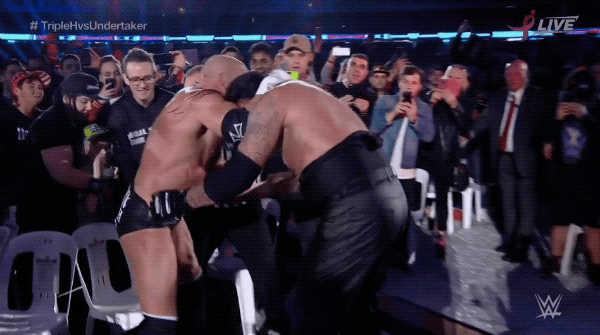 In the year of our Lord 2018, there is no reason Triple H vs. The Undertaker should be going 28 minutes. No reason whatsoever. All people want to do is see the wrestlers they like. They could've done this in 8-10 and done everything they wanted, and we wouldn't have had 20 minutes of The Undertaker fighting back vomit trying to do backdrops and throw convincing punches. They did everything they could, added all the "one of us can't wrestle" bells and whistles they do for Vince McMahon matches or whatever, and it still didn't work. They fought around the arena, had weapon spots, had extra stars at ringside to run in and do stuff when people got tired, the works … and it was still like watching your grandpa try and fail to open a medicine bottle, if your grandpa was dressed like Satan.
I know a lot of you live or die by your nostalgia for pro wrestling, but I can't imagine any fan of any of these guys enjoying the foursome of Actually Dying Undertaker, Trying So Hard Triple H, Bald Prancing Shawn Michaels and Burping Chest Hair Mayor Kane. It's like the saddest corner of a wrestling convention floor, done as a 30-minute main event on a pay-per-view in front of 70,000 people.
And like I said, they even did a big pose at the end of the show so Cole could talk about how this would NEVER HAPPEN AGAIN so incessantly that you KNEW someone was turning and they'd be doing it again. Undertaker and Kane beat up D-X to set up a tag team match for Crown Jewel and probably another singles match for Survivor Series, and someone at WWE was seriously like, "you know what would make Undertaker vs. Triple H matches better? If Undertaker was the heel." Can somebody buy the Prince of Saudi Arabia a bunch of late '90s Michinoku Pro and ECW tapes so he can move on from whatever 1996 Monday Night Wars fantasy land he's living in? Can we get him super into wanting to see Shane Douglas or something? Shit, I can't take many more Kane matches.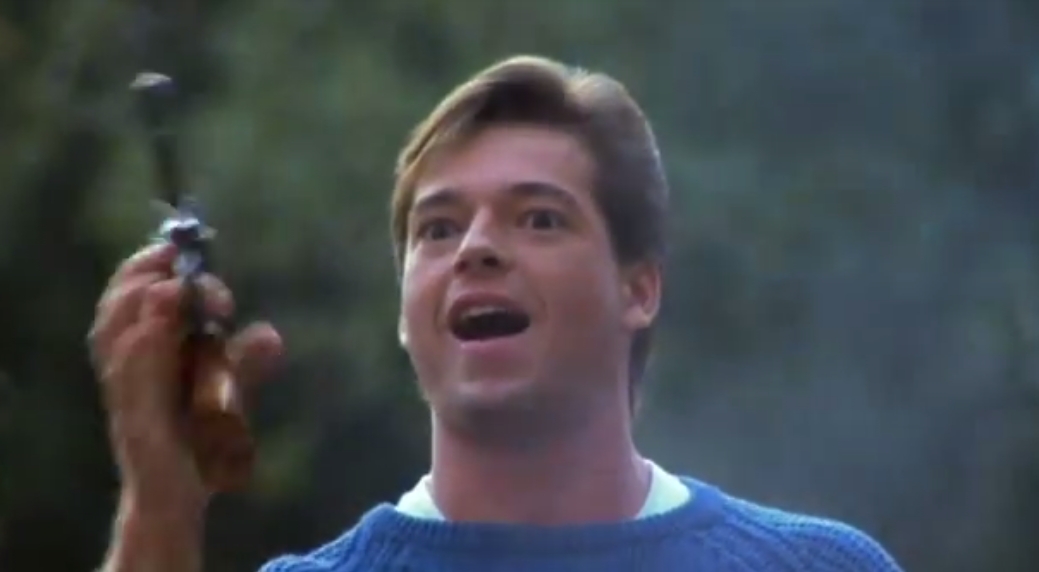 That's it for WWE Super Show-Down. Thanks, John Cena!
That leaves us with the rest of October, which will be used to simultaneously promote the remainder of the Mixed Match Challenge, set up Alicia Fox vs. Candice Michelle or whatever for Evolution, and promote Grandpas vs. Zombies II at WWE Crown Jewel. Should be fun.
Make sure to drop us a comment to let us know what you thought of the show, and (call to action!) share the column if you don't mind. It helps justify us waking up at 5 AM to depressingly watch The Undertaker struggle to get out of an armchair for 40 minutes. Thanks for joining us for the Bonzer Royal Rumble!