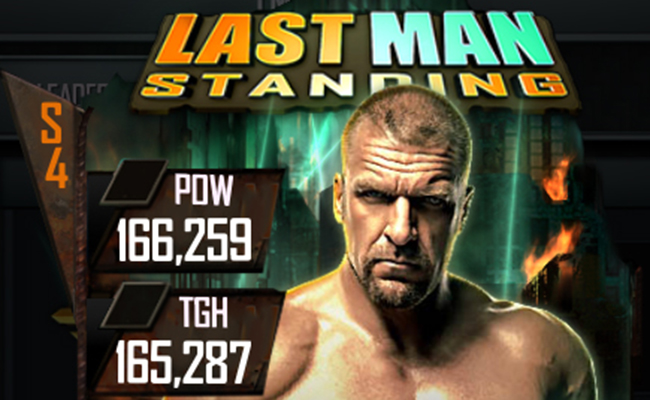 Just before WrestleMania 34, the mobile game WWE SuperCard dropped a big update to bring a lot of little improvements and a new card tier to fans and players. That was a precursor to their next major update, which arrives on April 18: a new Last Man Standing event mode, which should give players plenty of reason to spend time on the current fourth season of the game.
In addition to giving us some hands-on time with the new event at Cat Daddy Studios, 2K supplied us with some documentation on Last Man Standing, including a really tremendous, concise explanation and overview of the mode. It's like they do this for a living!
Last Man Standing is a solo event focused on clearing progressively more challenging Arenas while simultaneously competing against other players on a Leaderboard. Using a new deck focused on your top 12 cards, you'll be placed in an Arena with up to 25 cards.
Basically, you'll be presented with a series of progressively more challenging "arenas" — game board screens filled with face-down cards — and you try to clear the board without losing all your lives, as you decide whether to cash in points or let it ride for bonus multipliers. The end result is that, unlike some past events that can be pretty involved, you get a pretty solid batch of rare or better cards, plus you get a chance to gain an ultra-exclusive Last Man Standing event card with some beefy stats when the event runs its course.
This is what a typical Last Man Standing arena looks like, and there's a whole lot of information in just this one screen shot, so I'll do my best to break it down for you, but in actual gameplay it is exceptionally simple to pick up on and burn through a bunch of arenas in one go.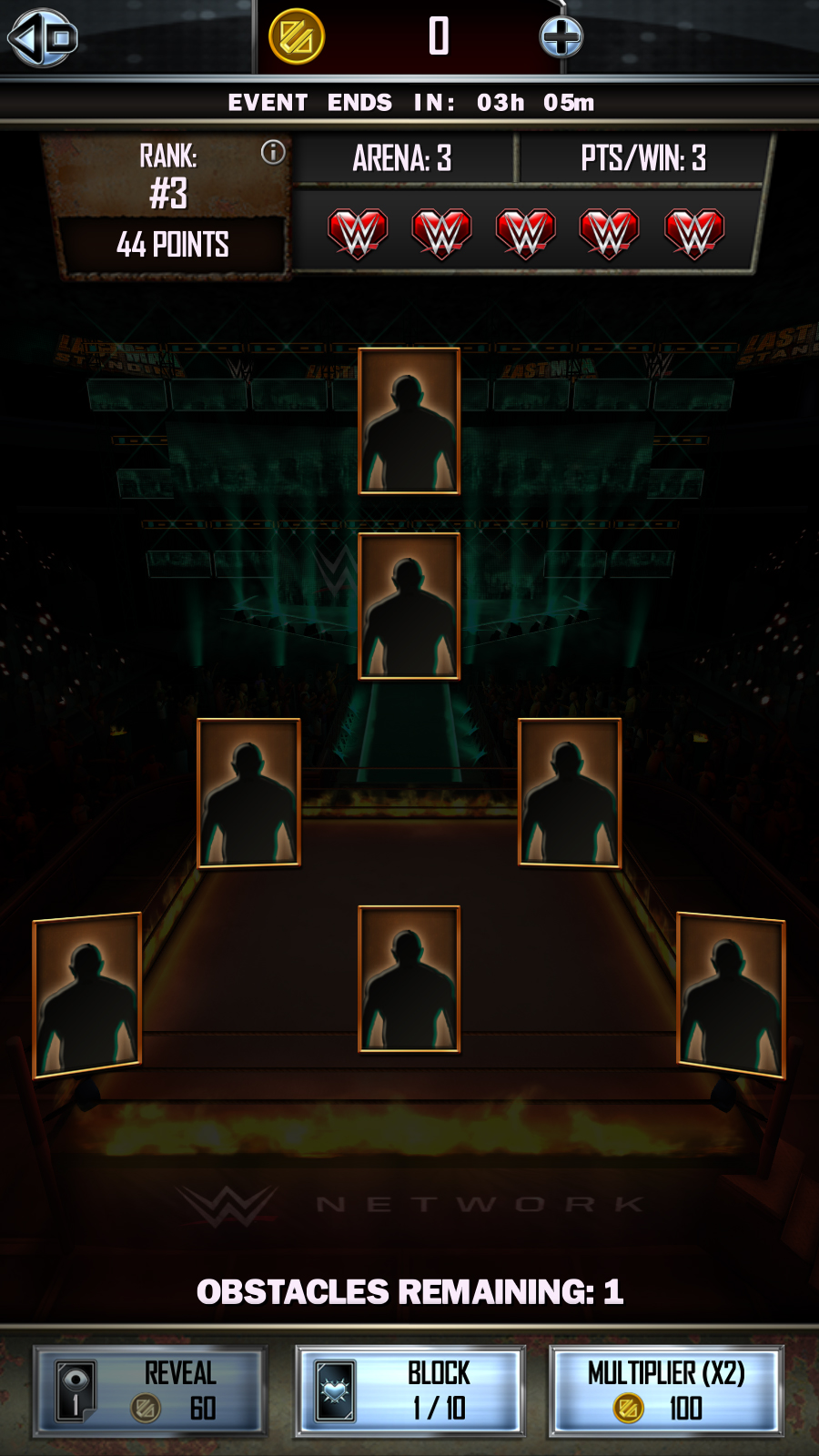 On this example screen (Arena 3, in this case), you've got seven cards and one obstacle, and five lives available. An "obstacle" card is something like a ladder, a fire extinguisher, a chair or a table — if you select that card, it'll cost you a life. If you turn over a Superstar card, you'll have the usual quick one-on-one match against them, and if you lose, you'll also lose a life. You'll notice the three buttons on the bottom, which you can pay credits for. The first option is to pay credits to reveal up to a certain number of obstacle cards, so you don't have to leave anything to chance. A "block" will make it so even if you DO lose a match or turn over an obstacle, you won't lose a life. And the multiplier is just what it sounds like: you'll receive twice as many points for a success.

Those points are important — you'll be using them to reach Milestone Rewards, which are packs of rare-or-better cards, which means you can rake in a lot of them as long as you keep churning through Last Man Standing and pull some Superstars you need, or just use them for fodder for leveling up. (Always vital.)
If you clear the board, you will move onto the next Arena, which is even more challenging than the former. Additionally, rewards are handed out for clearing an Arena, and you'll gain more points per win in the next one.

Oh, and one other fun addition – every time you win a match, you can choose whether to bank your points to keep them safe or press your luck for a higher streak multiplier. But watch out – if you encounter an obstacle or lose to an opponent, all of those points you were chaining together (and your multiplier) will be lost. Every time points are banked, the player's leaderboard standing will be updated and he or she will move one step closer to earning the next Milestone Reward.
And the big reward for the event is a Last Man Standing-exclusive card, featuring the big boy or big gal of that particular event. (And yes, we've been assured that there will be Last Woman Standing events as well, similar to the Women's Elimination Chamber and Women's Royal Rumble events in SuperCard. Even cooler: the LMS event card will be forever branded with your particular final ranking, so everyone will know how well you did.
The Leaderboard will show everyone just how good you are in Last Man Standing. To earn an Event Card, players will need to place high enough on the Leaderboard.

Achieving a specific rank on the Leaderboard will earn an Event Card in Last Man Standing. Each subsequent band of ranks, to a specific point, will have an Event Card with lower power levels. The higher you climb, the better your card!
For example, in the below example, if the player were to place 107th overall in the WrestleMania 34 tier, this is what their Last Man Standing card will look like:
Having played the game mode, I can say that this is one of the most fun additions SuperCard has had in a while. If it's been a while since you popped into the app, this might be the perfect jumping-on point. Give it a shot and rack up some rewards, and get a shiny Last Man Standing card for your troubles.
The inaugural Last Man Standing event will deploy as a SuperCard app update on Wednesday, April 18. Good luck to everyone, and if you happen to score one of those top-10-branded cards, be sure to brag about it to us.