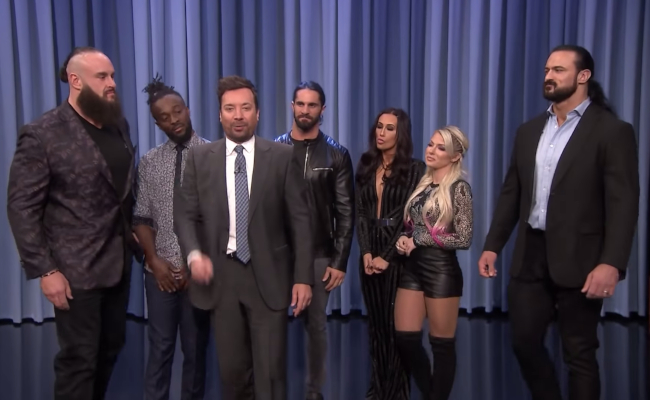 Thanks to the WrestleMania feud between Braun Strowman and the hosts of Saturday Night Live's Weekend Update, Colin Jost and Michael Che, I think a lot of us have been expecting the Monster Among Men to have a cameo on SNL this Saturday. That may still happen, but Braun didn't have to wait that long to promote WrestleMania on an an NBC late night show. He appeared on The Tonight Show with Jimmy Fallon last night, along with Seth Rollins, Alexa Bliss, Kofi Kingston, Carmella, and Drew McIntyre. Jimmy gave them wrestling promo-style insults written by actual children, which the wrestlers delivered with great conviction.

Drew's trash talk is definitely the most innovative on the part of the young writer, although Kofi's is pretty good too, and Seth Rollins excels at comparing faces and butts. For that matter, Alexa Bliss delivers that threat like it's something she might really do, and I could imagine that line really happening somehow in a Carmella promo.
Comedy aside, it's always cool to see Superstars out in the world and all dressed up. Carmella's outfit is as fabulous as you'd expect, and Braun and Drew might look even more intimidating in suits. Also, did anybody else notice that Seth is dressed like Dean Ambrose?