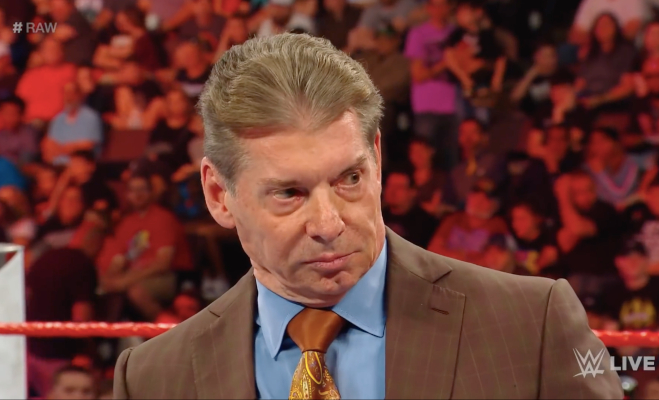 Last night on a particularly poorly-received episode of Raw, Vince McMahon introduced something called the Wild Card Rule, which enables the exchange of talent between Raw and Smackdown on a weekly basis. The exchange is theoretically limited to three or four Superstars per show, so it doesn't end the Brand Split, it just makes it somewhat more irrelevant.

Today on Wrestling Observer Radio, Dave Meltzer reported that this compromise came about because Vince has been under pressure from multiple sources to raise ratings for the weekly shows, and he really wants to do that without letting go of the idea that Raw and Smackdown are separate brands. Here's what Meltzer had to say about the pressure Vince is under, as transcribed by 411Mania:
The pressure was definitely there from both sides, both NBCUniversal and FOX, although FOX isn't in the game yet. They both will not be happy with bad ratings because of how much money they're spending. It's a lot different game than this XFL where things are fine because they're not spending any money on it. These companies want ratings with that kind of money they're spending, especially because it's not an advertising friendly product. They want star power, and these brands individually don't have enough star power.
Meltzer went on to say that while Vince still believes in the Brand Split, NBCUniversal and FOX would both just as soon do away with it. NBCUniversal is apparently very unhappy with last week's ratings, and concerned about Raw giving Roman Reigns to Smackdown, while Fox is currently hoping that the same storylines will move through both Raw and Smackdown when they have the latter show this fall.