Previously on the Best and Worst of WWF Raw Is War: We learned about the Fully Loaded '98 bikini contest, saw the Godfather get his first "hoes," and learned about Road Warrior Hawk's kayfabe but also definitely real substance abuse issues.
Previously on Sunday Night Heat: The first ever episode of Sunday Night Heat featured the official debut of Shane McMahon as an excited color commentator who is COOL because he has SEX with WOMEN. Plus, Val Venis got into it with AC Slater, as if he doesn't have enough problems right now.
If you haven't seen this episode, you can watch it on WWE Network here. You can watch the pay-per-view that comes before it here.
Check out all the episodes you may have missed at the Best and Worst of WWF Raw Is War and Best and Worst of WWF Monday Night Raw tag pages. Follow along with the competition here.
Hey, you! If you want us to keep doing retro reports, share them around! And be sure to drop down into our comments section to let us know what you thought of these shows. Head back to a time long forgotten when Raw was fun to watch, and things happened!
Best: Cahootway To Hell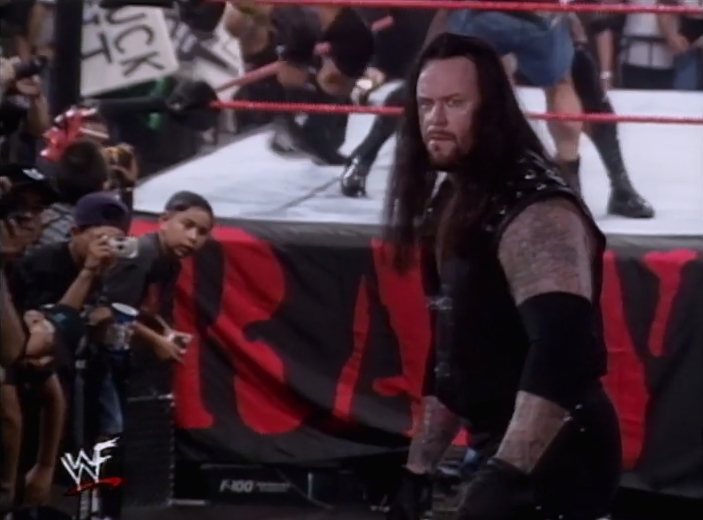 The previous week's Raw ended with Stone Cold Steve Austin tossing a beer to The Undertaker, setting up the idea that they might actually get along as a tag team (and as Tag Team Champions) despite being opponents at the upcoming SummerSlam '98. The first episode of Sunday Night Heat ended with Owen Hart and The Rock defeating Kane and Mankind by count-out in a number one contender match, so Raw follows through with the logical endpoint: Austin and Undertaker vs. Rock and Owen for the tag titles, and Vince McMahon still losing his mind trying to convince everyone that Undertaker's in cahoots with Kane.